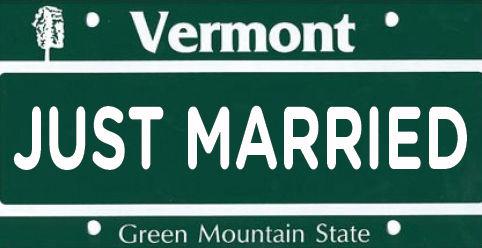 To get married in the state of Vermont, you need a marriage license (see below), which must be procured in person, and:
You must be at least 18 years old, or 16 with parent/guardian consent.
You do not need a blood test, and there is no required waiting period.
If you are divorced, you may remarry after the date on which your previous marriage or civil union was legally dissolved. If your spouse has died, you are free to marry.
Who can marry you?
A Supreme Court justice, superior court judge, district judge, judge of probate, assistant judge, justice of the peace, or an ordained or licensed clergy member residing in Vermont can perform a wedding ceremony.
Out-of-state clergy must get special authorization.
Any person 18+ may register with the secretary of state to become a temporary officiant for one Vermont marriage for $100.
Getting your license
With your marriage license, you can get married anywhere in Vermont.
A marriage license is required, and can be acquired at any town clerk's office for $60. It is valid for 60 days from the date of issue; an authorized person must perform your wedding ceremony within that time, otherwise the license will be void.
Once the officiant completes the license it must be returned to the town clerk within 10 days.
Certified copies of marriage certificates may be purchased for $10.
If both of you are Vermont residents: You may get your license in either town.
If one of you is a Vermont resident: You must get your license in your town.
If neither of you are Vermont residents: You may get your license in any town.
More information: sec.state.vt.us, 802-828-2363.
Changing your name
To legally change your name after marriage in Vermont, you're going to need to visit the social security office for a new card, the DMV for a new driver's license and more.
Pack a folder with your marriage certificate, birth or citizenship certificate, passport and proof of address (like a bill) and keep it safe and handy — you're going to need to prove your identity many times during the name-change process.
You'll need to work your way through other accounts, including:
U.S. Passport or permanent resident card
Employee, military IDs; check with your employer
Health and other insurance — your legal name must be on your insurance cards
Banks, credit institutions, loans etc.
Subscription services, social accounts
Phone, internet and service accounts
More information: dmv.vermont.gov, socialsecurity.gov.