Weddings are emotional, high-stress situations for almost everyone involved. Tying the knot also means melding two families together forever, which can add family drama, arguments over money, disagreements about the ceremony, food choices and reception. By the time the big day arrives, you've laughed, you've cried, checked and double-checked everything from the venue and vows to food and festivities following the ceremony.
But have you checked your stress level?
Wedding day stress can ruin the mood of that special day, so before everything boils over into an anxiety attack, there are people in the community who can help relieve some of those marriage jitters with a special event for the bride, groom and wedding party before gathering at the altar.
A day at the spa
The burbling notes of a small waterfall blend with a soft melody flowing from speakers overhead. Lying in antigravity chairs with a soft blanket, fiber-optic stars blinking at you from between stalactites on the ceiling above, and you sink inside yourself.
Breathe in. Breathe out. The salty air saturated with negative ions seeps into your lungs, and your eyes drift closed. Nestled in an old Vermont barn is a manmade Polish salt cave where the world is quiet.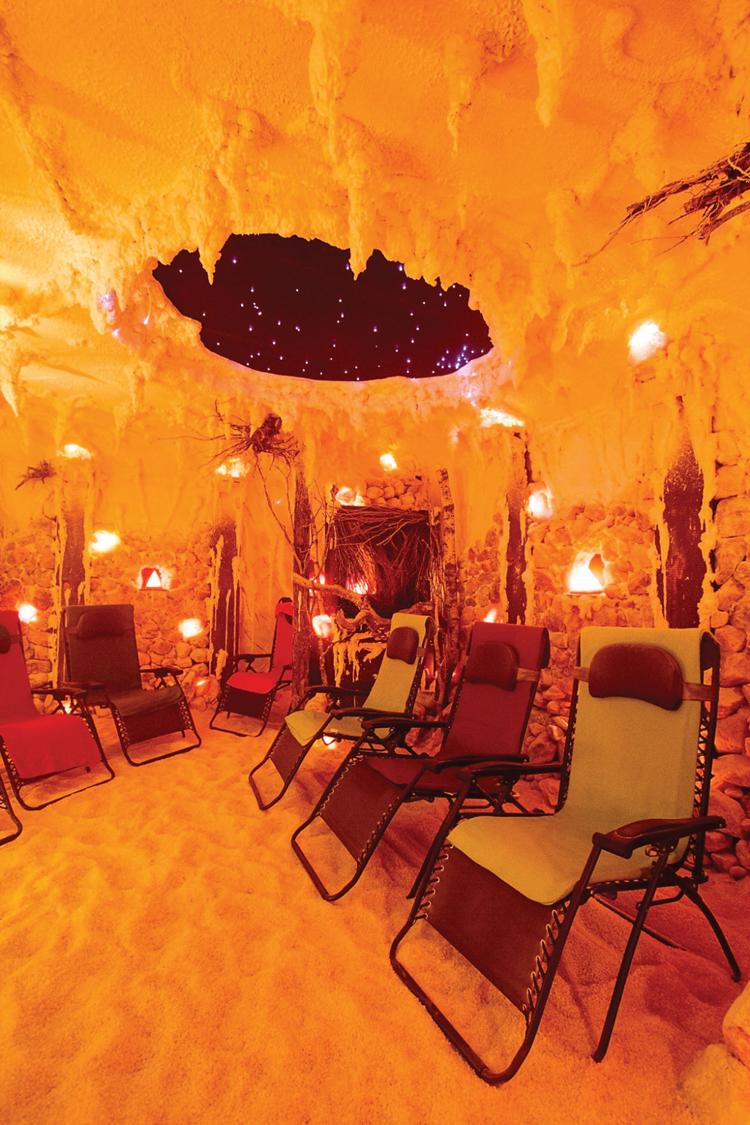 "Most people go to sleep or into a Zen state, releasing all of that wedding stress. For 45 minutes, they have no choice but to go within," said Sarita Khan, who owns the Vermont Salt Cave Spa & Halotherapy Center in Montgomery with her husband Nafis.
Breathe in. Breathe out. And the stresses of planning your big day fall away.
The salt cave, consisting of 20,000 pounds of Polish rock salt and a halotherapy machine that releases medical-grade sodium chloride in small particles into the air, can be rented for a private session. The grotto can host nine people at a time for a 45-minute session.
A hand and foot detox, which can host five people at a time, is also available. Here you place your hands and feet on specially heated Himalayan salt stones for 30 minutes, creating soft, smooth skin.
"If the bride wants a massage, we can do that, too," said Khan.
"Last year, we had a funny situation, because a bride booked a session with her bridal party of all women, and right after their session, a group of all men came in. It was the groom's party, and neither one knew that they had both booked a session on the same day," Khan added with a laugh.
Salt has been used in spa treatments in Poland for hundreds of years to promote rest and relaxation, and healing of respiratory ailments, and now it's gaining popularity in the United States. The Khans decided to emulate the microclimate of a Polish salt cave at 63 degrees Fahrenheit and 40 percent humidity — much less dry compared to Himalayan salt caves.
In between sessions Nafis also teaches Ayurvedic and natural medicine to anyone who wants to learn.
••• 
The color of stress
Across the foothills and mountains of Vermont, a hand grips a soft-bristled brush. A broad wave of the arm leaves a streak of blue on canvas that will soon become a sky. Sweeping across again, another layer of color is added. Back and forth, in small strokes or broad depending on the painter's preference, a Vermont scene begins to unfold.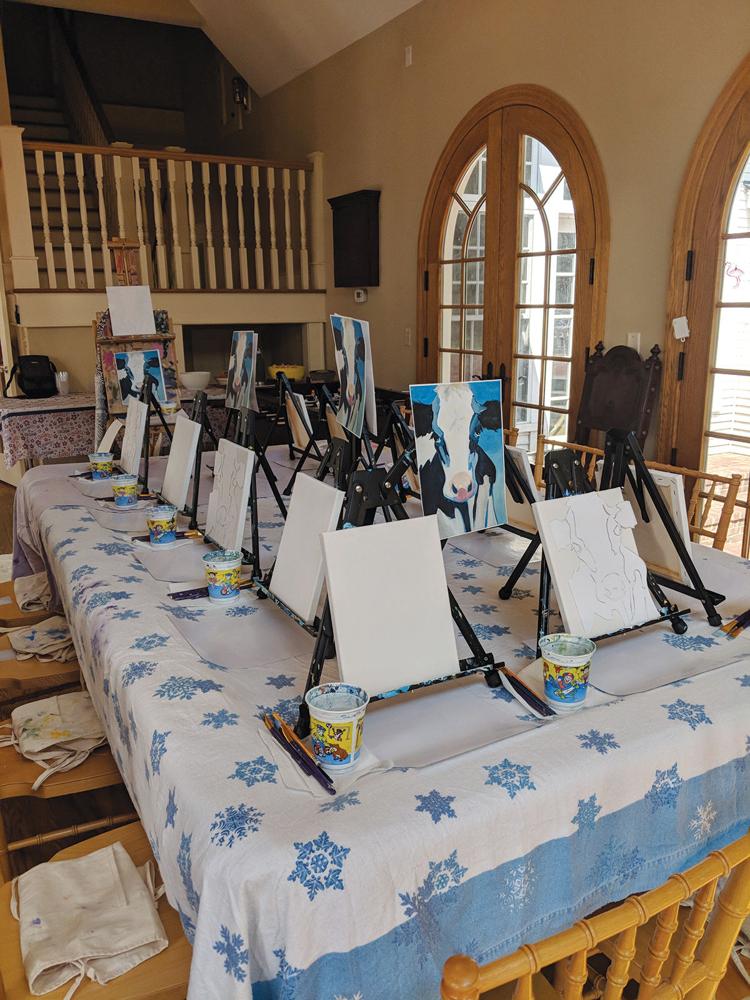 About two-thirds of the way down the starch-white backdrop, it's time to reach for a new color on the palette.
"The painting process helps us access the creative right hemisphere of the brain. It's like yoga for our minds," says Stowe artist Natasha Bogar, who offers a creative way to de-stress before the big day.
Step-by-step, Bogar guides people in painting flora, fauna or a local landscape in a 2 or 3-hour class. Young or old, beginner or expert, Bogar welcomes people of all ages and abilities into the studio to have a drink and paint away the stresses of the day.
Bogar also offers private sessions for bachelorette or bachelor parties, and will travel to a location of their choosing, bringing enough supplies — brushes, canvases, paint, pallets and easels — for up to 40 people. She has done sessions for the bridal party and family a few days prior to the wedding as well.
After four years of teaching these classes, Bogar has a large collection of images that brides can choose from. She is also open to designing something new at no charge if the group books far enough in advance.
Bogar uses acrylic paints in her Paint and Sip classes because they dry quickly and are easier to manipulate than watercolor or oil. She premixes a set of seven colors for each class, but students are also free to mix the colors to their liking on their palettes and canvas.
Deep green flicked off the tip of an angle brush lays the base for grass. A lighter green layered on top along with highlights of white adds dimension before mixing a hint of red with phthalo blue to dot cornflowers on a field.
"I find that first-timers surprise themselves with their natural abilities," Bogar said. "As adults, we tend to be our own worst critics, so I start the class with a pep talk about how the best part of painting isn't the end result, it is the process.
"We all understood this as children. We all had fun in Kindergarten mixing colors and making a mess, and we weren't so concerned about achieving perfection."
Bogar encourages creativity, and will offer support when someone chooses to be original with more one-on-one instruction as she walks around the room, which she says sets her apart from more commercial paint-and-sips.
As an added wedding day offering, Bogar also does plein-air wedding paintings on site, the day of the wedding before the ceremony. She arrives in the morning and paints an 11-inch-by-14-inch gallery wrap canvas with acrylics of the landscape or water colors on thick watercolor paper. She can create a painting based on what the couple requests, or walk the property and recommend what would work well. It takes around 3 hours to create one.
Bogar also rents out a few hand-sewn, hand-painted wedding tents for the big day as well.
"I believe that art is integral to healthy communities. It inspires the mind, fosters social connections, and creates a sense of culture," Bogar said.