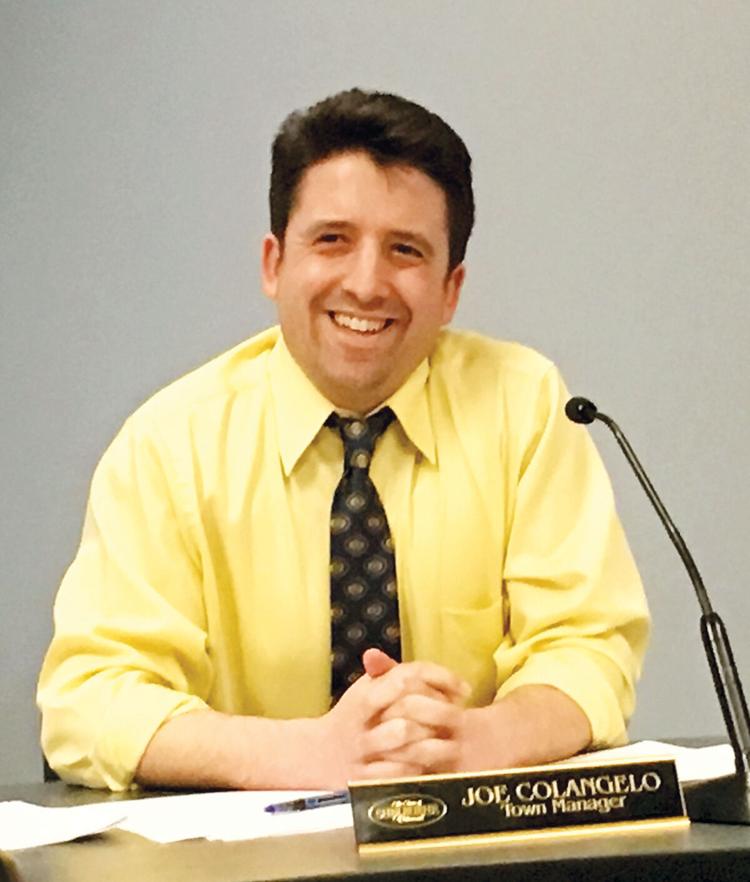 A former, controversial, Shelburne town manager and Hinesburg town administrator was placed on paid leave from his current job in Massachusetts.
Joe Colangelo was charged with domestic assault and battery after an incident last month in Hanover, Mass., where he is now municipal manager.
Colangelo, 40, has pleaded not guilty in Hingham, Mass., District Court to a charge of assaulting a family or household member, records show.
The female victim reported he closed her arm in the master bedroom door she was trying to shut it so she could call 911 for police.
The Citizen does not name the alleged victims of domestic or sexual assault.
The alleged victim said in court paperwork that she and Colangelo had been estranged for at least 8 months, Colangelo living in a guest house at the residence they shared.
Hanover Police Sgt. Tim Kane's written report noted following the incident the victim "was visibly upset, crying and extremely distraught as she explained what transpired" before she called police. Colangelo appeared suddenly in the main portion of the house and eventually tried to sleep in her bed against her wishes, Kane wrote.
She reported Colangelo refused her demands to leave, later followed her downstairs and when she retreated upstairs, he followed her back to the bedroom, Kane wrote. Both struggled with the bedroom door as she attempted to close it and he eventually pushed his way in, but she called 911, a police report noted.
Kane wrote the woman appeared to be in pain and was holding her left arm. Kane said he spotted scrapes and scratches on her arm. She also complained about a back injury from the door being pushed against her, police said.
Colangelo told police he could not understand how the woman got injured, court records show. He maintained he was innocent and disputed claims that he had been staying in the guest room.
Allegations arose that the incident was videotaped, but when questioned Colangelo declined to share it, Kane wrote.
Hanover Police arrested Colangelo and released him hours later.
The alleged victim obtained a one-year restraining order the night of the incident, court papers show.
A few days after the incident the town manager was arraigned and released on conditions, including that he stay away the alleged victim and abide by the restraining order.
Criminal and family court proceedings are pending.
Vermont years
Colangelo was hired as Shelburne's manager in April 2014 after being the town administrator in Hinesburg for three years. He also had served as an assistant town manager in Middlebury. He signed a 3-year contract in Hanover and started May 1, 2018.
Colangelo found himself in the middle of several controversial issues in Shelburne.
The town spent more than $500,000 — much of it unbudgeted — pursuing a lawsuit to try to block the Vermont Railway from constructing a storage shed off U.S. 7 north of the village. Shelburne residents and consultants repeatedly warned town officials at public meetings it was a lawsuit with no legs.
After three rulings against Shelburne in federal court, the town selectboard voted 3-1 to appeal the case to the 2nd U.S. Circuit Court of Appeals in New York City.
The appeals court ruled against Shelburne in March 2019, after Colangelo had moved to Hanover and a couple of selectboard members opted to leave the board.
Colangelo also tried in 2017 to suspend veteran Police Chief Jim Warden, the reason unknown.
Warden, who served the municipality for 30 years, agreed to retire in August, but remain on the Shelburne payroll as a paid professional consultant to help the new chief and town until Jan. 31, 2018.
Hanover is silent
Town officials and the Hanover Police Department, which reports to Colangelo, have not spoken about the incident or the arrest.
The first public indication of possible trouble was Sept. 10 when the Hanover Selectboard put Colangelo on paid leave after a closed-door meeting, local newspaper The Patriot Ledger reported.
Then Colangelo told the selectboard the police had been called to his home, but provided no details, according to The Patriot Ledger last Friday morning. When no details were provided to the public, The Patriot Ledger filed a Massachusetts Public Records request.
The Hanover Police Department seems never to have issued a news release about the arrest of their town manager. There also is no mention of the arrest or police call on the department's website, on its Facebook page or Twitter account.
Phone calls to local officials weren't returned as of press time.