For a school system that was already pretty wired digitally, things have amped up even more in the Champlain Valley School District with the shift to remote learning in the age of COVID-19.
"In two days, in my opinion, we've done more professional development training than you'd normally accomplish in a year," said Champlain Valley Union High Principal Adam Bunting.
Teachers will be delivering remote learning in two ways – asynchronous and synchronous.
"Asynchronous learning is when a teacher is going to post an online lesson, maybe a video of them, maybe a tutorial," he said. "Synchronous learning is when the class is all going to get online together and have face-to-face contact."
Bunting said they are asking teachers leading synchronous learning to dress like they would for school. And they've talked about the need to be respectful of students who may not be comfortable with people seeing their home.
The CVU student body is also well situated to engage in remote learning because 95-99% of the students have internet access. Comcast and Consolidated Communications are offering two months of free internet to students without access.
And, "as far as we know, everyone has phone access," he said.
Just as it was before the pandemic, Bunting and all of his teachers have advisory groups of around 11 students that they work with, meeting every day and checking in to see how things are going.
He had met with his advisory group Friday and found them upbeat - "It actually was fun and we were cracking up."
His advisory students talked about what they and their families are doing while they're staying home. One student has learned how to make pickles, one has been baking bread.
One student said, "Every day feels like Sunday now." Another said they went for a drive and "it felt like 1910 or something."
Perhaps a sign of boredom setting in, one student said they found a squirrel head in their backyard and "that was big."
Bunting said there is a spirit of "good will that's infectious in a good way."
Jennifer Roth – Charlotte Central School
This new world of education from home is a work in progress.
Co-Principal of Charlotte Central School Jennifer Roth said staff are still developing the procedures for remote learning, taking advantage of the two weeks of management of learning the governor's directives gives the schools.
"We're making sure kids have the tools they need," she said.
Parents picked up packages of educational materials in the multi-purpose room at CCS. All of the third-eighth grade students were sent home with a Chromebook and a charger. The library had packed up big bags of books with all kinds of math, reading, vocabulary and other teaching games, including "things to help parents," Roth said.
She called the cafeteria staff and bus drivers "heroes" for their hard work preparing and delivering meals to food insecure students. She also bragged about families who have helped each other by taking turns picking up food.
Roth, who lives in Hinesburg, said she is working on educational systems both for her school and for her 14-year-old daughter at home. With a laugh, she said her daughter "isn't accepting my suggestions so I'm empathetic."
Her 25-year-old son, an engineer with the Highway Division, is working from home, too. Her daughter and son have had to work out boundaries for their respective work duties.
"The silver lining has to be we're turning toward our family and we're being adaptive," Roth said. "We've talked a lot about being kinder than necessary because we all have big emotions about this."
Allan Miller – Charlotte Central School
Of course, everyone is taking the self-isolation education method one day at a time – or two weeks at a time, for now.
The stretch has been devoted to maintenance of learning, and no new skills or concepts are being introduced while the systems of how remote learning will work are ironed out.
"Then we'll reevaluate on April 6 and maybe give more formal instruction," Allan Miller said. "We're as worried about kids and food insecurity right now as we are about education."
As the Digital Learning Leader at CCS, Miller has been instrumental in the school's switch to remote learning.
He said the school has been sharing lots of online resources and working on methods of exchanging information and assignments back and forth.
On Friday, he said he's been worked late into the night before because "I've got my feet in two worlds, preparing information for teachers in Uzbekistan." (Read story here)
The next day he shared that work with an eighth-grade science teacher at CCS.
One of the things he's worked on is activities a family can do at home with kids with minimal stuff.
As much as he lives in a digital world, Miller sees the need to also live in the real world. "The hardest thing is that every one of us is surrounded by so much digital noise and the question is: What are the things I need to know about?"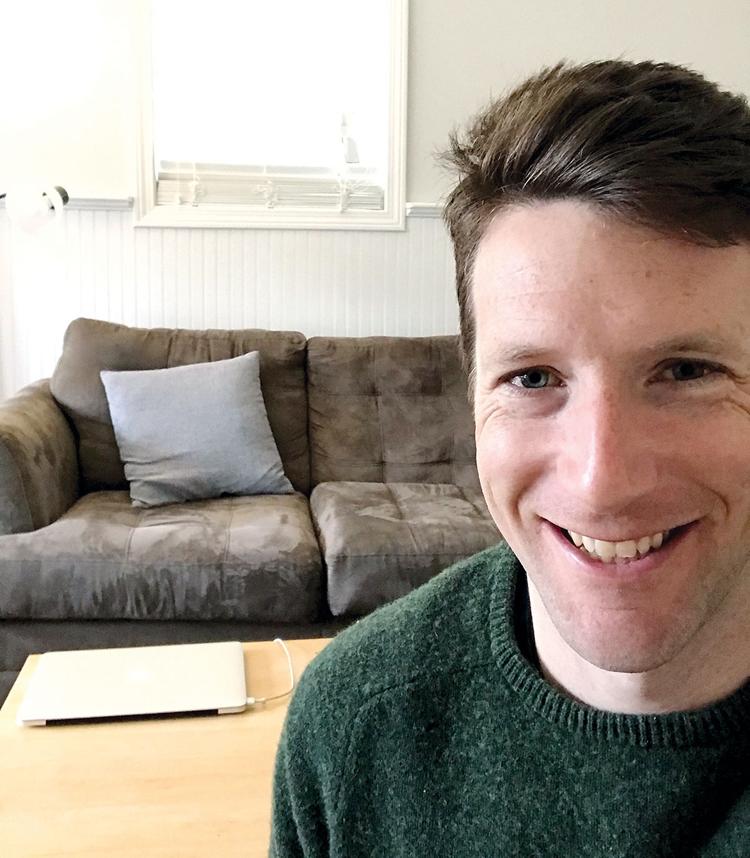 Brad Miller – CVU
Brad Miller, social studies teacher at CVU, shared this excerpt that a colleague found in Spaulding High's yearbook that came out after the Spanish flu epidemic of 1918:
"For the greater part of students, this was destined to be their last sight of Spaulding for a period of six weeks – weeks such as never before have been experienced in Barre and which we hope never will be again. Monday, Tuesday, and Wednesday found the teachers counting the students present, rather than those absent, and Thursday the school closed. On our return after the 'flu,' we missed several familiar faces."
Miller is a teacher who is enthusiastic about technology – an early adopter, you might say.
"I've always been energized about how to use tech in the classroom," he said. "I'm not scared about new tech."
He's been excited about how eager all of the other teachers have been, even those who aren't as big fans of technology as he is, about the switch to online learning.
"Everyone has been very positive. There's been very little complaining and negativity around the sort of sudden shift of our whole curriculum to an online space," said Miller.
And he was encouraged Monday by the online interaction he'd had that morning with his advisory group of students: "I suspected maybe 60% would participate, but I logged on and they were all there and interacting with each other. Teenagers are really hungry for the community."
However big a fan of the benefits of technology and education he may be, Miller said there is a limit to online education. "Online curriculum is merely a stand-in. It cannot in any way replicate the experience of being in a room face to face with other people."