One hundred years ago, women in the United States received the right to vote.
Well, not all women, and not everywhere in the United States.
Vermont, for example, did not ratify the 19th Amendment until 1921, after decades of fighting by women, particularly a few famous names around the state.
On Thursday, March 19, during Women's History Month, about 40 viewers tuned in to the Vermont Historical Society's Facebook page. There a livestreamed Third Thursday talk focused on suffrage in the Green Mountain State.
The event was originally planned to happen at the University of Vermont.
Socially distancing suffragists and history buffs listened as Vermont Historical Records Program Director Rachel Onuf and historian and author Lyn Blackwell talked about how this historic anniversary is being honored at home — with fingers crossed that the coronavirus pandemic will subside and allow other planned events to happen.
Onuf and Blackwell are co-chairs of the History and Research Committee of the Vermont Suffrage Centennial Alliance, an effort spearheaded by the Vermont League of Women Voters.
Importantly, Onuf said, the group worked to provide resources about the movement, collect records from years past — and do so with the understanding that the right to vote was not unilateral.
"We also tried to address the incomplete legacy of the 19th Amendment and the fact that it did not immediately mean that all women were a franchise and had no problem casting their vote in ballot boxes," she said.
In fact, many had to wait decades to get that right.
Women of color did not receive the right to vote until long after the 19th Amendment was ratified. In some states, African American women could vote only after the Civil Rights Act of 1965. Asian American women couldn't all vote until after 1952 and indigenous women weren't even considered citizens until 1924, Blackwell explained.
A racial and economic bias seen by feminists on the national stage was echoed in the local movement, too, with its leaders being middle-class white women, oppressed due to gender but privileged at the same time.
Blackwell introduced three powerhouse women to the audience at home. They included: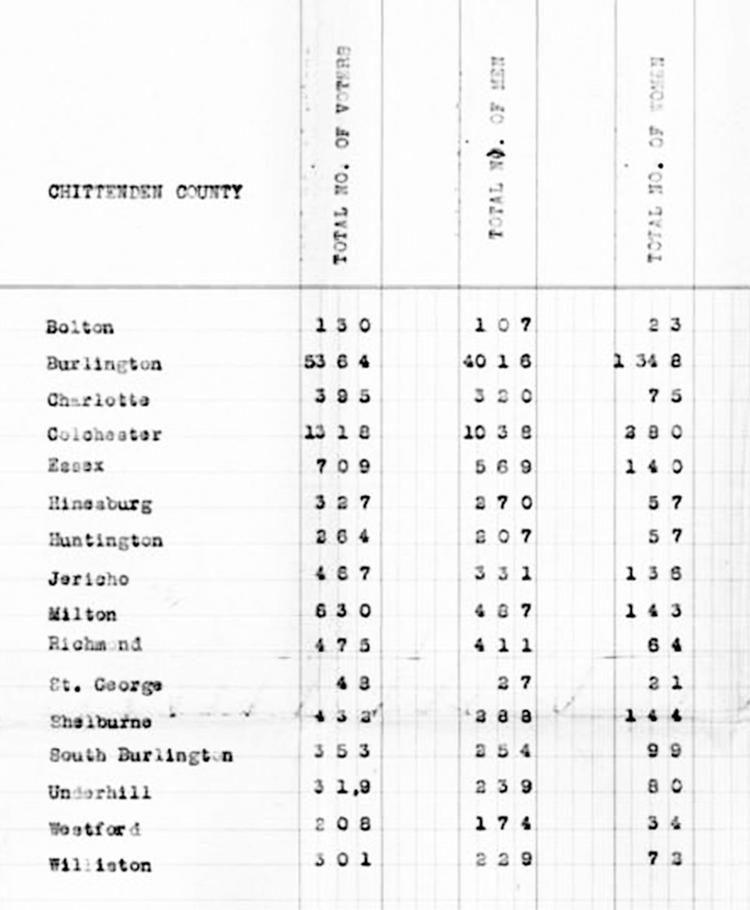 Clarina Howard Nichols
Now she is known as the namesake of the Clarina Howard Nichols Center, providing services and shelter for those in Lamoille County who have experienced domestic and/or sexual violence.
In 1847, though, she was a journalist who argued for the property rights of — married — women.
Howard Nichols attended the first national women's convention in Worcester, Mass., Blackwell said. She spoke at the second, her words later shared as a pamphlet.
Howard Nichols argued that women, as mothers, needed economic rights to protect their children.
The vote was needed to change laws, the suffragists realized, because men weren't going to easily change the laws to suit them.
She was also the first women to speak at the Vermont Statehouse, Blackwell said, despite being mocked by male lawmakers.
In her time, Howard Nichols was lacking colleagues, Blackwell said. As a newspaper editor, she was more in-the-know than most. Others may have been unaware, indifferent or just too busy on farms and at jobs to join in.
She moved west, to Kansas, a newly developing state, where Blackwell said she became a "Frontier Feminist" — which is also the title of Blackwell's book about the remarkable woman.
"The absence of Vermont-born suffragists was a problem in the state," Blackwell said, despite Howard Nichols' efforts. It gave male lawmakers ammunition to argue that women did not want the vote.
In 1880, thanks to the Women's Christian Temperance Movement, women were granted the right to vote, though only on school issues.
And only if they were taxpayers. Otherwise known as landowners.
Most were not.
Annette Parmalee
Things stood pretty still until 1917, Blackwell said, when Parmalee argued women were citizens, taxpayers and deserved equality.
Again, though, the privilege of Parmalee's status showed.
Following in others' footsteps, she argued that (white) women were more moral, educated and civic-minded, and therefore should be able to vote.
"This is the kind of thing that made African American and working-class women question whether these middle-class women really had the right to speak for all women," Blackwell said.
Men argued, still, that women didn't want to vote. They used the lack of women voters at school meetings as evidence.
Once again, though — women by and large were not taxpayers and therefore could not vote, even at school meetings where they were "allowed" to.
What ended Parmalee's career, was a proposition she made to enact a poll tax for both men and women, which movement leaders didn't agree with, and as a result she was ousted, Blackwell said.
Taxpaying women were given the right to vote on municipal matters in a bill that passed in 1917.
It's unclear whether the argument for taxpayers' suffrage came from strategy, lack of understanding or self-interest, Blackwell said.
Lucy Daniels
The wealthy Daniels, unlike many women at the time, was a landowner. She thought the bill allowing taxpaying women to vote was a trick by the aristocracy, though, designed to "hoodwink the public into thinking that women could vote," even though very few actually qualified.
She was a third-phase suffragist in an era when women took to the street for more active demonstrations, Blackwell said.
When tax time came, Daniels decided not to pay, and to post her protest on the side of her building and through ads in local papers.
"She was a progressive, and she was very concerned about working-class women and women's access to the workplace," Blackwell said.
When a tax collector reminded Daniels she could vote at school meetings, Daniels pointed to her housekeeper and said that, until the housekeeper could vote, Daniels would not, Blackwell explained.
Again, as Blackwell pointed out, Daniels was wealthy. She was even a law school graduate, though she was not certified as a lawyer.
Eventually she joined other women to stand in front of the White House, silently protesting against President Woodrow Wilson with signs and banners asking, "What will you do for suffrage, and how long must women wait for liberty?"
Daniels was arrested three times then, jailed in Washington, D.C., and later in Boston, all for protesting Wilson.
A radical Daniels was a vegetarian and supported causes around the world, Blackwell said.
"And she had gotten her start, of course, by protesting her local tax collector."
End result
The final blow to Vermont suffragists came from Gov. Percival Clement, who refused to call the state's legislators into session to make Vermont the Perfect 36, or the last state needed to ratify the 19th Amendment, Blackwell said. Instead Tennessee did that, in August 1920.
Clement had vetoed a previous suffrage bill.
On Aug. 26, 1920, the 19th Amendment to the Constitution, granting women — though again, not all women — the right to vote, was signed into law.
It was finally ratified in Vermont on Feb. 8, 1921.
That year, Blackwell said, the state's female legislator sat in the House.
For resources about the suffragist movement in Vermont and a list of currently planned events, visit vtsuffrage2020.org.