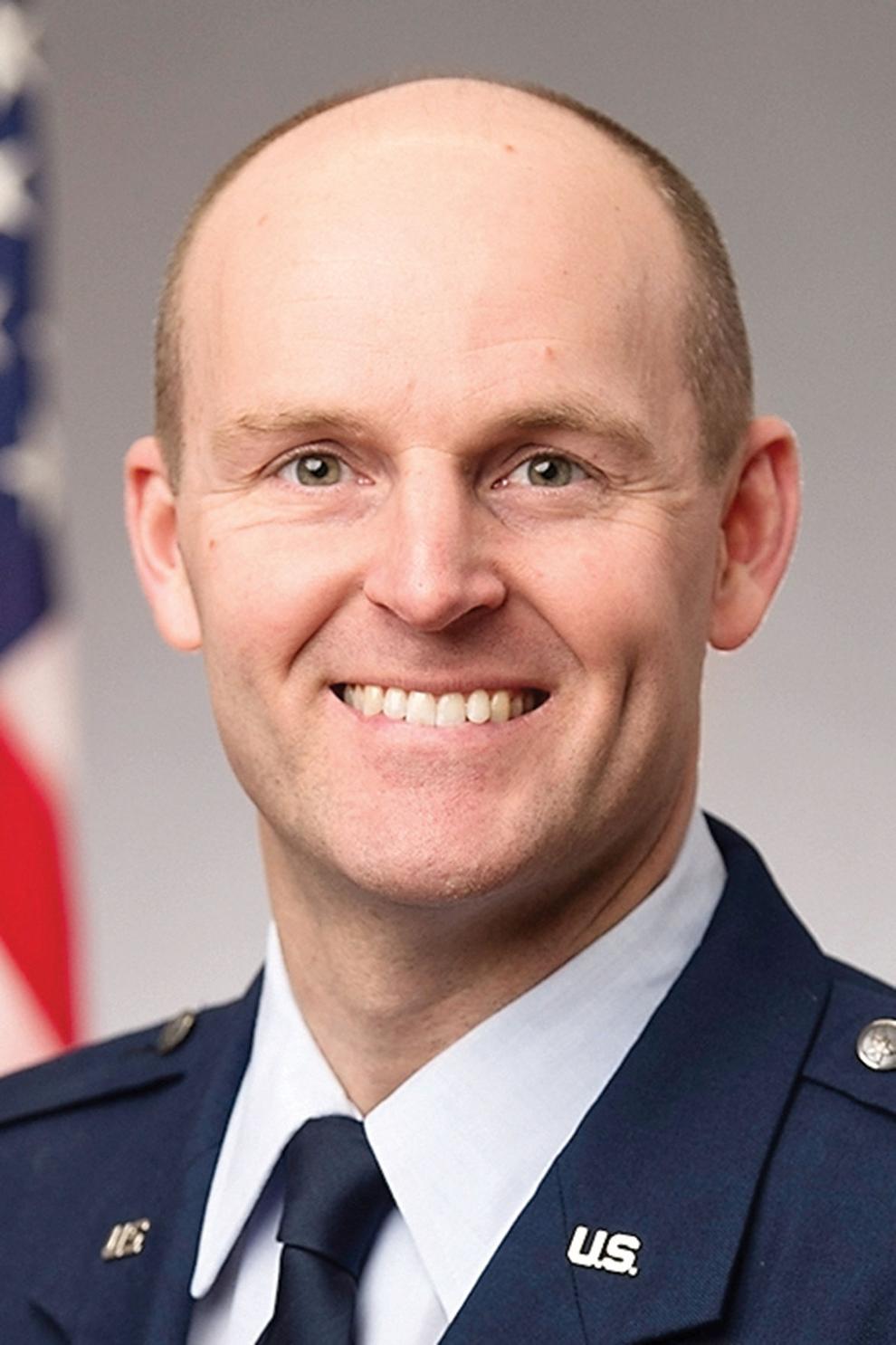 A painting of a Green Mountain Boy flying an F-16 over the Manhattan skyline on Sept. 11, 2001, hangs just outside the office of Col. David Shevchik. Inside a long table and chairs repose, ready for meetings. A desk dominates the corner, prepared for the commander to get to work.
On Wednesday, Feb. 5, Shevchik, Commander of the 158th Fighter Wing, welcomed The Other Paper into his office, where he caught up on his new post, the guard's mission and questions about F-35 noise.
Commanding the Wing
It's been roughly a month since Shevchik took the reins as commander of the 158th fighter wing, and his days have been full.
Shevchik, the Vermont Air National Guard's 19th commander, is its first to simultaneously lead the organization and pilot the new F-35 fighter jet.
Balancing time between the two roles isn't an issue, Shevchik said. He spends a few days each week flying and in the command office and says the two roles go hand-in-hand.
"Part of being the commander ... my responsibility is also to know what my team's going through," Shevchik said. Flying allows him to be on the flight line and see what the maintainers are working on or what it's like to be in the elements.
Plus, he said, it keeps him current on flight tactics and the needs of the team.
"When I come back and kind of sit in this seat and work with my team here [in the office] it helps me understand and know the context and perspective of what my team needs," Shevchik said.
And Shevchik's training means he could deploy on active combat missions with his fellow Green Mountain Boys.
"Normally at a certain level of command, you don't always go on all the combat deployments," he said. "I'm definitely eligible to deploy and certainly willing, that's my job."
In that case, Vermont operations would be managed by the vice commander of the wing, Shevchik said.
Path to the Guard
While Shevchik is new to the commandership he isn't new to the Guard. Born in Springfield and raised in Essex, Shevchik says he has early memories of the Guard and its planes.
"As a child, I was aware of the guard being here and the jets and flying," He said. "That piqued my interest."
So greatly did it interest him that he later attended the Air Force Academy in Colorado and served an active duty role for the subsequent decade. Shevchik moved back to Vermont in 2007, where he joined the Vermont Air National Guard and has served ever since.
"It's been absolutely fantastic for my family, and I love the organization," he said, adding that knowing the members of the wing helps him as its leader.
As commander, his goal is to aid the Wing in becoming a "mission-ready" F-35 squadron. Thus far the Guard has 10 of its 20 fighter jets and about half of its pilots are trained, Shevchik said.
"The team is good about sharing access to the jets so that's been great," he said. "Everyone's excited for the future, collectively, to kind of forge ahead and be a mission-ready F-35 fighter wing."
To achieve that status, the Wing will have to work and train diligently over the course of the next year and a half, Shevchik said.
"It's basically focusing on our training to make sure that … we are a premier ready fighter wing. Because that's what the nation and the state expects us to be," he said. "That's definitely a challenge, but a responsibility that I think we all have. The team knows it, they're focused, they enjoy it."
Shevchik says his personal goals as wing commander align with becoming mission ready.
"My personal goals are really to just help make the team better," he said. "The team makes me better on a daily basis."
And he hopes to continue the Wing's legacy as "stewards of the community."
"Community engagement is very important to me. That's one of our goals and focus areas, is to grow community outreach and community engagement," Shevchik said.
Shevchik recently spoke with Winooski Mayor Kristine Lott and said he has an April meeting set up with her and the Winooski city staff. Shevchik added he looks to speak with the South Burlington City Council soon.
"I definitely want to continue to have a healthy dialogue and share information and continue the collaborative community relationship and partnership that we've had," he said. "We're citizens of the community here too."
And though commanding the wing is no small task, Shevchik says he is still finding time to do the things he loves like spending time with his family.
"I have a wonderful family. I'm married to a beautiful wife of 16 years. And have two boys 13 and 10," he said. "They keep us very active."
Among their favorite hobbies are skiing, hiking and swimming, he said.
Outside the command offices, the din of construction could be heard as workers continued projects to help the guard with its new mission.
"I want the community and the state to know that we're a very proud organization, we have a talented team of professionals here," Shevchik said. "We have a very exciting future ahead of us and one that I think we're very proud of one that the community is hopefully proud of."