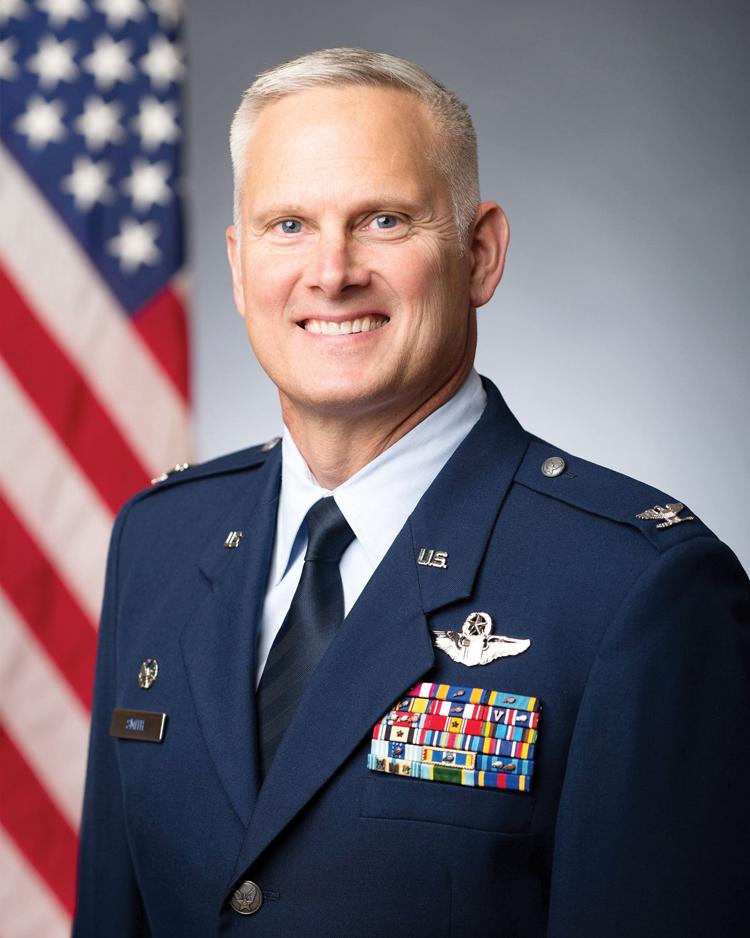 Col. David Smith could not have known his senior-year decision to join the Vermont Air National Guard would lead to career lasting more than 31 years at the 158th Fighter Wing. He also couldn't have known that decision would see him filling almost every leadership role, ending with a two-and-a-half-year stint as Wing commander.
This winter he'll pass the baton to Col. David Shevnek.
"It really felt like the time was right," Smith said. "The [F-35s] are here, the wing is ready and … it felt like it was the right time for me and my family."
Smith considered serving throughout his college years at the University of Vermont – but didn't actively pursue it. Then near the end of his senior year he met a guardsman during a banquet. The two talked about his service and the man set Smith up with a contact at the air guard base. After spending a May 1987 day job shadowing on base, Smith was ready to apply.
By 1990, he was a trained pilot, on base where he flew the F-16 for 25 years.
"That's just an amazing career, an amazing profession," Smith said. "It's really challenging, it takes a lot of preparation."
Flying fighters required Smith to work as part of a team, a skill he knew well from his days as an athlete.
With his fellow pilots, Smith studied flight, practiced behind the yoke and learned how to debrief performance. He enjoyed how ranks were shed as the jets ascended into the sky.
"Whether you're the most senior 06 or colonel, or the brand-new second lieutenant flying the airplane ... rank comes off when you're flying," he said. "You're part of a team and you're working closely … backing each other up and holding each other accountable and pushing each other to get better."
Smith's most memorable flight was first combat mission in 2004.
"I'd been flying at that point for 14 years, that's like the culmination ... that's what you train [for]," he said. "I remember who I flew with, I can remember that day pretty vividly, that first sortee."
But most fulfilling during his time at the wing was serving as commander Smith said. He assumed the position in 2017.
"To start off the street and stumble onto the guard ... and find myself as the wing commander is pretty cool," Smith said. "That's one of the neat things about the guard, that can actually happen."
But it doesn't occur by happenstance. A wing commander must have progressed through the ranks, had a professional military education and be a "good fit" for the position. The commander is selected by the adjutant general.
"You look at who's ready ... who has the experience, who has the credentials, who's the right fit," Smith said. "You're trying to pick the officer ... who is the best suited at the time to lead the wing."
Smith didn't seek the title "Wing Commander." Even as vice commander he hadn't eyed the post, he said. But when the call came for him to lead the wing, he knew he was prepared.
"To be the wing commander during this period where we're changing our mission from the F-16 to the F-35 and everything that's gone into that … I'm really proud," he said.
The position hasn't been without its challenges though. The arrival of F-35s on base brought a lot of interest and a lot of questions, Smith said.
"We've spent the last year really getting to know people so they understand what we do, what our mission is," he added. "There's not a great understanding of truly what we really do in the guard."
He added that doesn't just pertain to the F-35, but the work of the wing as a whole.
Another challenge of his three-decade career has been deployments.
"Probably the most challenging thing is managing the balance of service member and our commitments to deploy and to be away from our families," Smith said. "It's serious business to be ready to deploy. That's what we do, we raise our right hand to be able to support and defend the constitution and give our lives for this country if we need to."
And since the 90s, the Vermont Air National Guard has transitioned from a strategic reserve to a base that deploys regularly.
But soon deployments and other guard demands will be in Smith's rear view.
And while he looks forward to the next chapter, it wasn't an easy choice to retire.
"It's hard to step away from an organization ... that's been a huge part of your life for 31 years," Smith said. "It's a hard decision … because this place means so much to me. [But] it really felt like the time was right."
F-35s are arriving and the wing is ready for its next mission, Smith said. Plus, he and his family are looking forward to new opportunities – though Smith says those remain TBD.
Smith said he knows Vermont Air National Guard will be just fine as it undergoes the change of command.
"I know that the wing will be in really good hands and I know that the leadership team that's in place across the wing at all levels is great," he said. "There will be challenges, I guarantee it, but … I am really excited and optimistic about the future for the Wing."