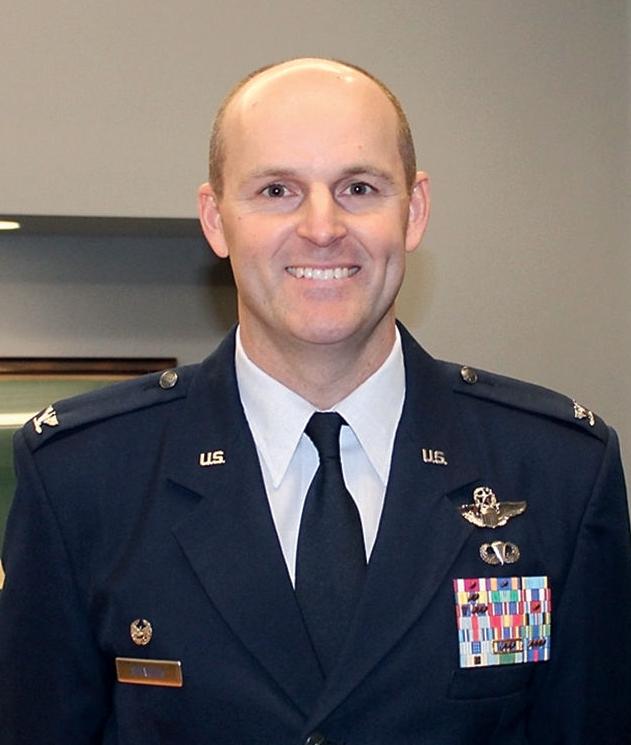 The 158th Fighter Wing is primed to begin anew following the retirement of Col. David Smith. Following a ceremonious Change of Command on Sunday, Jan. 5, Col. David Shevchik will now lead the Wing as its first active F-35 pilot and commander.
"It's a tremendous honor, I'm very humbled, I'm very grateful," said Shevchik. "Especially taking over for a man like Col. Smith ... [who] led with a lot of character and passion and authenticity."
The ceremony was held inside one of the guard's hangers, with hundreds of members of the Wing in attendance. Gov. Phil Scott, State Director John Tracy – on behalf of Sen. Patrick Leahy and Sen. Bernie Sanders – as well as Ryan McLaren on behalf of Rep. Peter Welch, and Winooski Mayor Kristine Lott were also present.
"It's a bittersweet day for most of us from the Air National Guard, as well as the 158, to see the wing commander be changed to someone new," Scott told reporters. "We owe a debt of gratitude to Col. Smith for his leadership and we look forward to this transition and what it can bring to us as a responsibility of the Air Guard."
Adj. Gen. Gregory Knight shared the importance of the day, his sadness in seeing Smith retire and hope for the Wing under its new leadership.
"I cannot imagine anyone better suited to bring to life the vision for the Vermont Air National Guard, you were without question, the best possible person to represent our organization and muster in the future as our first national guard F-35 Wing," Knight said to Smith. He thanked Smith's parents and family for their support.
He then turned to Shevchik, highlighting his distinction as the wing's first F-35 pilot and commander.
"Colonel Shevchik ... you're charged with bringing the 158th Fighter Wing to operational status. You have the mission focus, the drive and expertise to get it done and to get it done well," Knight said.
Knight added that he would do his part in facilitating the success of the Wing.
Following the remarks, Smith was presented with a Legion of Merit Award, and later, the American flag, ceremoniously folded 13 times. The guard also announced it would carry on Smith's legacy with the Col. David A. Smith True North Award. The award will be presented annually to a member who exhibits leadership, character and the core values of the guard.
"This will allow us to take a moment each year to look to true north, to be reminded of the legacy you have left and placed on us," Chief Master Sgt. Darin Mauzy said. "We are personally better for having [had] you lead us," he said. "Home is being a Green Mountain Boy wherever you are, this will forever be your true north."
Smith offered thanks to both his family and the Wing, noting he looked forward to the future.
"It's been the honor of a lifetime to be your commander," he said. "There's so much on the horizon that I look forward to keeping up with and sharing the excitement and the future with you."
He also shared with the Wing his confidence in Shevchik.
"For those of you who may not know Colonel Shevchik well, here's what you're going to get, you're going to get somebody who cares about each and every one of you, deeply, who's grounded in his family and is going to do amazing things for this wing," he said. "You're really fortunate and you should feel blessed to have him as your commander."
Smith ended by saluting the Wing. Traditionally, it is the Wing that salutes the outgoing commander, but he wanted to show his respect, according to the emcee.
The change of command, executed by the passing of the 158th Fighter Wing's flag between Knight, Smith and Shevchik, signified Shevchik's official launch into guard leadership.
Shevchik followed the exchange with his own remarks.
"It's not lost on me that the only reason I'm standing here is because of you," he told the Wing. "I'm grateful and I'm humbled."
Shevchik then thanked Smith, adding the Wing wouldn't miss a beat. As he later told reporters, he looks forward to working with the Wing to move from a transitional phase of the F-35 mission, to an operational level. He added he intends to continue Smith's legacy of engaging with the community.
"Team, we have a job to do together," Shevchik said during the ceremony. "I know what you're capable of, you know what you're capable of and I couldn't be more proud to be in this with you and serve alongside you as your commander."