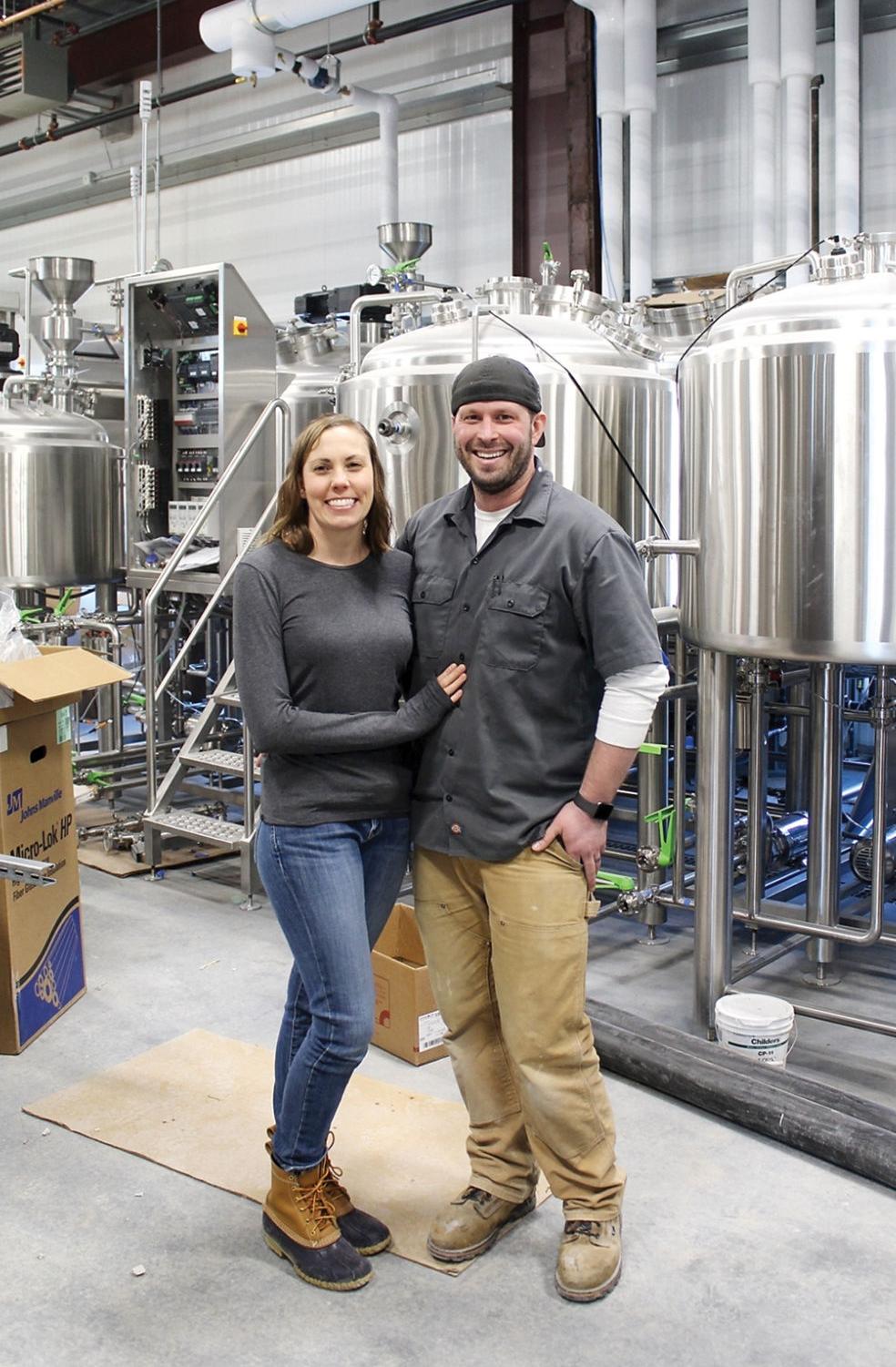 Driving along Stowe roads in 2016 – then Vermont newcomers – Jack and Emily Droppa couldn't help but notice the long, slanted windows that bedecked some homes.
"We never knew what they were called," Jack said, adding the couple dubbed the structures "Weird Windows."
Flash-forward, Jack was working at Frost Beer Works as brew master when a skiing injury left him out of commission. During his time off the job, Jack learned Canadian brewery, Farnham Ale and Lager, was looking to move out of its South Burlington brewhouse. He leapt at the opportunity to start his own business.
"I always wanted to have my own brewery, eventually, it was supposed to be in like the five to 10-year plan, not like the five to 10-month plan," Jack said. "But everything kind of fell into place."
The Droppas left their jobs – Jack at Frost and Emily a school counselor – to renovate the new brewery and prepare their venture. While brainstorming names, a friend suggested "Witch Window." The Droppas asked their friend what a Witch Window was and were surprised to find out it was the very architectural feature they'd dubbed a "Weird Window."
The rest was history.
While the duo isn't offering up an opening date yet, they say the brewery will likely open sometime between April and May.
Entering Vermont's brew scene
Nestled in an industrial section of the city near the bridge on Lime Kiln Road, Weird Window is off the beaten path. The brewery has a tap room that can accommodate 48 people. It has a mix of industrial and rustic elements with sleek epoxy floors, pendant lights and a large, rustic barn window over the bar. Three windows, including a "weird window," offer patrons a glimpse of the brew tanks and operations. Large garage doors tease at the coming warm summer nights when they can be rolled up to allow for a quasi al fresco experience.
The Droppas say they plan to start small. Emily will tend bar and Jack will join her when he isn't brewing Weird Window's concoctions in the back. There won't be any cans or kegs to start, but Weird Window patrons can enjoy a pint in the taproom or fill up a growler.
In time the duo hopes to grow their venture, possibly with live music or collaborations with neighbor Halyard Brewing.
With Halyard Brewing and Magic Hat also pouring up pints in South Burlington, the Droppas have no shortage of competition.
"There's so much good beer in Vermont right now," Jack said. "People want something new, and everybody's looking for the next beer."
He hopes to maintain a diverse portfolio of beers, experimenting with different hops and malts to create interesting flavors.
"One of the more unique beers that I've been brewing now for a long time is a jalapeno cream ale. It's spicy but it's not burn-your-face-off spicy," Jack said, but, he added, "Our goal is to be able to have a beer for anybody that comes through the door."
It takes two
Jack began brewing beer while pursuing his undergraduate studies at St. Lawrence University in New York. Emily –then his girlfriend– bought him his first home brewing kit as a Christmas present. From there, Jack's brewing hobby carried over to professional ventures out west, before he headed to Vermont to live with Emily. Once in the Green Mountain State, Jack built upon his experience with stints at Otter Creek Brewing Co. and Frost.
Now a decade into the craft, Jack says it still greatly interests him.
"I like brewing because, especially now with how the craft brewing scene is, everybody wants something new and something different," Jack said. "No longer do people want a Bud Light or a Coors Light."
Emily landed a job as a school counselor in Vergennes where she worked from 2015 until the couple decided to pursue making their own brewery. But, she joked, that experience might help with her newest venture.
"I was a bartender in college and in grad school and there are some similarities between counseling and bartending," she said. "Everyone says it."
The couple looks forward to working together, Jack touting Emily's organizational skills as a real asset.
"I'm excited to be able to brew beer. It'll be a challenge, but something that I think we're looking forward to," Jack said.