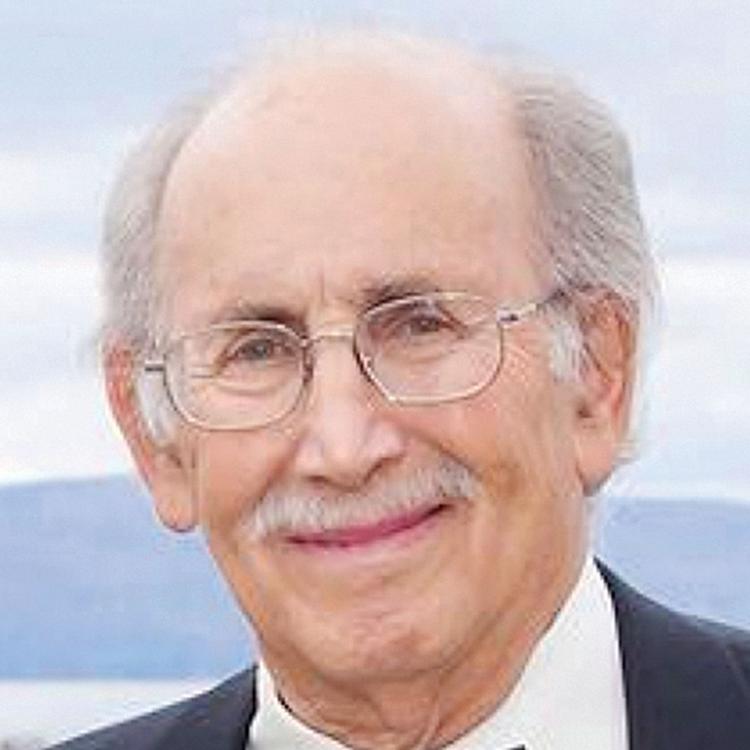 South Burlington resident David Shiman has dedicated his life to human rights. On Nov. 22, he was recognized for that service with a Lifetime Achievement Award from Human Rights Educators U.S.A.
But Shiman hasn't always called his work by that name. For him, it was about treating others fairly.
"In the beginning, I didn't call it human rights," he said. "I think I probably didn't name it, but it was really about justice."
Indeed, at age six, Shiman was gaining an idea of what was fair and just. His hero was athlete Jackie Robinson, the first black man to play Major League Baseball.
"He introduced me, in some ways, to the effects of racism," Shiman said.
This realization worked itself into a Passover Seder meal, during which Shiman was reminded of the baseball star: "There's a line that says, 'Remember, you were once strangers in the land of Egypt,'" he said, adding, "Jackie Robinson was a stranger in the land of Egypt."
It served as a powerful reminder: 'This was you once,' and it got Shiman thinking about what he could do to help others in similar situations.
"There are a lot of people who are [metaphorically] in the land of Egypt," he said. "That's part of my trajectory. The human rights entered in as sort of a framework that I found useful to help me understand many aspects of the world."
With a few more years under his belt, Shiman was ready to answer the call. In the 1980s he and about five other Amnesty International U.S.A. members created an education steering committee within the organization to educate American teachers about incorporating human rights into their curriculum. While Amnesty International served to educate people, it hadn't developed curricula or materials for teachers at that time.
"The first steering committee was essentially the first thrust by Amnesty to do education focusing on schools," Shiman said. He added the committee created a publication called "The Fourth R," which sought to place human rights education alongside traditional reading, writing and arithmetic classes.
The committee established curriculum activities, workshops for teachers and training courses on how to teach about human rights.
The starting point, Shiman said, was often to have teachers examine the Universal Declaration of Human Rights, signed by the United Nations in 1948. The declaration defines human rights ranging from the right to an education to the right to your name, the right to leave your country and return, among others., Shiman said.
Shiman and his colleagues helped educators pair that document's teachings with other curricula, like social studies and writing. The goal was to help students look at their world differently and to challenge human rights violations.
"I would argue that you can't teach about human rights at a distance," Shiman said. "You can't teach about [human rights] ... without raising questions about what can we do about it."
According to Shiman, that can come down to looking at problems systemically. A food shelf is a good place to help those who hunger, for example, but a bigger question is how to end hunger.
"One thing we need to deal with in this society, is to not blame people for being poor," Shiman said. "We have to get past that. I'm not ruling out personal responsibility, but we set up structures that serve certain people more than they serve other people."
But he admits it's a challenging task, and society needs to think structurally rather than individually, he said.
"We say, 'I made it. I got a PHD. I was successful,'" Shiman said, naming his own advantages, including his parents' education and income. "To say, 'I made it on my own' ignores the fact that I didn't, and that other people don't have those opportunities," he said.
Throughout his lifetime Shiman has tasked both himself and others with changing structures to provide all people an equal chance.
The work has seen him play a major role in founding the Amnesty International U.S.A. steering committee, publish human rights education curricula, travel the globe to help others craft human rights education, work on the team of educators who founded Human Rights Educators U.S.A. and serve as co-director of the Center for World Education at the University of Vermont.
Currently, Shiman serves on the board of Burlington's Peace and Justice Center, where he contributes to the organization's mission to combat racism and promote peace.
The most surprising and "maybe disappointing" part of Shiman's work is how slowly human rights curriculum has caught on in the U.S., he said.
"I wish people were more understanding of the role that human rights plays as helping people around the world sort of have a cause that they could work towards," he said. "It's powerful to be able to see yourself as part of a global movement; as human rights education, human rights, is."
The most rewarding part of all these efforts, he said, has been meeting like-minded people and working together on a satisfying cause.
In fact, Shiman believes his close colleagues were likewise qualified for the award – but he's grateful for their support and the recent recognition.
Bill Fernekes, part-time lecturer at Rutgers Graduate School of Education, has worked with Shiman on various projects during the past 30 years.
Fernekes was part of the team that created the Amnesty International U.S.A. National Educators Steering Committee and, currently, serves with Shiman on the Human Rights Educators U.S.A. board. Fernekes was present at the award ceremony and offered remarks on Shiman's efforts as an educator, activist and scholar.
"He's great to work with, he's very open," Fernekes told The Other Paper. "He's had a tremendously influential career in human rights education."
Fernekes appreciates Shiman's thoughtful approach, noting he takes time and care to seek out multiple perspectives before making decisions.
"During our service on the AI-U.S.A. National Educators Steering Committee, I was immediately impressed by his reflective approach to our work," Fernekes noted in his remarks at the award ceremony. "David's soft-spoken yet forthright arguments, informed by years of work as an activist and scholar-practitioner, made eminent good sense while balancing a critical approach to HRE with the urgent need to develop well-designed, useful classroom HRE materials."
But Shiman says that human rights work is a team effort. He acknowledges he couldn't do the work alone.
"If you want to make changes, you gotta have people you're working with," he said. "I've been fortunate to have a bunch of people who I've been really close to."