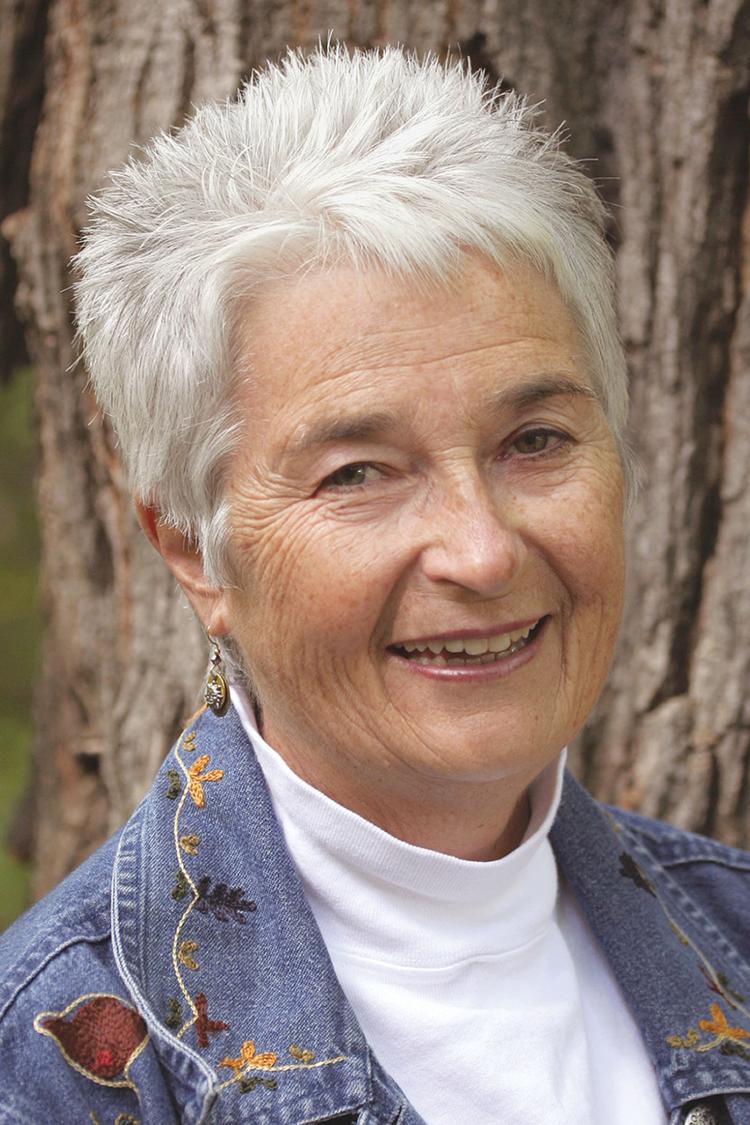 Ellie Bushweller has rightly earned the reputation of a realistic optimist. She wrote more than 100 essays, published monthly in The Other Paper for close to a decade.
Bushweller's popular column was titled "The Realistic Optimist." That same moniker is now gracing the cover of her second book which was published in late 2019 by Outskirts Press.
A resident of South Burlington since 1978, Bushweller, who is currently retired from her nursing and counseling career, is a freelance writer with plenty to say.
Even at 10 years old, living in Brooklyn, N.Y., Bushweller used words to speak to the heart of a matter. She remembers her efforts as a girl to help the local animal shelter's campaign to raise money for a new building.
"I proposed to my friends we create a weekly newsletter and sell it to the neighbors for five cents a copy. We each took an animal to write about. So, unwittingly, I was writing a weekly column," Bushweller said. "Little did I know that writing a column would later factor into my adult life!"
She wrote a column for her college newspaper, and later her children's book, "The Tree with a Hundred Hands" published in 2008, sparked her local columnist career. The former publisher and editor of The Other Paper, Judy Kearns, contacted the author.
"She made arrangements for me to be interviewed by one of the staff reporters for a feature about the book and a color photo of me reading it to a group of kindergarten children," said Bushweller. "In a follow up conversation with Judy, she offered the opportunity to me to consider writing a column on a regular basis for the paper. I was given the freedom to explore a variety of topics of my own choosing. I was most interested in doing topics concerning the everyday lives of people."
With a mission in hand, Bushweller went on a hunt for just the right title for her column.
"I called my son to ask him to help me brainstorm. We did a couple of rounds, had a few good laughs, and then he said, 'How about calling it The Realistic Optimist?' It clicked immediately when Kevin suggested it," shared Bushweller. "It felt right because it had a positive label grounded in practical reality not empty platitudes."
For Kevin Bushweller, his title suggestion was perfect. In it, he saw his mother's ideals of optimism, purpose and the call to "embrace the journey" along with her innate ability to be a keen observer of the human condition.
"As a young boy growing up near Worcester, Mass., I saw that perspective in action," said Kevin. "My mother worked as a nurse for the Visiting Nurse Association in the city. She cared for children and adults in a rundown, public housing project. Based on the conversations she had with fellow nurses and my father, that I sometimes eavesdropped on, she did not believe she was going to transform the lives of the people in the public housing project in some wildly optimistic way. What she did believe is that what she was doing did make their lives better … She has experienced the thrill of victory and the agony of defeat in the game of life, and she brings that perspective to her writing."
This perspective can easily be seen in Bushweller's columns. With titles like, "Backyard Life Lessons," "Standing Up for Milo" and "The Gift of Tears," the author reached into her personal life every month to share epiphanies and, even more importantly, calls to action in terms of personal growth and connection.
Her essays, which run the gambit from poignant to humorous, are informative and thought-provoking. Bushweller dares to suggest that readers put away their cellphones for family dinners, send handwritten thank you notes and even consider the time in a waiting room a gift.
As she writes, "The act of waiting is a great teacher if we allow ourselves to be its willing, attentive pupils."
Bushweller's last column in The Other Paper was published in the Jan. 24, 2019 issue. Titled "A Grateful Exit," it spoke to the Ecclesiastes sentiment of "to everything there is a season," and for this writer, it was a time of closure.
"I think saying farewell is an important and respectful way to end many things in life if you have the chance," said Bushweller in contemplation of her column ending. "Just disappearing from The Other Paper didn't seem the right way to thank the readers of the column. Second, I think it is a wonderful reminder that endings are truly new beginnings and you take what you learned with you."
As to her book, Bushweller hopes it will provide respite, joy and inspiration for those reading her essays. It also leaves a powerful legacy for her family.
"Publishing this book gives me the opportunity to give each of my children and grandchildren a tangible piece of me," shared Bushweller. "Hopefully, I will pass on that realistic optimist approach to life in each of their own lives in both the good times and the challenging times. Life is too precious to squander."