It's that point in the high school postseason where the number of contests dwindles, but the stakes get higher and higher.
Peoples Academy's baseball team and Stowe High School's still-undefeated girls' tennis squad are the last local teams standing, and there's only one more opponent between them and a state title.
This past week saw most local teams exit from the playoffs, or wrap up the year with individual honors in track and field.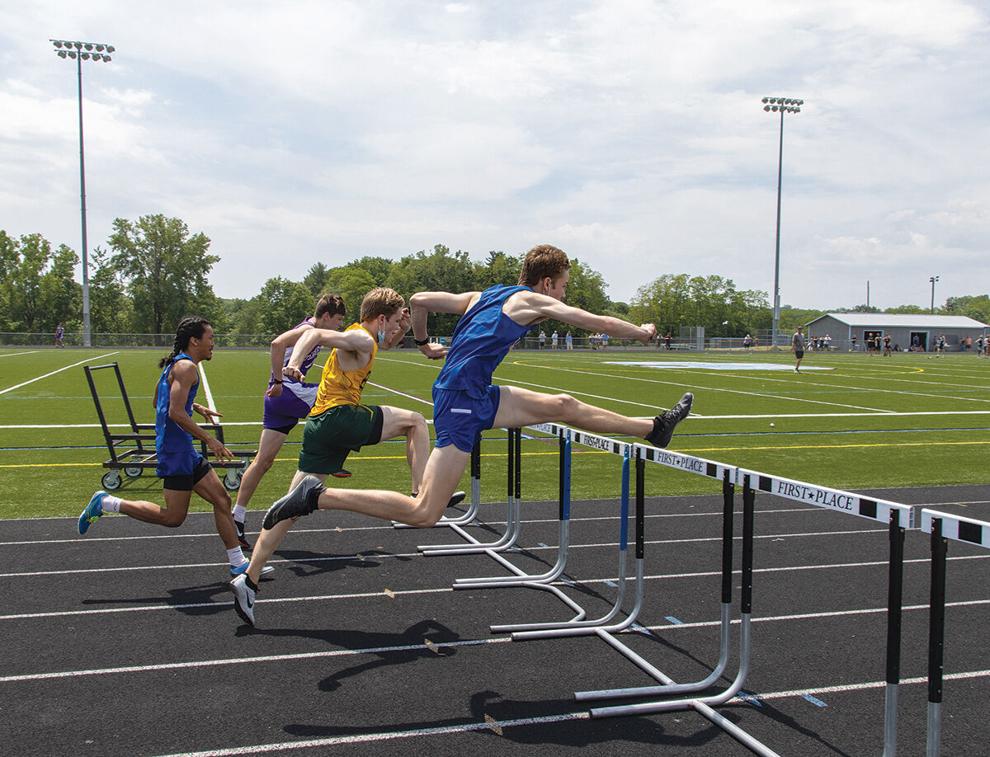 Track and field
Lamoille Union High School crowned two runners as best in the state, and Peoples Academy had a gold medalist, too, in the Division 2 state meet at South Burlington High School Friday.
Lamoille's Noah Burnham set a personal best as he eked out a win in the 110-meter hurdles with a time of 16.62 seconds, just over two-tenths of a second faster than second place Henry Putney of Burr and Burton Academy.
Teammate Maggie McGee left 8 seconds of daylight between her and second place in the 3,000-meter run to take the top spot in the eight-lapper. Stephanie Ager of Bellows Falls was second in the field.
Peoples sprinter Sawyer Beck bested everyone else in the 400-meter dash, which some say is the hardest sprint there is. Beck ran away with the title in 52.39 seconds, also a personal record, which was enough to edge Taite Magoon from Spaulding and the rest of the pack.
Lamoille track coach Jeff Beal also coaches cross country and Nordic skiing, so he gets a lot of face time with many of his athletes.
"The meet and year went great for us. It was so great to compete on the track again after such a long layoff. Our numbers were a bit down from two years ago which I would attribute to the pandemic but the group that we have has been amazing — they were eager to train and get better," Beal said.
"With respect to our Lamoille Union High School state champions, this was Noah's first year running the 100-meter hurdles as he only did the 300 meters his freshman year. From the beginning to the end of the season, he steadily dropped off chunks of time in the event. I couldn't be more happy for him to take the victory."
As far as McGee, Beal said, "She ran a very smart race in the 3,000 meters. With two laps to go, she felt that the pace was soft and made a decisive move against the other two girls that she took to the finish. She is a passionate athlete for Lamoille Union and I am thrilled that she has got her first state title."
Beal said the team is losing "five strong senior scorers/leaders, however, we have a strong core of underclassmen and middle school athletes coming up."
Add in other top finishes — the best six in each event score points toward the overall team score — and Lamoille's girls finished sixth overall, with the PA girls coming in 10th, out of 16 teams.
On the boys' team side, PA finished seventh, with Lamoille in ninth. Perennial powerhouse U-32 won both the girls' and boys' team titles in landslides.
Here are the Lamoille County track and field athletes with top-six finishes:
• Boys' 4x800-meter relay: Lamoille, third place (Erubey Lopez, George Sullivan, Liam McGee and Hugh Johnson) with a time of 9:05.82
• Girls' 1,500 meters: Maggie McGee (LUHS), fifth place in 5:03.53
• Boys' 110-meter hurdles: Noah Burnham (LUHS), first place in 16.62; Nathan Kessler (PA), fifth place in 18.08
• Girls' 4x100-meter relay: Lamoille, second place (Hannah LaRock, Dhayne Gillen, Heidi Tinker, Barrett Freeman) in 54.39; Peoples, third place (Sarah Hailey, Meghan Kimball, Ellie Zimmerman, Lucy Nigro)
• Boys' 400 meters: Sawyer Beck (PA), first place in 52.39; Hugh Johnson (LUHS), sixth place, in 55.68
• Girls' 100 meters: Barrett Freeman (LUHS), second place, in 13.37; Sarah Hailey (PA), third place, in 13.54
• Boys' 100 meters: Henry Riley (PA), sixth place in 11.91
• Girls' 300-meter hurdles: Maggie McGee (LUHS), fourth place in 52.57
• Girls' 200 meters: Barrett Freeman (LUHS), third place in 27.95
• Boys' 200 meters: Henry Riley (PA), third place in 23.88
• Girls' 3,000 meters: Maggie McGee (LUHS), first place in 10:57:10
• Girls 4x400-meter relay: Peoples Academy (Orly Bryan, Olivia Mara, Falon Forrest, Sarah Hailey), sixth place in 4:43.48
• Boys' long jump: Elias Gillen (LUHS), sixth place with 5.78 meters
• Girls' shot put: Anika Wagner (PA), fifth place with 8.66 meters
• Boys' discus: Evan Reichelt (PA), fourth place with 32.91 meters
• Girls' discus: Hannah Cleary (PA); fifth place with 24.67 meters
• Boys' triple jump: Erubey Lopez (LUHS), third place, with 12.01 meters
• Boys' javelin: Miles Mitchell (PA), with 38.58 meters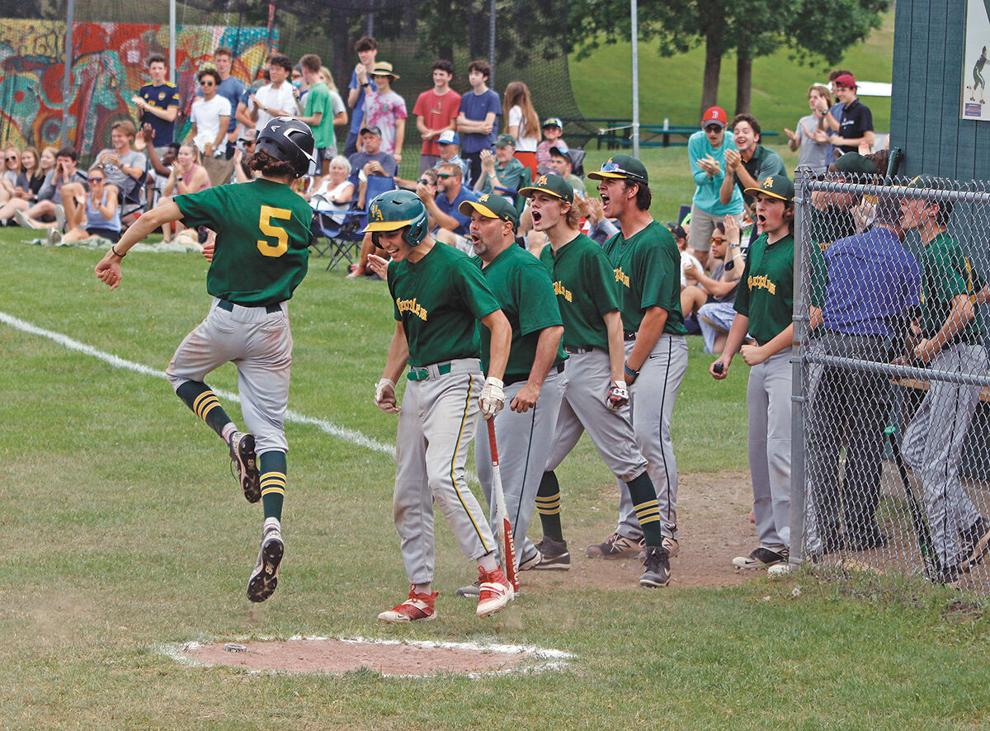 Baseball
Tuesday, June 8: Peoples 6, Vergennes 2
It's going to be a top-two showdown for the Division 3 title game, after second-seeded Peoples/Stowe (9-3-1), knocked off No. 6 Vergennes at the ballfield in Morrisville Tuesday night.
Pitcher Hayden Frazee went seven innings for the Wolves with 5 strikeouts, and added a double on offense. Ben Alekson led the offensive output for Peoples, going 2-3 at the plate with a double, triple and two runs.
Landon Dubie (2-3 with 1 run) and Dylan Sautter (1-3) also added some offense.
PA now faces top-ranked Thetford, which went 11-3 on the season. The two teams haven't played each other yet this season, and now everything's on the table.
As of press time, the Vermont Principals Association title game time and venue had not been settled.