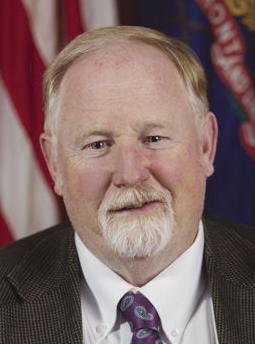 It is always painful for me when we cannot help those in need. I see a lot of that in my community and certainly in the Statehouse in my role on the Appropriations Committee.
I was especially troubled to learn that nearly 15,000 older Vermonters who receive what most know as food stamps, officially called Three Squares, would face massive budget cuts this year if federal rules pushed by President Trump are enacted. Additionally some 21,000 Vermonters with disabilities would have their food assistance reduced dramatically, along with 22,000 children.
These proposals being pushed by the president could cut roughly $30 million per year out of a $70 million annual budget for Vermont. Not only will this cause a hardship for the 70,000 Vermonters on the program but it means our grocery stores would lose $30 million in business.
The people going to our community food shelves will surely increase, putting a further strain on these vital services.
It is hard to understand why the president who pushed through tax cuts that benefitted the wealthiest among us now wants to reduce food assistance for the poorest among us. His tax plan is estimated to provide over $100 million per year to some 5,000 Vermont tax filers with an average income of $1.1 million.
It is troubling that a country with such wealth as ours has such hunger. Research indicates that nearly half of all older Americans admitted to our hospitals are malnourished. Pressures on the elderly increase with age, as one out of seven of all their financial expenses are on health care by age 75.
The Vermont Legislature will be asked to fill this roughly $30 million federal cut. We already face a $70 million shortfall in our state budget next year that we must address; solutions will be hard to come by.
Food assistance was not the only area of the budget targeted for huge cuts by President Trump, who also proposed eliminating the entire fuel assistance program for the nation. In Vermont, that program provides around $17 million in heating assistance to some 20,000 Vermonters, most of them elderly. Vermont Sen. Patrick Leahy led the effort to block that cut in the budget.
There may be some who say these types of reductions in the budget are unfortunate but are needed to help get our skyrocketing debt under control. To that I suggest we stop giving tax breaks to people who do not need them.
The most wealthy among us are scheduled to receive slightly more than 80 percent of the tax cuts over the next eight years, adding $1.5 trillion to the debt. Taking from the elderly, children and the disabled while adding more for the most comfortable among us is not the Vermont way.
---
David Yacovone, a Democrat from Morrisville, also represents Elmore, Woodbury and Worcester in the Vermont House. Email letters to news@newsandcitizen.com.