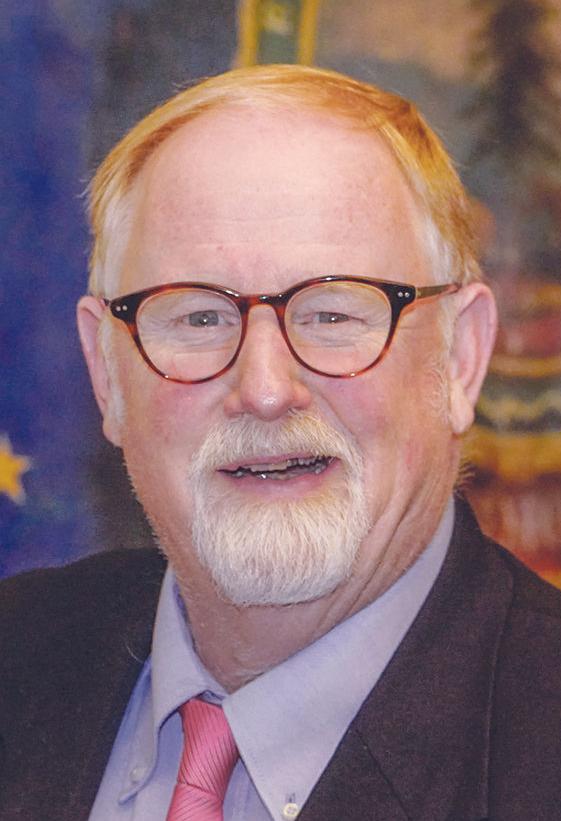 "All the lonely people, where do they all come from? All the lonely people, where do they all belong." These lines from the great Beatles song "Eleanor Rigby" played in my mind this week as I walked from meeting to meeting in the Statehouse.
Surely, just because a person is alone does not mean they are lonely, no more than just because a person is surrounded by others does not mean they are not.
You might be wondering what does loneliness have to do with the goings-on at the state capitol. In short, mental health matters just as much as physical health and its impact on our quality of life and economy cannot be overstated.
Nearly four out of 10 — 39 percent to be precise — of older Vermonters live alone. We know that being socially isolated leads to being at high risk of depression, cardiovascular disease and hypertension. Vermont's suicide rates are higher than the national average.
Vermont is the most rapidly aging state in the nation. That aging brings with it many challenges. Children leave the nest, pets die, spouses pass on and sometimes a home becomes just a house and the silence can be deafening. Facing old age alone after losing a partner to help with life's challenges is different from being single for years and comfortable with living alone as one ages.
Vermont has about 45 senior centers offering a variety of activities to help keep people active and engaged. None of these senior centers receive state funding. Vermont spends $6 billion on health care annually. Policymakers will need to work on redirecting dollars spent on sickness to wellness to strengthen the quality and quantity of senior centers for our aging state.
When I learned that Disability Awareness Day at the Statehouse was canceled this year due to concerns about the coronavirus, it made me think of the Beatles song lyrics again. To be sure, just because you are disabled does not mean you are lonely, though isolation among the disabled is common. When people feel they offer no value, or meaningful relationships are often only with the caregivers who are paid to be with you, depression can take root in a very pernicious way.
I was scurrying about, feeling nearly overwhelmed by all the balls I was juggling on what was to be disability day, when I rounded the corner and saw two men, one in a wheelchair and the other sitting beside him, both looking pretty forlorn. I pulled up beside them, even though my mind was racing and focused on other things.
Something drew me to them. I introduced myself and they seemed to come to life. I think they felt for a moment someone cared enough to visit with them. I asked them what was on their mind and the man, in his 30s, shared how before winter he was able to get his old dilapidated ramp upgraded and how important that was to him. He went on in a halting voice to slowly explain how he could use help with some bathroom modifications to make things easier for him and his caregiver.
I was touched deeply as I thought about his story and all those like him who march to the Statehouse each year to bend a legislator's ear to share a story in hope that something might change. A ramp, a lift, access to transportation, a home-delivered meal, all the things a caring society wants for those in need.
I shook their hands and, as I walked away, I realized they had done far more for me than I for them. They reminded me that behind all the budget numbers we work with are real people with real stories. We may not be able to end the loneliness that plagues so many, but if we ignore the mental health needs of of our friends and neighbors, we will pay a horrible price.
Their health care needs will be paid through tax-supported programs like Medicaid and higher insurance premiums for working Vermonters and businesses. Yet, beyond the financial costs will be the legacy we are saddled with for ignoring the plight of the disenfranchised and the lonely. Certainly this is not what anyone wants to be known for. Our lack of attention to their needs is little more than indifference.
The coronavirus will likely increase social isolation for many. I encourage each of us to reach out via phone and contact those we know who are alone. If you have any questions about the virus — whether medical or unemployment benefits or anything — I suggest you try calling 2-1-1; it is great resource. Also, healthvermont.gov for those with internet access is a great source for day-to-day information.
My number is 730-0483, so feel free to call me with questions or if I can be helpful. While the Legislature is closed I am available to run errands for those unable to get out.
---
Rep. David Yacovone, a Democrat from Morrisville, also represents Elmore, Woodbury and Worcester in the Vermont House.