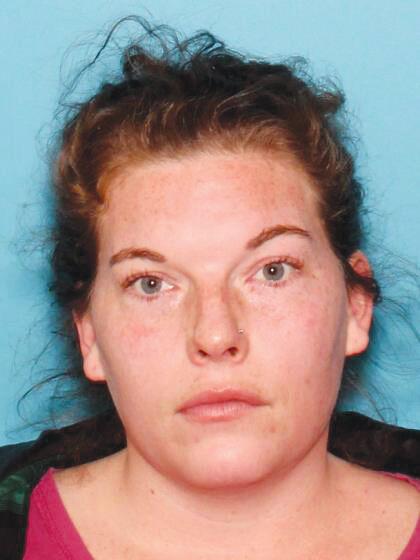 A Johnson woman who was found with more than 1,600 bags of heroin in her car is facing a federal charge of possession with intent to distribute, according to U.S. District Court records.
Melissa A. George, 31, of St. Johns Road, appeared in federal court in Burlington Monday based on a criminal complaint filed by the U.S. Drug Enforcement Administration as part of a Morristown police case.
Morristown police also found George had $5,200 in a paper bag when they stopped her for driving 45 miles per hour in a 25-mph zone while heading north on Elmore Street about 1:50 a.m. Friday, court records show.
George acknowledged in a post-arrest statement that she is a heroin distributor, the DEA said in a court affidavit.
Federal Magistrate Judge John M. Conroy agreed to a request by the prosecution that George be detained pending trial as both a danger to the community and as a flight risk.
Conroy said George tested positive after her arrest for several drugs, including fentanyl, cocaine and benzodiazepine. He also noted she has a 2012 criminal conviction for false information to police in Lamoille County.
Defense lawyer Gregory S. Mertz argued George could be released into an outpatient drug treatment facility and into her mother's custody.
Conroy said he was more inclined to want a structured release plan that would include a residential treatment facility.
Mertz said residential treatment had been unsuccessful twice for George and that outpatient had worked better over nine years at Treatment Associates in Morrisville. The judge disagreed.
"Outpatient has not been successful," Conroy said.
Assistant U.S. Attorney Andrew Gilman said George reported to pre-trial services that she used 200 to 300 bags of heroin each day.
Mertz said his client misspoke and that was the most she ever used, but had cut her drug habit. He said his client does not drink. He said she does not want to lose her job as a desk clerk at an inn or her apartment. She also wants to help with her nieces. George is willing to do drug testing and understands she would face enhanced penalties if she violates her release conditions, he said
"I made a mistake. I made a mistake," George said before the court hearing as she looked at her mother, seated in the second row. But once the hearing began and the felony charge was read by Conroy, George said, "It's not true." 
No formal plea was entered. 
Conroy said she would be entitled to a probable cause hearing on Aug. 27. She will lose that right if a federal grand jury indicts her in the interim.
He noted George did appear to have strong family ties, had been a lifelong resident of the area and had no record of failing to appear in court, but those points were not enough to get her a pass back into the community.
Conroy also noted that she also is facing serious drug charges in state court later this month in Windham County.
George is scheduled for arraignment in Brattleboro on Aug. 25 for an unrelated criminal case involving state charges of trafficking of fentanyl, possession of fentanyl and providing false information to Vermont State Police after a crash on Interstate 91 in Windham County, records show.
Morristown Officer Nathan Wolfe, who was running radar, said George was emotional and had slurred speech when she answered questions. He said George also had trouble pulling out her license and registration, but was able to perform sobriety exercises.
Wolfe reported George said her problems were due to an argument that she had with Andrew Philip, 34, of Morrisville, her front seat passenger, in the 2015 Subaru Legacy. Philip was later released with no charges, police said.
While speaking with George, Wolfe said he spotted a bundle of wax glassine baggies with a blue stamp on the driver's side rear floorboard. Wolfe was aware of the connections to drugs.
Morristown Sgt. Jason Luneau, a former member of the Northern Vermont Drug Task Force, arrived on scene and spotted an empty glassine baggie on the driver's seat while George was out of the car doing sobriety exercises, police said. He also spotted the bundle behind the driver's seat, police said.
Luneau confronted George, who said it was for her personal use and she agreed to a search of the car by police, the DEA said.
The DEA said the search by Sgt. Luneau and Lamoille County Deputy Sheriff Christopher Tetreault uncovered suspected heroin in the following:
About 1,261 baggies in a back canvas bag, about 110 baggies in the rear seat passenger area; about 107 baggies on the left side of the driver's seat next to the door; about 100 bags under the passenger seat; about 17 glassine bags in a duffle-style bag on the rear seat; about 12 bags on the front seat floorboard; about 10 bags between the front passenger seat and the center console; and about 17 bags in the money bag.
Luneau, based on his professional training and drug investigation experience, said all the intact glassine bags appeared to have heroin, according to the DEA. Luneau and Tetreault also found used empty glassine baggies in the Subaru.
Now that George has been ordered detained by the U.S. Marshals Service, her scheduled appearance in state court in Windham County on the June drug cases could be delayed.
The Vermont State Police case stems from a southbound car crashing into the guardrail on I-91 in Putney about 12:30 p.m. June 29.
George and Joseph A. Peets, 35, also of Johnson, were in a rental car, Trooper Zachary Van Valkenburgh reported.
Both defendants attempted to cover-up the true identity of Peets, who had an active arrest warrant pending in Washington County, Van Valkenburgh said.
There are possible further charges, pending the outcome of a search warrant application, Van Valkenburgh said.