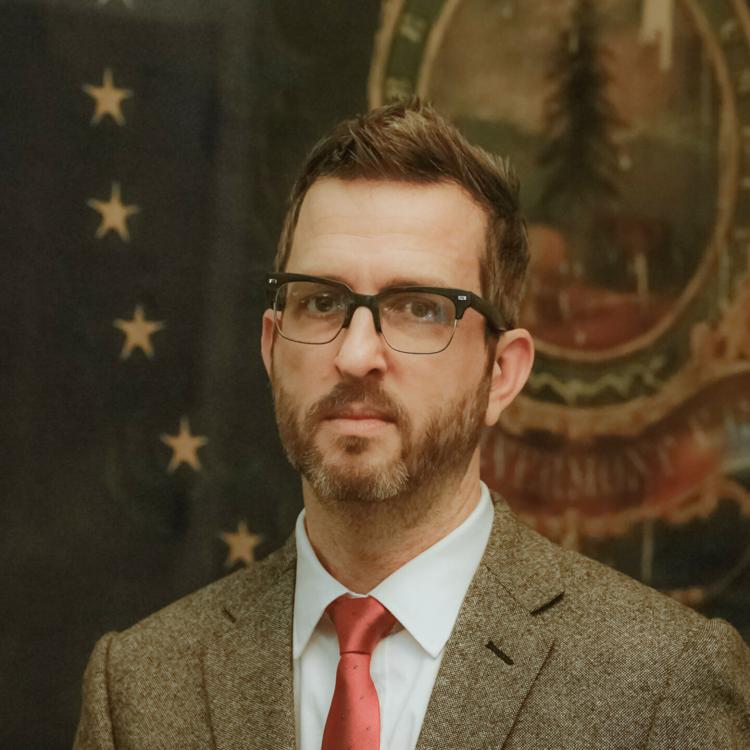 Wolcott has its first town administrator.
Randall Szott, a former legislator from Barnard, started in his new job as the town's part-time town administrator on Monday, Oct. 5.
Until the 2020 legislative session wrapped up last month, Szott represented Barnard, Pomfret, Quechee and West Hartford in the Vermont House of Representatives.
He was first elected in 2018 but decided not to seek re-election this year.
The former Barnard resident moved to Montpelier and already had another part-time job there, but was looking for another as the Legislative session was winding down.
"This just fit perfectly," Szott said about his new position in Wolcott. He saw the position advertised during the summer, quickly applied and was hired by the board on Sept. 2.
"It's just a good fit with my background, what I needed with my schedule and my interest in administration," Szott said.
Along with working as Wolcott's first town administrator, he also has a part-time job with the Vermont Office of Economic Opportunity.
Wolcott selectboard member Kurt Klein said Szott was one of two people who quickly responded to the job posting.
Szott's expansive resume blew the board away, quickly making him the frontrunner for the new position.
"I think our timing was just right," Klein said. "We were fortunate that this fit Randall's background quite well."
He said Szott's experience as a legislator and other past job history make him an ideal candidate for a town administrator position.
As town administrator, Szott will oversee a variety of municipal departments and initiatives. Among that work, he will be in charge of applying for different state and federal grants, overseeing the highway department and managing other town departments and as the coordinator of the town's human resources and various committees.
In a posting about his hire, the selectboard wrote that he "will be serving the citizens of Wolcott at the pleasure of the Wolcott selectboard."
Szott will work 24-28 hours per week and will make $25 an hour in his new job. He will be in the office in person on Monday and Wednesdays, then work remotely for the remainder of each work week.
"It's roughly three days a week right now. The rest I'll squeeze in around the other job," Szott said.
Wolcott is the sixth town in Lamoille County to take the step of hiring a town administrator or town manager to oversee municipal staff and affairs. Wolcott's selectboard had been considering hiring a town administrator for over a year, but the process was delayed when voters decided in a special vote not to fully fund a full-time position in August of 2019.
With that message, and support for a part-time position given at Town Meeting Day, the board budgeted roughly $40,000 to bring a part-timer on.
Szott said that the job in Wolcott interested him in part because while he is stepping down as a state legislator he wants to stay involved in government at a local level.
"It's a perfect transition," Szott said. He added that the job being located in Wolcott didn't hurt, either.
"In the Legislature, I sat near Dan Noyes, the state representative from Wolcott. He talked to me about the town quite a bit. He was a real salesman," Szott said.
While Wolcott represents Szott's first job as a town administrator, he has plenty of experience that should help him dive right in.
Szott has a Bachelors degree from the University of Central Florida, and Masters degrees from both San Francisco State University and Ohio State University.
Included in his work history are two years as the library director of Wilder Memorial Library in Weston and two years as an arts professor at Green Mountain College in Putney. He is a member of the Vermont Humanities Council and has served on various public boards in the past, including the development review board and planning commissions in Barnard and the school board for Woodstock Union Middle and High School.
And, "he has good contacts with lawmakers in Montpelier," Klein said. "We thought that would be very helpful."
"His experience working with the public and within municipalities are all pluses," Klein said.
Szott said one big appeal of working as a town administrator is getting to know so many different people while learning more about and participating in so many different aspects of local government.
"That's a big appeal to me, learning more. Town administration has so many different facets to it," he said.