Living in Vermont during the winter, you have a tendency to take snow for granted, whether you're grumbling about shoveling it or stoked about skiing through it.
When you're a 4-year-old kid from Florida who has spent almost half your life battling cancer, you don't take anything for granted. And when you see snow for the first time, it's like magic.
"You know, I think it's the movie 'Frozen,'" Ryan Sisserson said during a recent trip to Smugglers' Notch Resort. "I really think that was the catalyst."
Sisserson was at Smuggs with his wife and two daughters so one of them, 4-year-old McKenzie, could literally have her wish come true.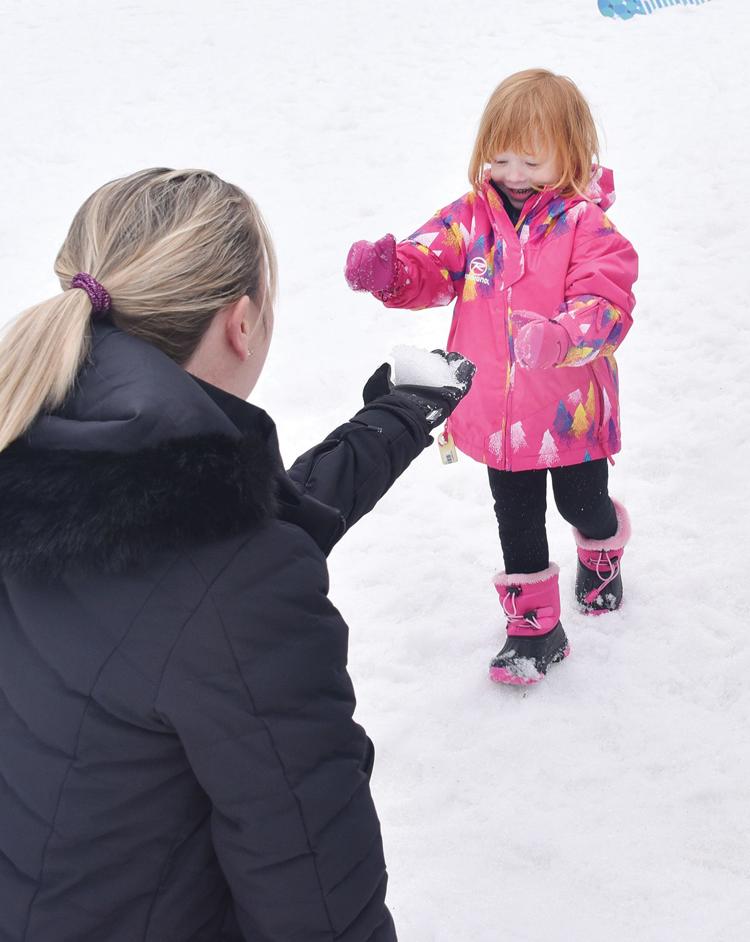 The family came to Smuggs through Make-a-Wish, a partnership that has been going strong for 31 years.
It cannot be overstated how much this little girl enjoys snow. During a 45-minute chat in the gazebo at the base of Morse Mountain, McKenzie was one with the snow. In conservative estimates, during that time, she:
• Threw 25 snowballs at her dad, her mom, the reporter, the photographer, herself.
• Made one snow angel when people stopped looking at her for a moment.
• Built one snowman and then another for a photo op.
• Belly flopped onto the snow. Literally, just jumped into the air, laid out flat, and thwaack! All the adults laughed especially hard at that one, and the 4-year-old giggled in proud recognition of her feats.
"This pure child happiness," Ryan said. "She's not always like this at home. Go figure, snow."
"Yeah, right," Mike Chait, the resort public relations manager and head Wish-maker, said to the Sissersons. "Playing in the snow makes us all kids again."
"Nothing can prepare you…"
McKenzie was diagnosed with stage 3 liver cancer when she was still a baby. It was resistant to chemotherapy. Things looked bleak for a while, Ryan said, until they found a doctor in Tennessee willing to do surgery.
It was a seven-hour surgery, Ryan said, followed by a year and a half of chemotherapy. The chemo was, in a way, the hardest part.
"You'd literally watch the fire go out of her eyes," Ryan said. "Nothing can prepare you for the doctor telling you your kid has cancer."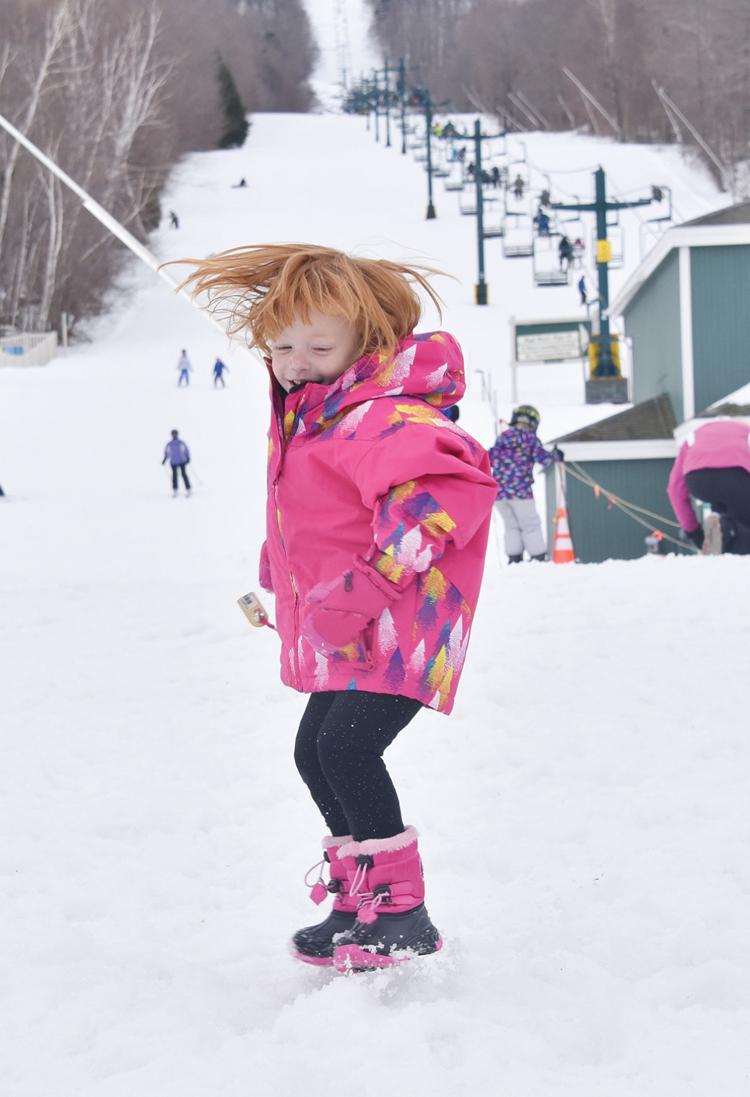 With McKenzie throwing herself onto the snow, a shock of wild red hair and smiling eyes, that dimming fire image is a tough one to conjure. Now, she's in full remission.
Four-year-olds might not have a sense of mortality, but McKenzie does have memories of her cancer days — the torso-length scar is one reminder. For her, Ryan said, it's a curiosity.
"She'll say stuff like, 'Why did they take me apart and put me back together, Daddy?'" he said.
Ashley and Ryan aren't helicopter parents. They have that magical extra set of eyes that parents have, but they aren't overly concerned when McKenzie climbs things, runs around and slips on the snow and ice, falls down. She takes gymnastics, so she's good at taking a tumble.
"When she gets a little cold, we take her inside," Ashley said. "We've definitely noticed that things that bother other people just don't bother us. After beating cancer …"
"We're very relaxed," Ryan finishes. "She already got the shit kicked out of her, so it's just great to see her enjoying this so much."
Partners in fun
This is the 31st year Smugglers' Notch has teamed up with Make-a-Wish, and at least one other family had visited this ski season. One year, the resort hosted eight families, Chait said.
Chait said when staff gets word about a Make-a-Wish kid coming to the resort, everyone steps up their game a bit. The housekeeping staff will do extra-deep cleans of the condos, make sure they're overloaded with things to play with, cook with, relax with.
"Having the opportunity to help out a family who is going through so much stress, because nobody wants to live through what those people are living through, and to be able to offer that reprieve, is wonderful. It brings everybody together," he said. "The world stops for that family. And that's OK."
Chait said he gets a feel for what kind of things a family wants to do, and can change the plans on the fly. If they don't want to ski the whole time, or at all, there are other things to do at the resort, or trips to the usual tourist places.
"I've learned more about maple syrup than I ever knew there was to know," Ashley said.
At least once, the snowmaking crew offered rides in the snowcat.
"It's like riding in a spaceship to them," Chait said. "Man, who doesn't like that?"
Sometimes, just being in the mountains, away from their normal lives, does the trick. Locals may get bummed about a lack of powder days. Make-a-Wish kids see a winter wonderland.
"When a Wish child from another part of the world wants to see snow, Vermont is a natural choice. We're grateful that a strong partnership with Smugglers' Notch makes it easy for us to welcome them here," said Jamie Hathaway, president and CEO of Make-a-Wish Vermont. "The crew at Smuggs pulls out all the stops for our families, organizing ski lessons, private sleigh rides, even child care for younger siblings so that the Wish child and their family can have the ultimate snow experience. It's just incredible how much love they put into it."
Chait has a 5-year-old daughter, and as much as he enjoyed bringing joy to the Make-a-Wish kids before, having his own child was a game changer.
"It hit me one time, when I went to check a family in. And the girl was so sweet. She was just out of treatment, hadn't grown her hair back, and she was so smiling and so sweet and didn't have a care in the world. And then I picked up my kid, and she was the same way — bubbly and without a care in the world," he said. "I just looked at my daughter and I just lost it. From that moment on, every child that has come in…"
"It's a beautiful thing," he finished.