Four staff members are retiring from Peoples Academy after a combined 130 years working in the school district.
A pair of educators with over three decades of experience each, math teacher Robert Raymond and social studies teacher Marc Ducharme, are hanging it up.
Janet Sanders, who most recently has been an administrative assistant at the school but has held a host of other positions, and maintenance department staffer James Farnham are also both retiring.
Farnham worked as a custodian and in the maintenance department at Peoples for 37 years before retiring during the winter. Raymond is calling it quits after 31 years teaching math at the Morrisville school. Ducharme began working at Peoples in 1985 and spent the last 35 years educating students on social studies, now called global citizenship. Sanders has been putting a bow on her quarter-century at the school with some crash courses in new technology before she retires.
Ducharme and Sanders replied to questions about their combined 59 years working in the buildings at the top of Copley Avenue.
---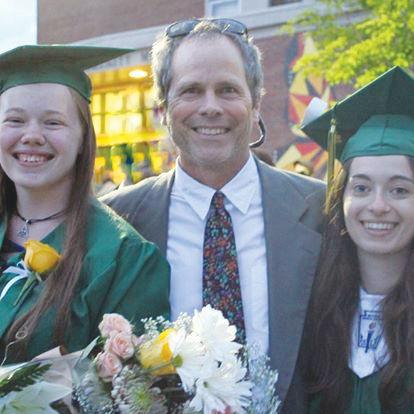 Marc Ducharme
Q: Background?
A: At age 13, my family and I moved to Hinesburg. I graduated high school from Champlain Valley Union in 1979 and the University of Vermont in 1984 with a B.S. in history and secondary education with a minor in English. I received an M.Ed. in '94 from UVM and a certificate of advanced graduate studies from Johnson State College in 2008.
In August of 1985, I was interviewed and hired by Bernie Sheltra for the position that I am presently vacating. I am not sure how many people may remember Superintendent Al Hurley, but the only interaction I had with him during my interview was this: He looked at me, slid a piece of paper across the table toward me and said, "Here's your contract, sign it!"  I was able to negotiate another 24 hours to make the decision. I interviewed on a Thursday, signed a contract the next day and began teaching the following week.
Q: When you joined the staff at Peoples, what were you teaching? How has that changed over the years?
A: When I started teaching at PA, classes were divided according to a student's perceived ability. I taught college prep classes of Modern European History and Early Western Civilizations and I taught two sections of what was then called ninth-grade Civics for "B" tracked students. Since I had concentrated on United States history in college, I felt ill prepared to teach world history or citizenship my first year of teaching. Suddenly I had one weekend to read, make sense of and memorize three different history texts! I managed to stay one chapter ahead of the students during the year, at least that was my impression.
Q: How has education changed?
A: There are two (of many) areas where the field of teaching in social studies has undergone significant changes. For starters, most Vermont high schools — including PA — no longer group incoming high school students according to their perceived ability levels. There are far more opportunities for students to make informed choices about their learning and educational path.
Additionally, back in 1985, teaching focused primarily on the content of the discipline with a secondary emphasis on making the narrative and pageantry of history interesting for students. Current best practices today emphasize using the content to teach the transferable skills that students need to be successful across disciplines and in the real world.
To that end, learning to teach to the skills of what it means to be a historian (corroborating sources, examining historical context, emphasizing and learning how to read and use primary and secondary sources) has been life-altering for me as a professional. Teaching what we in the field call the Historical Thinking Skills gave me a much more of a sense of measurable purpose in my career.
The challenge, of course, has been the careful balance between teaching measurable skills and exposing students to the importance of understanding and applying the lessons of history. I mean, imagine the potential chaos in the United States if our political leaders did not have the decoding skills to read difficult documents, the wherewithal to seek out reliable sources or the cultural literacy and understanding of our nation's history? We might get people interpreting the right to assemble as armed insurrection. Yikes.
Q: What are some of your favorite work memories?
A: Some favorite memories from 35 years of teaching include creating a life-sized chess board out on the tennis courts and hosting a human chess game with my ninth-grade Western Civilizations class. Students created costumes representing their pieces and worked collaboratively in deciding which piece to move and when. 
I once participated in a student pep rally activity by wrestling in a ring of red Jell-O with PE teacher Doug Owen (picture skinny me versus Hulk Hogan). Doug used my body to part the Red Sea over and over again. That activity went over so well that Doug and I wrestled the next year in a ring of chocolate pudding. Go figure.
I got a chance to coach a basketball team to the Final Four in Barre with my younger brother as an assistant coach, and we looked up into the stands during the pregame warm-ups and saw our wives waving at us.
I had several opportunities to team teach with some of Morrisville and PA's finest (Rachel Duffy, Kate Toland, Larry Gluckman and Van Carr). Another wonderful memory, just a few years ago, was witnessing a member of our LGBTQ community make a prom-posal during a schoolwide assembly and feeling like our school was incredibly safe and cool. Still is.
Q: What helps to make a teaching career successful?
A: Any teacher will tell you that building relationships with students is the key to success and longevity in the classroom. Mastery of content and pedagogical genius are all for naught unless teachers develop connections and have empathy with their students.
It took me a while to get there but I soon learned to start each new class by working on rapport, getting to know my students and trying to create a comfortable atmosphere in my classroom. Doing so served me well over the years.
There are many other reasons why I have been able to teach at PA for 35 years. First and foremost are the students and community. This has just been a great place to live and teach. The Morrisville community accepted me as a member from day one. And I needed that. Talk about being young (age 24), naive and clueless? I was the poster child. Fortunately, students and their parents/guardians were quite tolerant and patient with me.
Today I can honestly say that I am a far more effective teacher than I was when I started.  It has often been said that it takes a village to raise a child; well, it took the village of Morrisville to raise an effective teacher. 
Q: Parting thoughts?
A: This school district has always provided personal and professional support. During my first few weeks teaching at PA back in 1985, several teachers on the staff (Erik Olsen, Jeff Sparks, Linda Kristin, Susan Burrill, Tenny Heusler, to name just a few) would stop by my classroom after school each day to check in on me. I was so struck by the supportive and nurturing culture on the staff. Their care made me want to be a better person and teacher.
Over the years, the district has provided the opportunity to complete graduate work in addition to many professional development opportunities. The school administrators during my career, beginning with the fabulous Bernie Sheltra to the current principled leader Phil Grant, have always supported faculty and staff and prioritized what is best for students first. The same can be said for the office of superintendents. I have been very fortunate to be a part of this district, as have students, teachers, and community members who will continue to do so for years to come.
---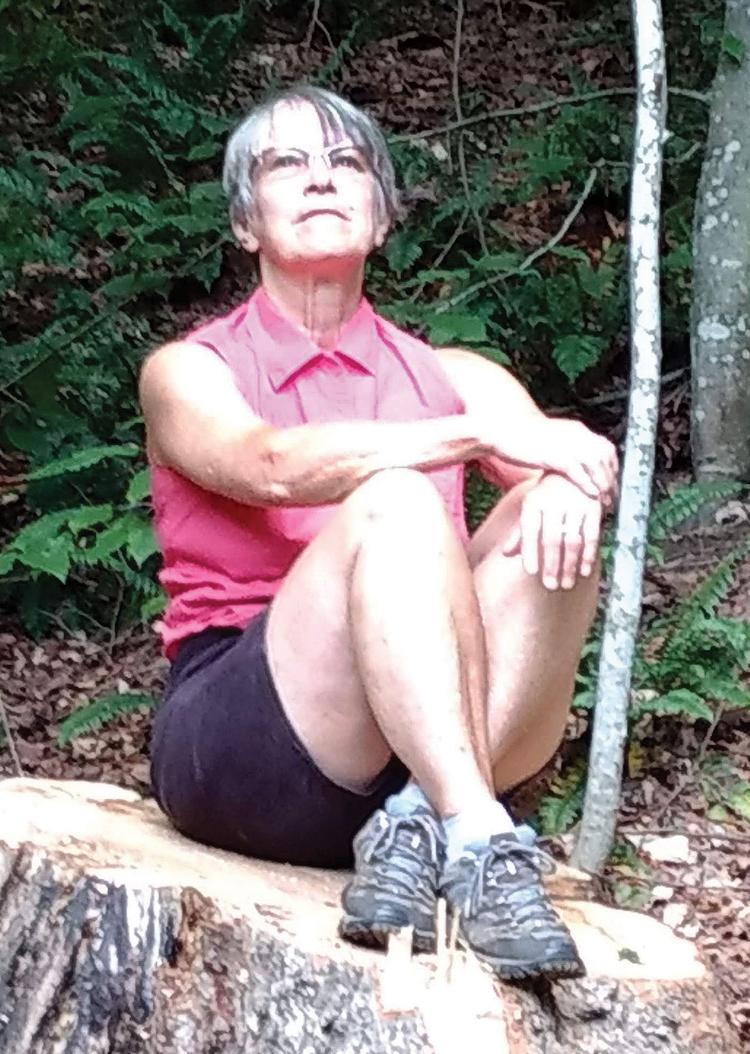 Janet Sanders
Q: Background?
A: I am a native Vermonter from West Braintree. I graduated high school from Randolph Union. I have an associate's degree from Community College of Vermont in early childhood education.
My first job in education was four years in Randolph as a Title 1 aide. A year after moving to Morrisville (in 1983) I began working as a substitute teacher. In 1993, I was a part-time office assistant at Peoples Academy for the remainder of that school year. I then continued working as a substitute teacher until March 1996, when I began working again in the PA office as receptionist/secretary and then in 2001 as administrative assistant.
Q: When you joined the staff at Peoples, what were you doing? How has that changed?
A: I entered daily attendance and had to print out a copy for teachers and hand-deliver it to their classroom. Now teachers can view attendance electronically.
I had to read daily announcements over the intercom. Now announcements are shared electronically.
I had to field all phone calls, take messages for all the teachers and support staff. Now everyone has their own phone and callers can leave voice messages.
I typed, on a typewriter, all purchase orders on a triplicate form. Today I still have that job but everything related to that purchase can be found on the computer program used.
Q: What are some of your favorite memories from working at Peoples Academy?
A: Over the years, there have been staff members who left, but are not forgotten.
My leaving is bittersweet because of the fantastic people I have had the pleasure to have worked with.
I am going to miss decorating the table for our annual holiday luncheon.
Q: Stories that stand out?
A: Every Last Chapel and graduation are special, but the one that stands out was in 2000. It was one of those years when administration was not sure where to hold graduation exercises, inside or out, due to the weather forecast. It was a nice evening for an outside commencement, suddenly lightning, torrential downpour and everyone picked up. The program was completed in the gym.
Q: Your have worked with a long list of educators. What makes a career in teaching successful?
A: You need to be flexible. You need to be open to change.
Q: Parting thoughts?
A: I definitely won't forget my last year at PA. I can't come close to explaining all the NEW things I have learned regarding laptops since March. I am still getting an education!