A Morristown official's job could be on the line after she posted an offensive tweet about homeless people Monday night, even as the town was simultaneously adopting a policy aimed at governing social media use.
A tweet posted by Morristown Community Development Coordinator Tricia Follert, and an identical one from a now-deleted Twitter account calling itself Morrisville Messenger, surfaced Oct. 7.
"#IfYouBuildItTheyWillCome The new homeless shelter in Hyde Park has brought some undesirable people back to the streets of #MorrisvilleVT that the local police had not seen seen in decades," read the tweet, first posted by the Morrisville Messenger account @morrisvillenews at 7:18 p.m.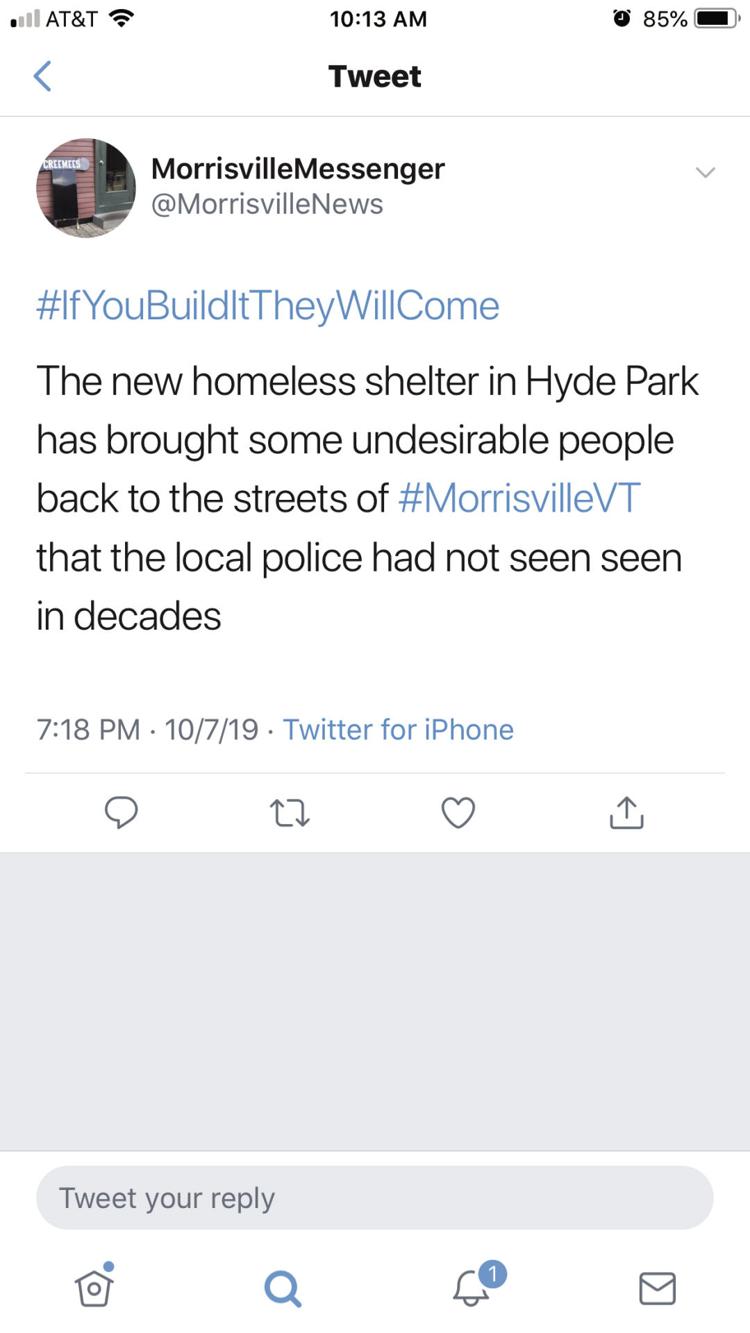 Shortly after, an identical message was tweeted from Follert's personal account, with an added comment: "Is this what the community was expecting?"
It wasn't a retweet — her post contained a screenshot of a tweet being composed but not yet posted, identifiable by factors including the visible phone keyboard and "Tweet" button, service provider and battery info at the top.
The News & Citizen reached out to Follert, town officials and the Morristown select board Tuesday morning for comment. Within 90 minutes of the requests, the original tweet from the Morrisville Messenger account had been deleted; shortly after, the entire account was gone.
Follert's own version of the tweet still remained up as of press time.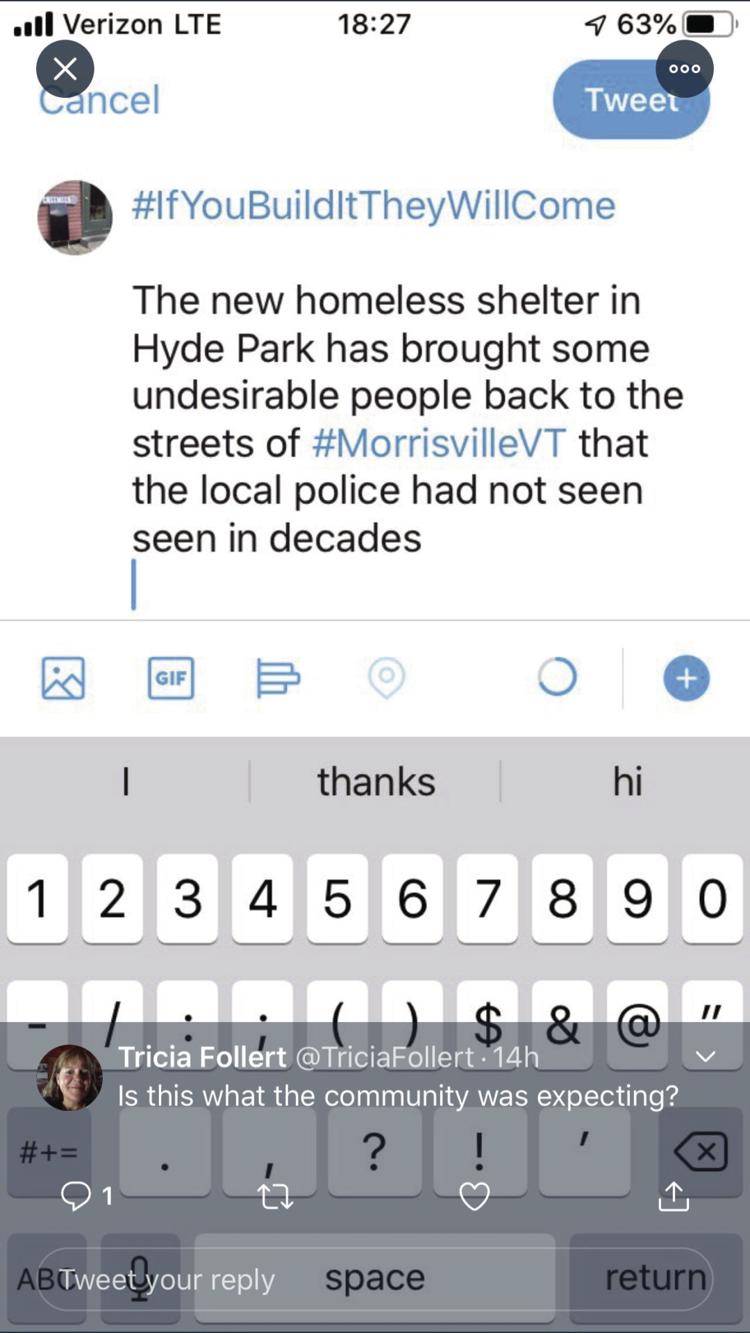 Tuesday afternoon, Morristown Select Board Chair Bob Beeman said he believed Follert would be put on paid administrative leave for one week beginning that day while Town Administrator Dan Lindley investigated the issue.
On Wednesday morning, Lindley confirmed that he was still working on the investigation, but no municipal staff had been disciplined at that time.
Lindley admitted that he made the initial decision to place Follert on paid administrative leave before he had all the facts.
"I wanted to take a step back, and make sure what I was doing was right, based on the facts," he said.
The main reason for that, he said, is because he can't yet prove who drafted the original tweet, or who posted it to the Morrisville Messenger account.
"There's no doubt," that Follert posted the screenshot, Lindley acknowledged, "but the original … I'm not sure where that came from."
Community reaction
"I was very upset to see this, as was the rest of my board," Beeman said. "Our board certainly doesn't condone any comment like that. There's no place for it."
Lindley echoed those thoughts, calling the comments made in the tweets "totally inappropriate," and condemning the use of the term "undesirable people."
"Our role as town officials is to figure out how to make a situation better," Lindley added. "There's no reason for that kind of language, intentional or unintentional."
The Lamoille County Sheriff's Department owns the yellow house in Hyde Park village that has been operating as a winter warming shelter for the past two winters, now called Lamoille Community House. It's usually open from mid-November through April or May, but it's already getting cold out at night, said shelter manager Jacquie Mauer.
"I think many of us are aware of how hard it rained two nights ago and realize how bad it would be to be sleeping out in that," she said Tuesday.
Regarding Follert's tweet, "I'm unaware of any issues that the town of Morristown has had with the homeless shelter in Hyde Park," Lamoille Sheriff Roger Marcoux said Tuesday.
Marcoux took issue with suggestions that homeless people are "undesirable," saying "I dispute any notion that we have an undesirable element."
Marcoux added as a disclaimer that he doesn't use Twitter, so he was basing his opinion on screenshots sent to him.
The shelter is operated by Lamoille Community House, which also strives to provide access to social services for shelter guests. Marcoux said the shelter is an evolving entity; for instance, it will be implementing new policies regarding inebriation.
Mauer said it's only natural that people experiencing homelessness would gravitate to Morrisville, since it is the county's largest town, and has far and away the most social services available — North Central Recovery Center, Treatment Associates, Lamoille County Mental Health Services and Copley Hospital, to name just a few.
"It's a beautiful thing to have social services in your community," Mauer said.
Mauer said the people who have had to avail themselves of the shelter, whether regularly or only once, didn't choose to be homeless. They want a job if they don't have one; they want to be sober if they aren't; they want mental health services if they can get help finding them.
Mauer said she wonders if Follert or others who oppose homeless shelters or sober living houses or any other social service organizations have ever actually approached any of the individuals they see, and ask them how things are going, ask them about their experiences.
"We're all human beings," she said. "Compassion is something that maybe some have to work at harder than others."
Who's the Messenger?
The Morrisville Messenger account was opened in July, the bio proclaiming it to be "The only source for real local news in #MorrisvilleVT."
The account had a handful of followers, and posted a dozen or so tweets, and retweets — mostly from @triciafollert.
On Sept. 2, the account tweeted, "The Morristown staff shows their commitment to working with the community."
Lindley said he needs to fully understand exactly what happened regarding the tweets, and who may have posted them, before taking any decisive action.
Beeman added that, in any disciplinary measures enacted by Lindley, any municipal employee has the option of appealing the decision to the select board.
"Whatever the result is, (Follert) can come and appeal to the board," Beeman said. "However (Lindley) decides to rule, then she is free to come meet with us."
Beeman said he thinks the tweet is a violation of the town's personnel policy, which says, "Conducting oneself in any manner that is offensive, abusive or contrary to reasonable community standards and expectations of public employees."
"That pretty much hits it on the head, as far as I'm concerned," Beeman said. "She works for us. The perception is there. It betrays the image of the town, in my mind."
The town social media policy, adopted by the select board the same night the tweet was posted, outlines the fact that municipal officials and employees should also be aware that posts to their own, private social media accounts are often viewed differently by the public.
Those individuals "should be aware that posts to their personal accounts may be perceived as opinions that could impact their professional duties and the public perception of municipal officials," the policy states.
Follert is one of a handful of current municipal employees designated at the Oct. 7 select board meeting to have access to the town social media sites – the official town website, Twitter account and Facebook page.
The town adopted the policy after more than year of discussion about inappropriate use of social media by town officials.
Regarding the original "undesirable" tweet, "I don't believe that Tricia drafted that," Lindley said Wednesday morning.
However, he did confirm that it was someone at the municipal offices who deleted the tweets, and the Morrisville Messenger Twitter account.
Lindley said he believes Morristown Planning Director and Zoning Officer Todd Thomas was one of the administrators of that account.
"I'm not 100 percent sure, though," Lindley said, and he stopped short of confirming that it was Thomas who whitewashed the account.
Lindley acknowledged that he's still fairly unfamiliar with the ins and outs of Twitter, and is only now receiving a crash course in the social media platform.
"We're really trying to put all this behind us," Beeman said. "It's unfortunate, (social media) is one of those things we've talked about time and time again."
Local police weigh in
Morristown Police Chief Richard Keith says his officers have seen a definite uptick in the number of incidents regarding people they believe are homeless.
"We're constantly having to move them out of the Oxbow," Keith said. On Aug. 12 and 13, police received three different calls regarding people sleeping or drinking in the bandshell at Oxbow Riverfront Park. Officers asked the people to move along, and transported two to detox.
"There were two sleeping in the bandshell again last night," Keith said on Tuesday, Oct. 8. "We moved them out of there again."
His officers have traditionally interacted with transient individuals more in the warmer months. One of the most common interactions is asking them to move on from campsites near the Lamoille Valley Rail Trail, or from different locales around the village or north end of town, Keith said. Sometimes officers serve them no-trespass orders for certain businesses.
Keith said that this year those interactions, and others like them, are on the rise — "most definitely more than in years past," he said.
Keith thinks the warming shelter in Hyde Park is a factor in that increase, but he's not unsympathetic to the plight of the people who want to stay there.
"The few I've talked to, they're just trying to find housing. They're camping, or getting by however they can, just waiting for it to open."
Marcoux said you can never tell what life circumstances led someone to have to live out on the street, out of a car, or in the woods just out of sight.
There are all sorts of different circumstances that you find, and if you are truly interested in learning about it, there are lots of opportunities," he said. "Just don't get in the way of people who are trying to help."