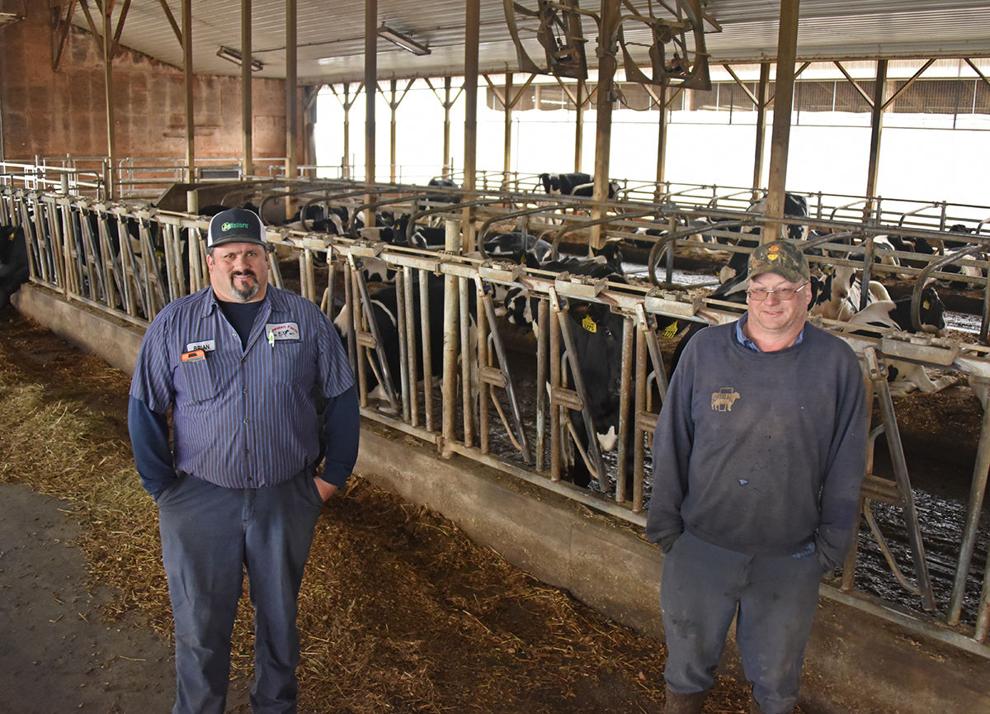 For brothers Steven and Brian Jones, the writing had been on the wall for quite a while.
The brothers own Joneslan Farm, a landmark in Hyde Park for a century and a half.
What was on the wall? It's time to get out of the dairy industry.
"Our last good year was 2014," Steven said. "Since then we've just been squeaking by."
In the past six years, milk prices — always volatile — have trended down, and there's no end in sight. Eventually, the brothers looked into other options for their family business.
On Monday, after several years of careful planning and work, the brothers got out of the business of milking cows. Their last 100 heifers and a good chunk of their equipment was sold at auction, a few weeks after a majority of their 320 milking cows were trucked to a farm in New York.
"It's been pretty quiet around here the last couple of weeks," Steven said last Friday.
The auction ended a long chapter in Hyde Park history. Steven and Brian are the fifth generation of their family to milk cows at Joneslan Farm, which was founded in 1872 by Alfred and Delia Jones just seven years after the end of the Civil War. The road that passes between the old farmhouse and the barns bears the family name: Jones Road.
For nearly 150 years — until April 30, 2020 — members of the Jones clan milked cows on their farm day after day, week after week, year after year, decade after decade.
"It's always been here, this spot. We've just gotten bigger over the years," Steven said.
During those 15 decades of farming, the Joneses have shipped out millions upon millions of pounds of milk.
All that ended when the last Holstein — the family has always milked Holsteins — left on Monday, but the Jones brothers aren't done with farming. Brian and Steve are switching to milking goats, supplying fresh goat milk to a growing market that is flourishing in Europe but just getting off the ground in the United States.
"This wasn't a knee-jerk reaction. We've got a couple years in this process," Brian said.
By summer's end, they hope to be milking hundreds of goats in a remodeled milking parlor. Within a few years, the Jones brothers want to be the largest goat farm in the Green Mountain State, with upward of 1,500 animals.
A family history
The history of the Jones family is also the history of dairy farming in Vermont.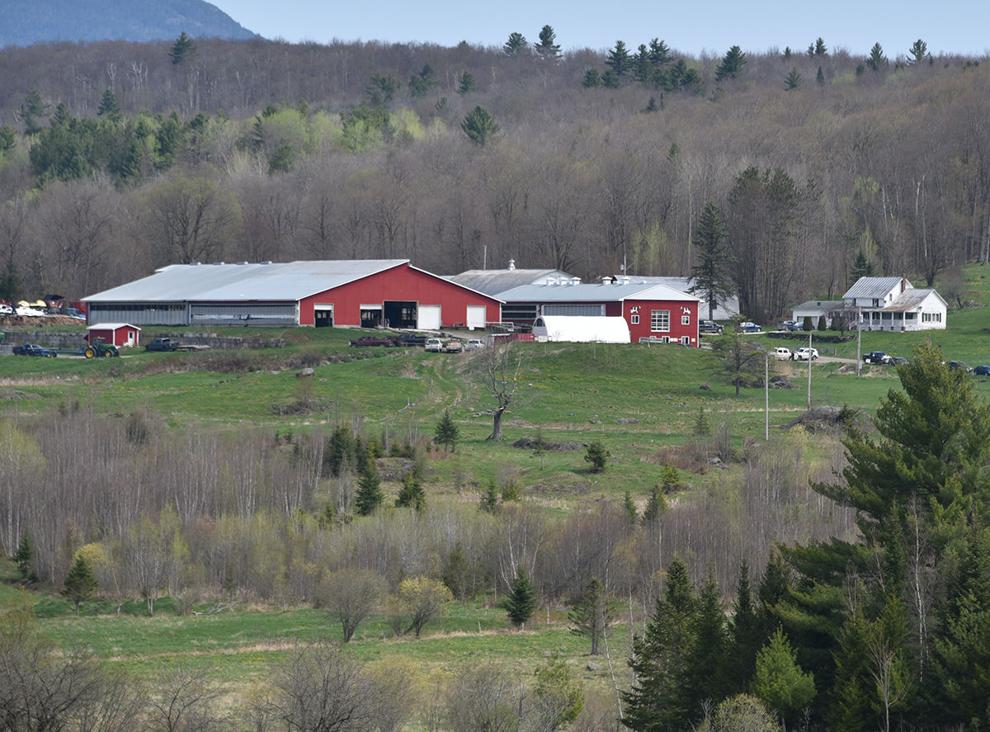 It started in 1872, when Alfred and Delia Jones bought their 80-acre farm. Alfred tore down a house in the Ober Hill area of either Johnson or Hyde Park, rebuilt it on what is now Jones Road, and the couple started milking their small herd — probably 10 or 15 cows, Steven believes.
Brian and Steve's great-grandparents, Arthur and Lillian Jones, bought the farm in 1899 and owned it for nearly 50 years. The brothers' grandparents, Raymond and Ruth Jones, bought the farm in 1947 and moved the dairy operation across the road. By then, the operation had grown to 30 cows, and when Raymond and Ruth sold it to their son Robert and his wife Carolyn in 1972, it had grown to 50 milking cows.
Robert and Carolyn kicked off a major expansion; they rebuilt the barn and bought 370 more acres.
Steven and Brian, along with their wives Carolyn and Paulette, took over running the farm in 1992. Initially, they owned only the cows and the equipment, but in 2004 they bought the farm in its entirety, plus 180 acres from the nearby Whitaker Farm. They were milking about 140 cows then. In 2006, they built a state-of-the-art milking parlor — "That was a big investment," Steven said — and by 2013 they owned 600 acres and were milking close to 300 cows with nearly that many younger stock.
Deciding to sell
With that family history, the Jones brothers' decision to get out of the business wasn't made lightly. Milk prices have been volatile since 2014; while they perked up periodically, dark days were quick to return.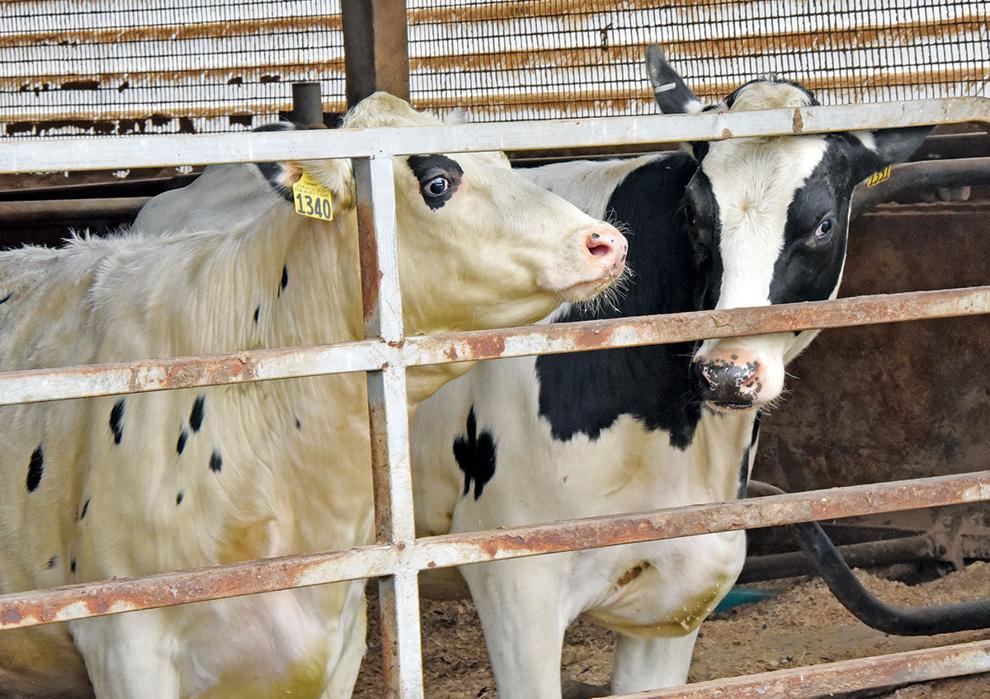 What was the deciding factor for the brothers?
"Mostly how long the downturns were," Brian said. "We felt we needed to do something different."
They'd already decided to sell last fall, when experts began forecasting a bounce-back year for dairy in 2020, with prices around $20 per 100 pounds of milk. But the coronavirus impact on the economy has slammed dairy, too, and milk prices for May and June are less than $14 per 100 pounds.
The Jones brothers shipped off their milking cows the day before other farmers were asked to make drastic cuts in how much milk they produce, or face rock-bottom prices — well below $10 per hundredweight.
"We're lucky," Steven said. Just as milk prices cratered, the brothers were making the switch to goats.
The long term
Along with shaky milk prices, there was another reason to get out of the dairy industry.
Brian and Steven are the fifth generation of the Jones family to work the farm, but they're not the last. Their children – Steven and Carolyn have two, Taylor and Alec; Brian and Paulette have three, Austin, Mallory and Tyler — also worked on the farm growing up, just like their fathers.
But no one in that sixth generation showed much interest in taking over the family business.
"They see the writing on the wall," Brian said.
"I didn't encourage them to do it either," Steven said.
So, the brothers began looking for an alternative, one that's more economically feasible and stable and that might spark the interest of the younger generation.
They first considered raising beef cows, as many former dairy farmers have done, but "beef is up and down too," Brian said.
"We needed a steady income; we've got a lot invested here and we needed something to pay for that investment," Steven said.
"And we're too young to retire," Brian said — he turns 50 this year and Steven will be 54.
So, they started looking into milking goats, instead.
"There's a market for goat milk," Brian said, mainly because Barre Town-based Vermont Creamery buys it in bulk. The creamery's specialties include products made from goat milk — mainly cheese and butter — and in 2017 it was purchased by Land O'Lakes, giving it a nationwide reach.
Vermont Creamery is now inviting more Vermont farmers to switch to goat milk.
"The creamery wants bigger farms. There are lots of small farms in Vermont right now," Steven said.
"There are some around 500 animals, but most are smaller," Brian said. "No one in the state is as big as we want to get."
"They see an opportunity for existing cow farms," Brian said. "They've been a big help."
The pros of goats
For the Jones brothers, money is the biggest perk of switching to goats. Goat farmers receive a set, contracted price for their product; it's less subject to an up-and-down market than cow milk is.
"$50 to $60 per hundredweight," depending on the quality of the milk, Brian explained, and he and Steven already have a letter of commitment from Vermont Creamery.
"They're going to buy our milk," he said.
With the higher price, farmers can break even with less milk. When they were milking over 300 cows, the Jones brothers produced about 7 million pounds of milk a year. A full herd of 1,500 goats will produce between 3 million and 3.5 million pounds of milk a year, but that will bring in as much money as the dairy operation used to.
"Our gross will be the same for half the milk," Brian said.
There are other perks, too:
• Goats are much more social than cows, so they'll all just live in the free stalls the Joneses will modify before they bring the animals in.
• Goats can start making milk faster. A female goat can have a kid and be milked at 12 months, half the time it takes to get milk production from a cow.
• The Jones brothers won't have to rent as much land. For years, they grew feed crops on about 300 of their 600 acres and rented a number of other fields so they could feed hundreds of cows. They shouldn't have to rent nearly as much to feed their goats.
• Goats are less work. They need some dry hay and a couple of pounds of grain a day, much less than an average Holstein eats.
• The brothers won't have to grow corn, chop corn and grass, and spread liquid manure. That will reduce the farm's environmental impact, use less water, and cut the farm's fuel bill in half.
The Joneses want to grow all their own hay, along with the straw they'll use for bedding. They can use smaller equipment and they should be able to do all the work themselves, rather than hiring out their chopping.
A goat farm with over 1,000 animals has an advantage over smaller operations. Goats reproduce seasonally, typically having kids only in the spring, so many small goat farmers stop producing milk for the two winter months when all their nanny goats go dry. But a bigger farm can diversify, with a little luck.
"You have to trick them into breeding" when they typically wouldn't, Brian explained. Joneslan farm aims to make goat milk year round.
Both brothers think it will be easier to find help. A 130-pound nanny goat "is a lot less intimidating" than a 1,300-pound Holstein, Brian said, and goats are cleaner and "just easier."
The brothers typically had two full-time workers on the farm with some part-time help. Now, they hope to add more part-timers that may even one day free them up for something most farmers can only dream of — a vacation of more than two days.
Getting started
Now that their cows are gone, the Jones brothers will convert their farm. They'd hoped to sell all their cows and equipment in March and be milking goats by June, but the coronavirus delayed all that, and now they'll start in August or September.
The farm's still-new milking parlor has the capacity to milk 24 cows at once. After renovations, it will milk up to 64 goats at a time.
Steven and Brian took a methodical approach in expanding their dairy operation 15 years ago, visiting large farms across the country to get ideas and techniques, and they've taken the same approach with goats.
"Sanaans, we're going to concentrate on those," Brian said. Originating in Switzerland, Sanaans are famous for their all-white coats and are "the hardiest ones, a little bigger," Brian said. "Finding the goats, that's been the biggest challenge."
The Joneses want to start with between 600 and 700 animals and are buying as many animals as possible from each farm supplying them. The different groups of goats will be in separate pens until everyone can get along.
The brothers have bought some Sanaans from a farm in Randolph, but most are coming from the Midwest, where goat farming is more popular. Goats typically give birth to twins, so the 600 to 700 goats at Joneslan farm should expand to 1,500 total in just a few years.
Equipment has been a challenge, too. Most milking equipment for goats is made in Europe, and the economic shutdown means the Jones brothers are "having a little trouble getting it here."
A family legacy
The decision to move on from dairy farming was a tough one. But the switch to goats means that Joneslan Farm lives on.
"We wanted to keep it going somehow," Steven said.
And while some family members were uncertain about the change, they're all on board now, including Brian and Steven's parents Robert and Carolyn, who still live just up the road from the farm.
"Once they looked at the numbers, they were pretty supportive. They realized something had to change," Steven said.