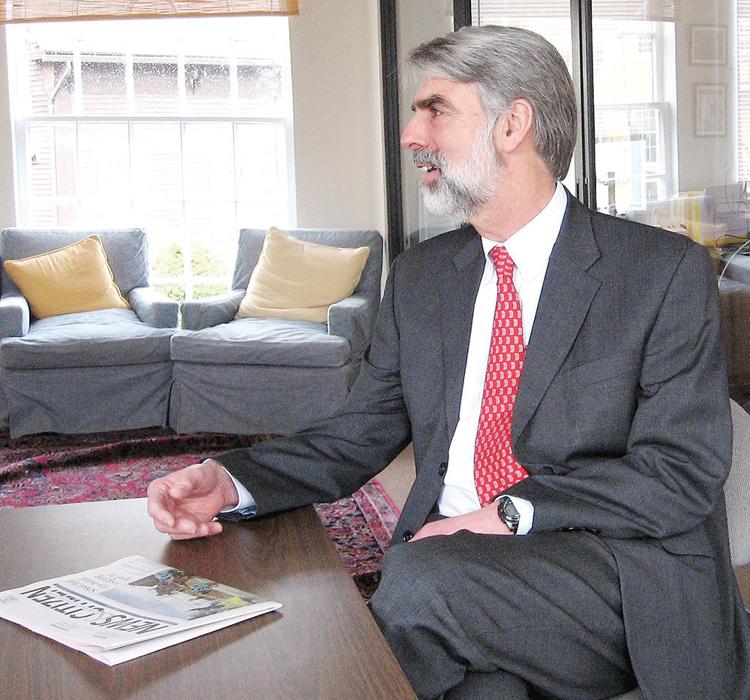 Jeb Spaulding, chancellor of the Vermont State Colleges System, has resigned, less than two weeks after he proposed the near-immediate shutdown of college campuses in Johnson, Lyndon and Randolph.
Spaulding was roundly criticized for both the timing of his proposal — in the midst of a global pandemic — and for a lack of transparency in reaching that conclusion. Just five days after making the proposal, he withdrew it.
Still, the damage had been done, and there were calls for his ouster from college faculty, staff and students, local legislators and residents around the state.
Spaulding was expected to formally submit his resignation Wednesday evening at a meeting of the state colleges system board of trustees, after this paper went to press.
Spaulding has been chancellor for five years, and he said he will provide support in the transition. The trustees are expected to name the state colleges system's general counsel Sophie Zdatny interim chancellor.
"It is with a heavy heart, but firm resolve, that I submit my resignation as chancellor of this incredible organization that I have been so privileged to lead," Spaulding said. "Ensuring that every student — including those who are marginalized, nontraditional and from underserved and rural communities — has the opportunity to attain an affordable postsecondary degree, certificate, or training must continue to be the focus."
Under fire
The faculty assemblies and the alumni councils at the Northern Vermont University's Johnson and Lyndon campuses voted no-confidence in Spaulding more than a week before he resigned.
An April 18 statement from the combined faculty accuses Spaulding of "egregious violations" of the state college system's mission to provide affordable and accessible and "student-centered" education.
"A longstanding history of flawed decision-making on the part of Chancellor Spaulding has violated that mission," the statement reads.
The alumni councils extended their no-confidence votes to the entire board of trustees for "supporting such action."
Last week, Spaulding acknowledged "the pain, the frustration, the fear, the lack of confidence" his announcement caused.
"My sole mission is to protect the Vermont State College System the best that I can," he said during last week's eight-hour meeting of the college system trustees. "This is not something I relish recommending, but I worry about jeopardizing the entire system."
Searing anger at Spaulding characterized many comments made by the 100-plus people in the trustees meeting.
One of those comments came from Tyrone Shaw, an English and journalism professor at NVU-Johnson, and head of that campus's faculty assembly. He said Spaulding's understated observation that "uncertainty" followed his closure proposal "is not unlike a kid murdering his parents, and then begging for mercy before the jury because he's an orphan."
Rep. Matt Hill, D-Wolcott, a Johnson native and Johnson State College graduate, accused Spaulding of using the coronavirus pandemic as an opportunity to close the schools.
"Jeb's recommendation has damaged the Vermont colleges for the foreseeable future even if the chancellor's plan goes forward," Hill said. "Vermont will be recovering from the damage the chancellor has caused for possibly decades because of a loss of confidence even if the Legislature can keep all the colleges open."
Vermont Senate President Pro Tem Tim Ashe, speaking last Friday at a weekly coronavirus update meeting held remotely by the Johnson Select Board, said people other than just Spaulding and the trustees need to figure out how to get the state colleges out of a bind.
"I don't think it's good enough to say, 'Well, chancellor, we didn't like what you did the first time. We'll give you another shot,'" Ashe said.
Ashe also addressed the theory that Spaulding was playing a political game of chicken by floating something he knew would get attention, a notion that Spaulding has denied.
"If it was a gambit, it was a very destructive one," Ashe said. "As soon as we get past the motives, we can agree it was too drastic."
Former state legislator Mark Woodward of Johnson believes Spaulding had chances to divert more funding to Vermont's state colleges during his years as a legislator or the state secretary of administration.
"He could have brought budgets forward to help those colleges. He didn't," Woodward said.
Now, "we need dynamic new leadership," Woodward said. "We can't just appoint the same old people; we need some outside-the-box thinking."
Woodward points out that "I'm an old white guy," and thinks much of the new leadership should be people who are much younger, in their 20s or even some teenagers.