The last three months of the fiscal year that ended June 30 nearly coincided with the first three months of the pandemic. But, save for tourist-dependent Stowe, the pandemic isn't reflected in cash register receipts around Lamoille County.
According to second-quarter data from the Vermont Department of Taxes, retail sales countywide in April, May and June — the most recent statistics available — were nearly a wash, up about half a percentage point. Some towns were up 10-15 percent during that time.
Stowe's retail numbers were down 23.2 percent for that quarter, but that's nothing compared to the pain Stowe restaurants, bars and inns felt, which were down as much as 84 percent during that same time period.
By the month of June, towns were starting to gain back some of the retail losses. Anecdotally, some merchants said the summer and fall were booming for business, pandemic be damned.
Marc Sherman, owner of Stowe Mercantile and a longtime board member for the Vermont Retail and Grocers Association said the number of transactions has been down substantially, but the average amount people spent has increased.
"I think people were just glad to get out this summer and fall and treat themselves to something," Sherman said. "There was clearly pent-up demand to go out and spend."
Pay to play
Sherman's store — which sells all manner of trinkets, foodstuffs, home and second-home décor with Vermont and Stowe vibes — caters almost entirely to tourists. And, despite travel restrictions, people were still coming to Stowe to get away.
Lots of other people also wanted to get away, into the woods, the lakes and rivers, and remote gravel roads. Retail sales in the outdoor recreation sector were off the charts.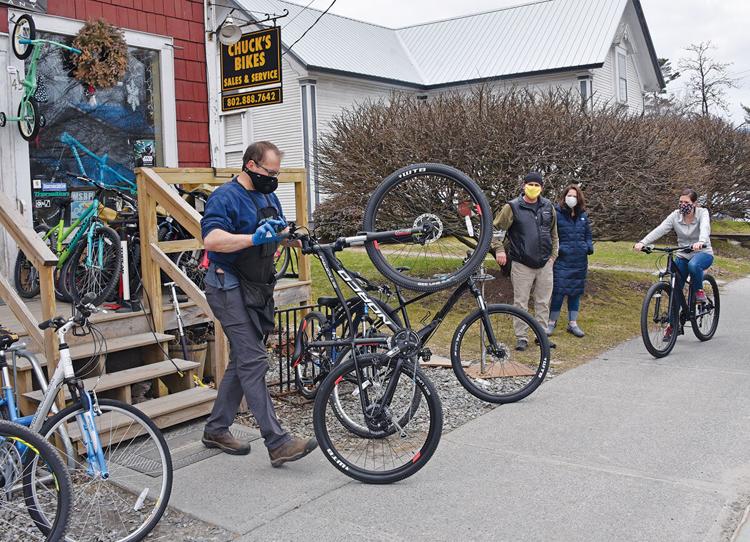 Hank Glowiak, owner of Chuck's Bikes in Morrisville, said he and his crew were selling inventory as fast as they could get it in — sometimes faster.
"Fortunately, I had a lot on hand, but we did run out of 26-inch Schrader valve tubes at one point," Glowiak said. "Oh yeah, and 7/8-speed derailleurs."
Anyone driving, walking or biking along Bridge Street during the summer and fall might have seen Glowiak, out on the sidewalk — nobody in the store — scurrying about with his black face mask on, helping get people set up on their new bikes, or making a quick fix or upgrade.
"It was bittersweet," he said of the stress and the money coming in to the shop. "I'd be out there, and it was 90 degrees, and I've got a mask on, walking back and forth 40 times a day. It was freaking chaos."
A former Navy submariner and every-day mountain biker, even Glowiak was tested physically. He said he'd have the mask on six hours a day and had to remind himself to eat lunch or drink some water.
Steve Brownlee, owner of Umiak Outfitters in Stowe, said twice as many people this year decided to take up paddling, whether in a canoe or kayak or on a stand-up paddleboard. And, for first timers, that comes with all the attendant gear, like lifejackets, car roof racks, clothing and accessories.
"We've been in business 30 years and there's always a little spike here and there, but not in every category at once," Brownlee said. "Do it yourself adventures, where we can go out on our own, or with a small pod of individuals, is what people are going toward."
Brownlee is already seeing winter gear, especially snowshoes and cross-country and backcountry skis, fly off the shelves, and he's having trouble keeping them stocked. He got a call recently from one of his snowshoe distributors who said they were being held up because he, the distributor, was waiting on the crampon components from his guy.
"I said, 'What? That doesn't do us any good, so cancel my order,'" Brownlee said. "Those are the games retailers have to play to get inventory."
Puzzling predicament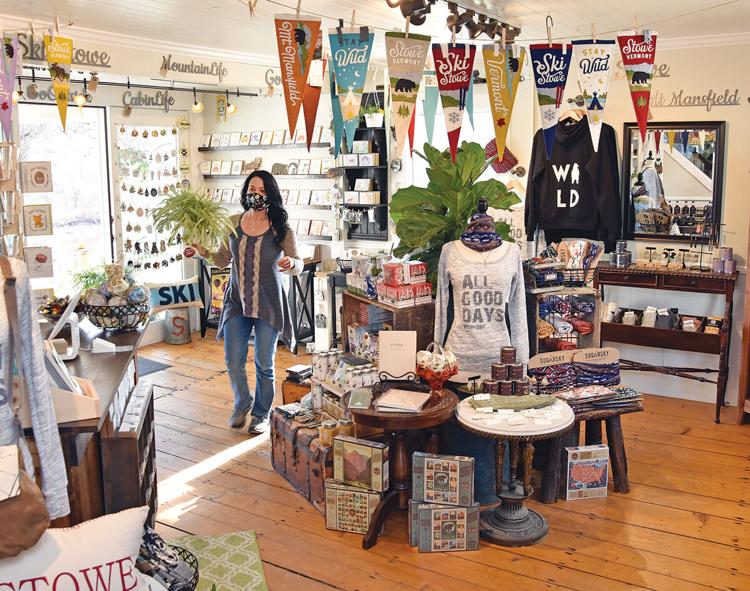 Kimberly DiNofrio, owner and one-woman show at Stowe's Tangerine and Olive — a gift shop that focuses on quality goods from independent manufacturers — discovered the indoor version of outdoor recreation during the pandemic.
"Puzzles kept me afloat," she said. "They are definitely a quarantine staple."
DiNofrio noticed this trend early in the pandemic, when she quickly turned her energy from running the brick and mortar store overlooking the West Branch River by herself to running her online store, by herself.
Luckily, she had a bunch of jigsaw puzzles in stock, and she has continued to seek them out, something that isn't easy as countless other stores have also discovered the popularity of opening a box and re-assembling someone's art.
Another big hit for Tangerine and Olive were what DiNofrio calls "going crazy boxes." She has an offer where the customer picks a price point and she fills a box with whatever she has on hand that could bring a smile and surprise to whomever opens the box.
What's next?
Although the numbers from April and May might seem like a low point from which the local retail economy has largely recovered, Sherman thinks there's about to be some déjà vu all over again. Gov. Phil Scott on Friday announced the state is largely reverting to early-pandemic restrictions, especially in the travel sector, at least temporarily.
Sherman said the Mercantile is still reliant almost entirely on out-of-town visitors. And Stowe restaurants and hotels also rely heavily on tourist dollars.
"There are still varying degrees of suffering out there," he said.
And, perhaps more worrisome is the season coming up. There's never a good time for a pandemic, but if a business is going to have to cope with taking a hit, better to do it in April and May, mud season, a typically slower time of year for business. But, Sherman thinks if people do the right thing for now, the all-important winter tourism season could remain intact.
"Starting today, we're going to see a dramatic drop in sales," Sherman said Monday. "But, if this can remain a short-term impact, and the current guidance from the governor is followed, then I think it's worth it."