The proposed Vermont Senate district map offered by the seven-person board responsible for redrawing the state's political landscape every 10 years may aim to dilute some of the political clout wielded in Chittenden County, but Lamoille County's lone senator isn't much of a fan.
Rich Westman, R-Cambridge, has represented almost the entirety of Lamoille County — minus Wolcott — in the decade he's been in the Senate, but the proposed Senate district map would literally cut him off from the entire rest of the county.
"I think it's fair to say I'm not in favor of that plan," Westman said in a recent interview.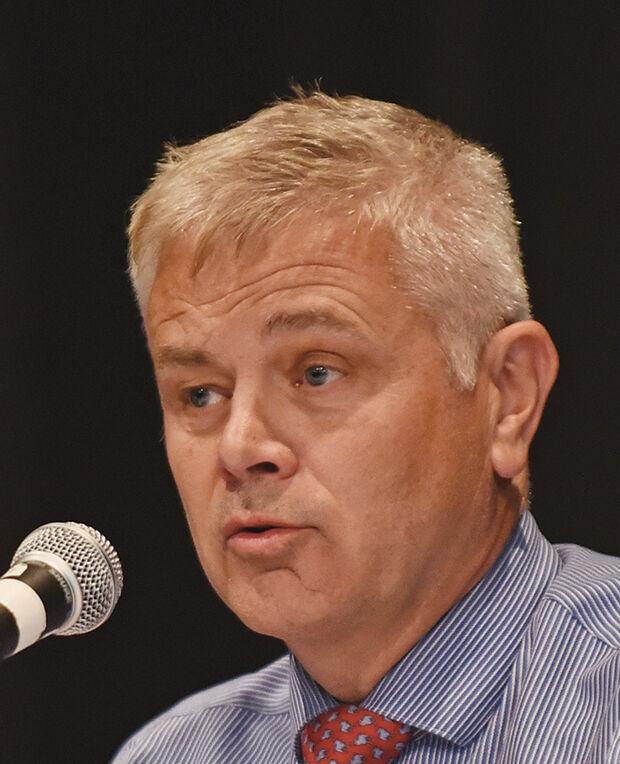 The seven-person Legislative Apportionment Board on Monday narrowly approved a map, along a 4-3 vote, that removes Cambridge from Lamoille County and lumps it in with a newly created Senate district primarily comprised of towns from Franklin County — Bakersfield, Fairfax, Fairfield, Fletcher and Georgia.
There are also two Chittenden County towns in the mix, or, more accurately, one and a half — Westford and the northern half of Essex.
The proposed map is one of three that the apportionment board had been considering in recent weeks, and it was Westman's least favorite. Even though he's in favor of breaking up the "six-pack" in Chittenden County — fully half a dozen senators, out of a 30-person chamber, come from the state's most populous county — he doesn't want to have it come at the expense of service to his constituents.
Namely, there's not a whole lot going on in the proposed "Franklin-Chittenden-Lamoille" Senate district, at least not the way it's carved out.
Westman said with the Senate comprised of only 30 people, it's important that each of those senators has a large breadth of institutions within their constituencies. Lamoille County has a critical access hospital, two colleges, two ski resorts, a regional planning commission and economic development corporation tidily contained within its borders, innumerable social services agencies and local branches of state offices from the Agency of Agriculture to the Department of Labor.
The senate district Westman would find himself in if the Legislature approves the map — a big if, when the vote to approve it was far from unanimous — is mostly made up of semi-rural bedroom communities for people working in the Burlington or St. Albans area, but without any of the institutions within those population bases.
"The breadth of things that almost very senator has to balance is quite large," Westman said. "If you break the Senate up too much, you lose that breadth."
Westman acknowledges Lamoille County's Senate representation is likely to change, because the 2020 census showed robust population growth in the area, especially in Stowe, which saw a 21 percent increase — and that was pre-pandemic, before people started fleeing from the cities to the hills and gobbling up all the available housing.
He said in order to comply with the Equal Protection Clause of "one person, one vote" laid out in the U.S. Constitution, Vermont's ideal Senate representation is about 21,000 people per one senator. Lamoille County's population is now roughly 26,000.
"Basically, I have to lose at least 4,000 people," he said. "I just want to protect as much of the integrity of the county as I can."
But, he said, Lamoille, along with Washington County, is unique in its geography. They are the only two of Vermont's 14 counties that don't share a border with another state or Canada. And Washington County has two cities, including the state capital, whereas Lamoille has none, with the largest two towns hovering in the 5,000-person range.
Because of this geographical and demographic makeup, Lamoille County serves as gateway of sorts between Chittenden County — "which is busting at the seams," he said — and the Northeast Kingdom, which is losing population and, along with that, representation in Montpelier.
Westman, who has been in the Legislature since the early 1980s, when he was one of the youngest-ever members of the House of Representatives — minus a one-year stint as tax commissioner from 2009-2010 — also noted his duty is to the entire state, not just the geographical area that just happens to be aligned with where he lives. For instance, while Wolcott has been represented by senators from Orleans County during his tenure, Westman has often treated the community as part of his jurisdiction, since it already has such strong Lamoille County ties.
"I feel more like their senator than theirs do," he said.
Despite how he feels about the political maps, Westman isn't overly worried. He said he spoke with Senate leadership, and they have called such a drastically carved-out proposed map "a non-starter."
The proposed Senate map comes a month after the Legislative Apportionment Board passed along a House map that creates 150 single-member districts, also on a 4-3 vote. Both maps must be approved by the Legislature this coming session.
The House Government Operations Committee will tackle the House map, but it's not clear whether its Senate counterpart will do the same, or if it will form a special committee to handle reapportionment. Westman said it was done by committee in the previous two apportionments he's served through.
"Usually, the rule is the Senate doesn't muck with what the House does," he said. "We each do our own and leave each other alone."