Space is the final frontier, the realm of science fiction, of futurist ponderings, an endless star-speckled darkness where few humans have been but countless millions have stared into since the beginning of time.
Soon, space-gazers will be able to get closer to the heavens from atop Peoples Academy Hill in Morrisville, as a project nears the end stages to open up the school's Grout Observatory to the public.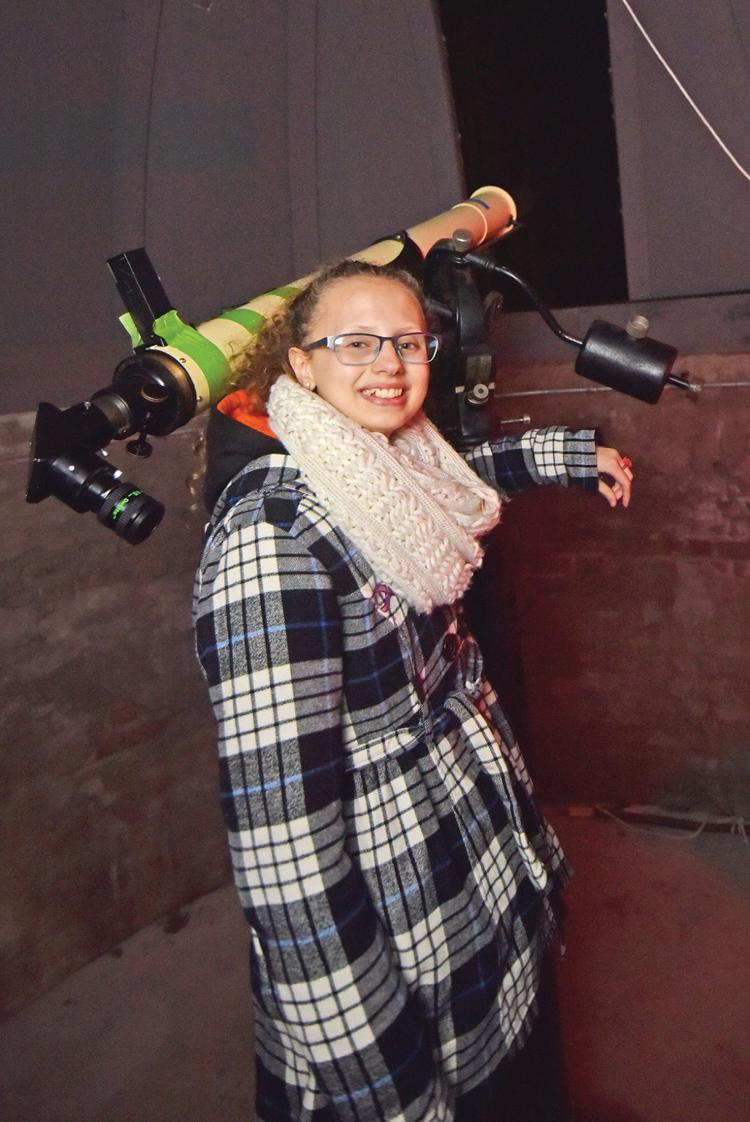 Christi Pugh, a Peoples Academy junior and self-proclaimed "huge science nerd," last year documented the observatory's history and this year is hoping and helping to get it open to more than just students for their classes.
"I'd always been curious about that building on the hill," Pugh said. "I want to people to get a use out of it, and I want somebody to see it as super cool as I do."
"Meteorites will be studied"
Just to have a Morrisville teenager be able to say that she wants others to be able to use the Grout in 2019 is something of a feat. There have been generations of PA students who've never set foot in the observatory.
According to Pugh's research, an act of vandalism in the mid-1970s caused about $80,000 in damage to the dome, and no one made much of an effort to get the work done.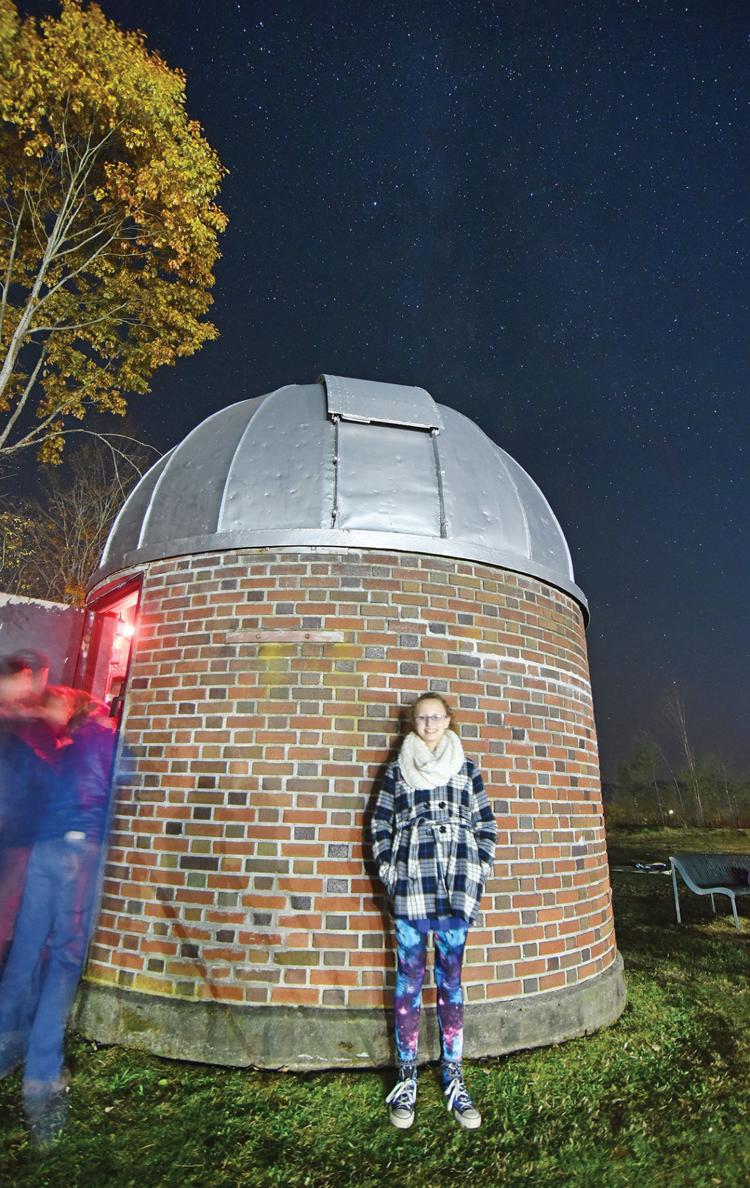 That all changed a few years back, Pugh said, when the Peoples Academy class of 1964, at its 50th reunion, decided it wanted to restore the Grout for the school and the town.
Morristown residents Bob Stevens and Gary Nowak, along with the Vermont Astronomical Society, secured grant funding from the Copley Trust — named for the man who founded Peoples Academy, Alexander Copley.
The small field around the observatory was cleared, trees cut down and volunteers helped grease the dome tracks so it can rotate again. Crews removed bees' nests from the inside and replaced carpets and light bulbs — a red light bulb helps your pupils dilate, to allow more light in, to better see through the telescope.
The observatory, located about 100 feet off to the side of the high school's western-facing main entrance, resembles a brick barn silo buried up to its last third, topped with a silver-painted dome.
To stare into space is to stare back in time, so it's fitting that a tool that can be used to get close up on the moon and see a hint of Saturn's rings has been around for nearly 90 years.
According to Pugh's research, the Grout Observatory, designed by one George C. Grout, was built in 1931, and immediately became a big hit in town.
The Morrisville Astronomy Club was born that fall, with meetings warned in the old Morrisville Messenger newspaper. Pugh included the notes from one such meeting in her report.
"On November 5th the group started studying, specifically the planet Jupiter," the account reads. "The group was very prepared; they had a backup plan in case the weather changed unexpectedly. Their plan was, 'In the case of rain, meteorites will be studied.' This showed that they were very serious and dedicated to the possibilities the observatory provided."
One woman Pugh spoke with recalled going with her family to the observatory to check out Mars.
"At the time the ability to view canals on Mars was a big deal so they all wanted to see it," Pugh writes. "She remembers seeing a colorful planet and some lines that she assumes were the rumored canals."
An October grand opening brought back crowds to the Grout, but it will be a little while before anyone can access it.
Peoples Academy science teacher Lesley Schuster said the observatory can currently only be used by the school, but there are some local astronomers who are training on it. One of them has offered to write an "owner's manual, so to speak," Schuster said.
But, she said, the real impetus comes from students.
"When they come forward, that makes it more fun for us," she said. "We have a few students who have an extracurricular passion for astronomy, so to be able to have students explore that outside the classroom is valuable."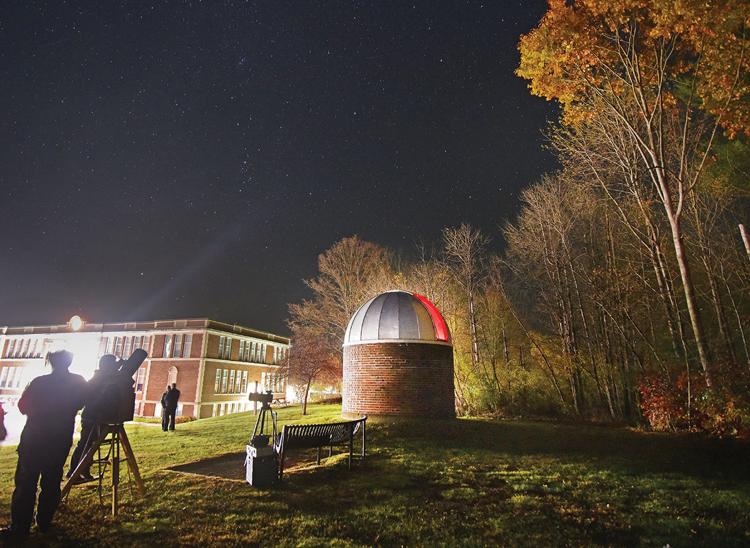 Once in a lifetime
Pugh is one of those students. She said this week that she doesn't know if she'll pursue astronomy as a career, but she'll always pursue it as a passion.
It started young, she said. Her dad used to bring her up on the roof of their single-level house to look at the constellations, or drive her out to a good spot to watch the Northern Lights shimmer in the night sky.
She also has more than a passing interest in the possibility of extraterrestrial life. "I've always been into aliens, if that's an OK thing to say," she said.
More important, though, is the opportunity to see things that she might not ever see again.
Take Halley's Comet, a regular visitor to earth's skies, but one that only comes around every 75 to 76 years. The last time it made an appearance was 1986, long before Pugh was born. Its next scheduled appearance is 2061 — she'll be in her late 50s and most people who saw Halley's Comet last time won't be around any more.
Pugh said once-in-a-lifetime celestial events happen all the time, from blood moons and total eclipses to planetary transits and the rare discovery of a new moon or a dying star. A telescope and some coffee help.
"I'm a night owl anyway, and I like to do things I might not be able to do again," Pugh said. "They leave memories, and it's just a life-changing experience."
Robbed of sight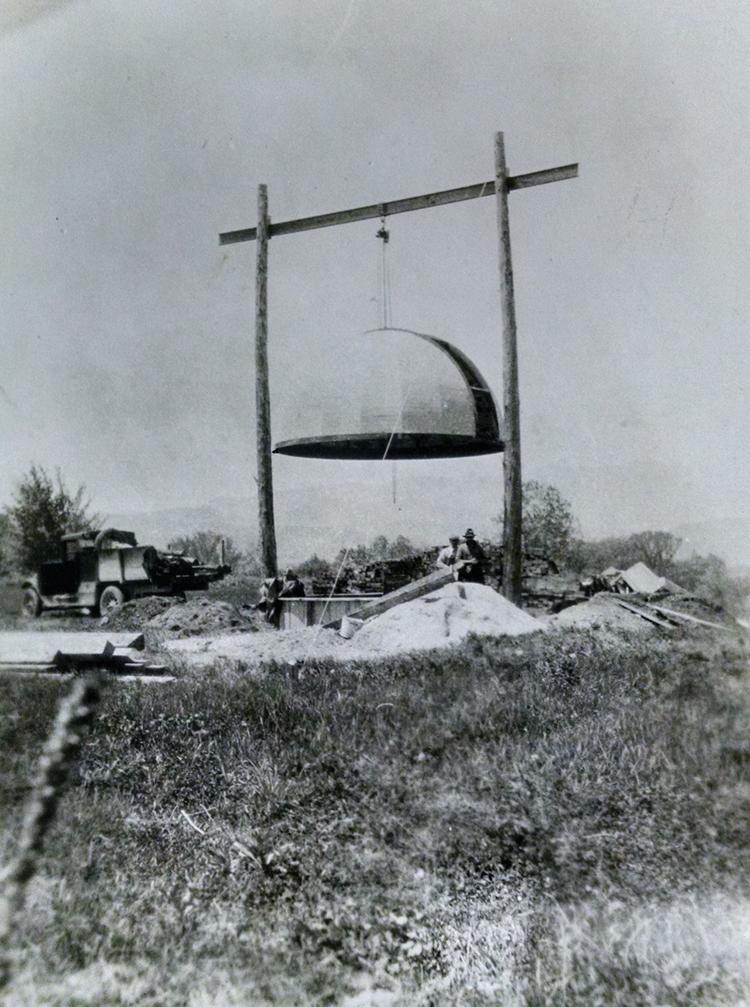 The Grout Observatory was built in 1931 from the top down, with a 3,000-pound dome made at the Morrisville Foundry held in place by cables and cranes, while the cylinder of brick — wider than it is tall — was constructed underneath it.
Inside, a series of pulleys and wheels rotate the heavy dome and open and close a panel through which the telescope can be seen.
Make that telescopes.
The first one placed in the observatory was an exact replica of a telescope that had been recently installed in the Empire State Building.
Built by the Bausch and Lomb Optical Company, it was installed with an attendant equatorial mount — which allows the scope to stay fixed on an object, even as it passes through the night sky.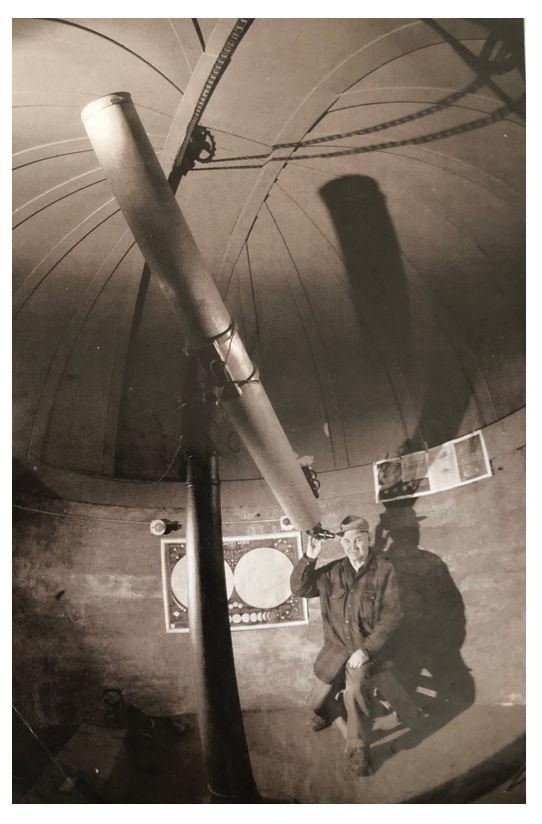 In 1974, thieves broke the observatory's padlock and stole the telescope. The Oct. 10, 1974, front page of the News & Citizen quoted then-police chief Lawrence Laclair as surmising it had been taken for the brass in it by thieves hoping to sell it as scrap metal, his theory bolstered by the fact the thieves left behind the Bausch and Lomb lenses.
In 1976, a new telescope was installed, this one built by Stowe resident Arden Magoon, who was interviewed in a 2007 Stowe Reporter story as "Stowe's resident whiz," an 80-year-old "self-taught astronomer, geologist, naturalist, mapmaker and gold miner."
According to Pugh, Magoon's telescope was stolen in 1989 by "a second round of thieves."
However, in a series of events that might rightly be considered astronomical, under the circumstances, the original Bausch and Lomb telescope mysteriously ended back up at PA. Someone left it on the high school's front steps, and it ended up in storage in what Pugh and other students call "the dungeon," discovered only recently by the people working to restore the observatory.
Now, the original telescope once again sits on its mount, ready to be aimed at the heavens.
First, though, someone's got to get rid of just a few more trees.
"We want to be able to see Mars in the spring," Pugh said. "And, right now, there are trees in the way."