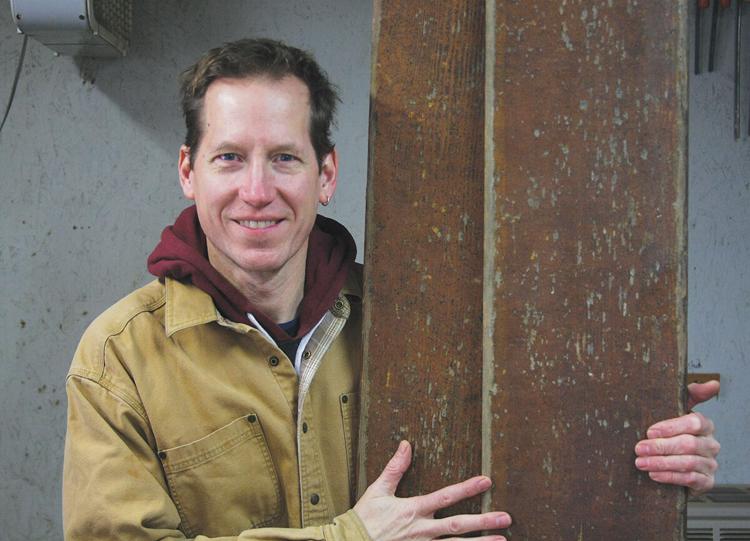 Gymnasium bleachers are the site of — and play witness to — fond memories for the small towns they serve, from basketball games to graduations, concerts to Town Meeting Day.
Now, local bleachers are getting a new life at the hands of Karsten Hauke Weiss.
Weiss, who teaches design and tech education at Peoples Academy Middle Level, has launched a furniture-making business, reclaiming a bit of Peoples Academy history that to many may have seemed lost for good.
His material? Old wooden bleachers, formerly housed in the Copley Memorial Gymnasium, something well known to generations of Morristown residents and PA alumni.
The bleachers' replacement began years ago. Weiss happened to be passing by the gym as they were being removed, and he spotted some of the boards being tossed out.
Weiss couldn't stand idly by and watch such fine wood, which also happens to have seen decades of history, thrown aside so casually.
So he stepped in.
"It's beautiful wood, it was in that gym for a long time," Weiss said. A former coworker at Peoples Academy once told him they'd been there for half a century or more before being removed in 2013.
"A lot of people have sat on those benches, there's just a lot of memories connected to those wooden bleachers," he said. He's unsure if the new, plastic bleachers that have replaced them will ever reach the hearts of their users.
"It's not the same," he said.
Upcycling
When he spotted those first pieces being tossed out, Weiss quickly asked if he could take and save at least the boards that made up the bulk of the bleacher seats and floorboards.
He ended up with about half of the bleachers – he wanted to keep all the boards, but they're pretty lengthy and bulky, and he didn't have anywhere to put them all.
"I should have, but I couldn't," he said.
At the time, Weiss didn't have any plans to open a side gig, but after building several pieces of furniture for himself and family over the last few years, he began wondering what to do next.
Weiss was just wrapping up the last piece of his own furniture this fall when he posted an image of it on social media. He got rave reviews on it, including from some people who seemed interested in getting their own versions, made from pieces of the gym that has been a community center in Morristown for decades.
"I don't need any more furniture myself. So I thought, what happens if I tell people I can make furniture for them?" said Weiss. With plenty of the boards still in his shop, he decided to see where it goes.
"I just wanted a way for local people to remember the times they've spent there," Weiss said. As the site of Morristown's annual town meeting, the bleachers also provided a perch for many a behind as the history of both the school and town unfolded during the 20th century.
Weiss sees his project as a way to bring all that back to the people who experienced it in person.
"They've sat on them, stuck a lot of gum under them," he laughed, and furniture made from that history gives them "something that lives on."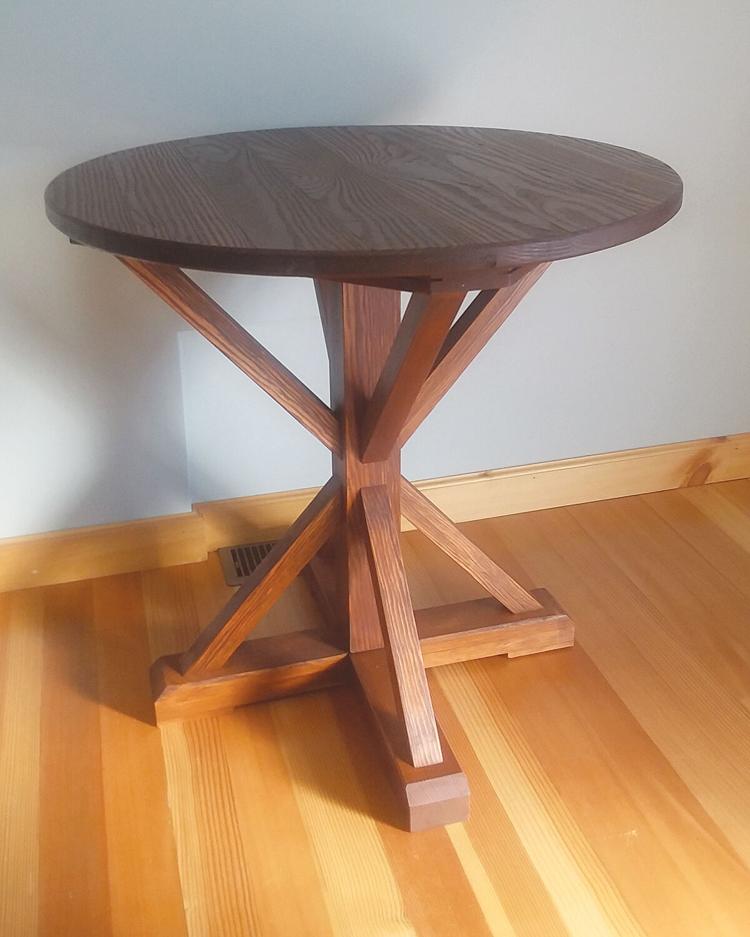 Weiss said that he's mainly hoping to make the same furniture he's produced so far with the material; tables that range from the coffee or end variety all the way up to larger dining room models along with kitchen islands, bookcases, writing desks and benches.
There is one type of furniture he wants to avoid though: "No chairs."
He'll make each piece to order depending on what the client wants. Because he's doing all the work himself, by hand, on top of a full-time job at the school, Weiss thinks he'll only be able to complete four or five projects a year.
He estimates that he's used roughly 15 of the lengthy boards so far while building his own furniture over the last five years or so, and he has at least another 45 left.
He expects to be building furniture using those remaining pieces for the next several years.
"I really don't want to move them again, they're heavy," he laughed. "Ideally, when I retire they will all be gone," he said.
Weiss doesn't have set prices. Instead, the cost will vary from piece to piece, and he wants to make sure it's reasonable. The work has become something of a labor of love for him.
"It's for people here," he reiterated. He wants the pieces to go home with people with ties to the school and community, who will value the furniture for the history it has seen and represents.
"It just feels like special material to me," he said.
Weiss has launched a Facebook page, KWH Custom Furniture, for his business and anyone interested in a piece of furniture can contact him there.