What will Morristown look like for the next decade or so? A 69-page document in the town offices and on its municipal website offers a comprehensive vision, one drawn up by a small group of people over the past few years but now open to the community at large for input.
The 2020-2030 Morristown Town Plan provides a blueprint for development and other growth over the next decade. Like all town plans in Vermont, it offers readers a sense of how the town's planning officials view the town and, as the plan's introduction notes, "all the unique things that make our community such an awesome place to live, work and play."
The town's planning council and planning director and zoning administrator Todd Thomas put their stamp of approval on the final plan last month, and it will have to go through a series of public hearings, reviews and revisions before becoming official.
The town selectboard and village trustees will hold a first round of public hearings in about two weeks — the selectboard's is Nov. 15 and the trustees' is Nov. 17. Residents are encouraged to attend the meetings to provide feedback and proposals for revisions.
"They put a tremendous amount of work into that, a lot of foresight, a lot of vision," town administrator Eric Dodge said. "It's a guiding document for us."
The proposed 2020-2030 plan is a leaner document with more colorful language than the current one, adopted in 2015. It is almost 40 pages slimmer.
The plan is divided into 13 chapters, each dedicated to topics such as land use, transportation, utilities and facilities, education, energy, housing, wellness and more.
Copies of the draft plan can be picked up at the town offices on Portland Street or downloaded from the town's website, morristownvt.org, under the planning and zoning tab.
Regional review
While Morristown residents are encouraged to read the proposed town plan ahead of time and attend the public hearings on Nov. 15 and 17, the document is also subject to review from a regional perspective, according to Seth Jensen, deputy director of the Lamoille County Planning Commission.
With offices located directly across Portland Street from the Morristown municipal headquarters, the county planners take a higher-level look at things, assisting and offering input into planning processes in all 10 Lamoille County towns, and making sure they adhere to the state's development laws.
That is, if they have such plans and processes.
"Having a municipal plan is not mandatory under state law, but it does allow towns to do things they might not otherwise be able to do," Jensen said.
He said that includes being able to more easily amend zoning bylaws and have standing in Act 250 land use applications or hearings before the state Public Utility Commission.
A town plan approved by a regional planning commission opens up more things, like access to state grants and, most notably for Morristown, becoming a state "designated downtown," which allows access to tax credits for downtown development. Morristown allowed its designation to lapse five years ago following a perceived turf war between local and regional planners. It pulled out of the Lamoille County Planning Commission — membership is a key requirement in downtown designation.
The current plan also acknowledges the benefits of downtown designation, touting the growth of the town since having that designation taken away.
"Downtown Morrisville is an excellent candidate to regain downtown designation, as it has already seen millions of dollars of reinvestment in the form of commercial space upgrades, and hundreds of new housing starts therein in just the last few years," the plan states.
Jensen said the town asked his group to review the town plan, which includes the processes behind them, but within a limited scope.
"Our role is pretty narrow," Jensen said. "We only make sure they have everything needed in statute."
He said there are four main things they look for:
• Is the plan consistent with state planning goals written in statutes?
• Does it contain the elements required under statute? Jensen said once, about a decade ago, Johnson went through the entire local adoption process, but was missing one document, a map, that was required in the plan under state law, "which became a hassle for Johnson."
• Is it compatible with the regional plan?
• Is it compatible with comparable plans in the region? Jensen said when he first started his planning career, he worked with the towns of Richmond and Jericho to ensure their transportation goals aligned — Richmond had plans for stepped-up industrial development around Interstate 89 and Jericho had plans to maintain the rural nature of its side roads, which could see more heavy traffic with increased industry in neighboring Richmond.
"There is some perception among some people in town that the regional planning commission is interfering with local control," Jensen said. "But this is something that LCPC was asked to do."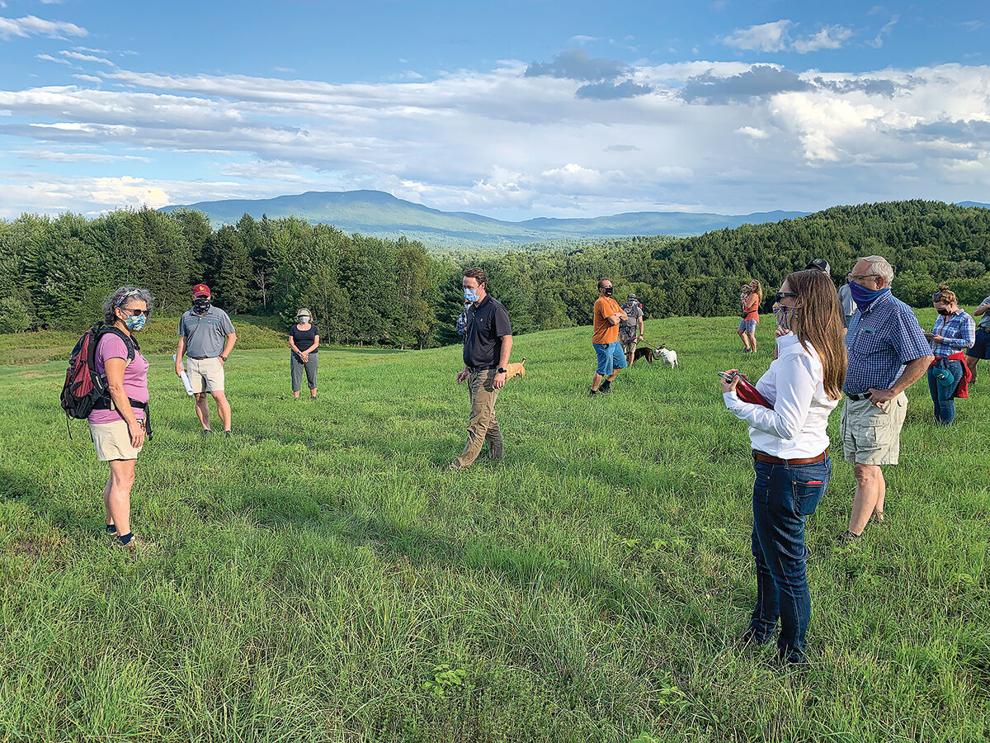 Gravel pit or recreation site?
With Morristown residents urged to offer feedback on the town plan and suggest revisions, and with the 2020-30 version of the plan differing in innumerable ways from the 2015-22 version, the town plan is a malleable, living document.
This was illustrated last week at the Oct. 18 Morristown Selectboard meeting when resident Jamie Brewster pointed out discrepancies in the town's description of its gravel pit.
The pit at the end of Duhamel Road is currently under Act 250 review as the town aims to start mining a new portion of the property for roadwork materials. But Brewster pointed out that an emphasis on the town's gravel needs eschews the recreational aspects of the roughly 370-acre area, which is a major draw for mountain bikers, hikers, skiers and snowshoers.
The language from the new draft town plan regarding the gravel pit, besides containing back-patting language such as "our forefathers were extremely wise" to buy the property, clearly prioritizes gravel extraction over single track riding: "Incidental uses of the Duhamel property, such as hiking, biking, or disc-golf shall only be allowed on the Duhamel property in so far as they do not interfere with the town's current or future gravel needs."
However, in the current town plan adopted just six years ago, the pit is also included in a section on recreation. The 2015 plan describes the acreage surrounding the pit as a place that "offers residents an opportunity for outdoor recreational activities outside the village in a quiet rural setting."
There was some dispute among board members and Brewster as to the pit's provenance, especially from board chair Bob Beeman, who said the place has "morphed into" a trail network over the years, without town permission. Beeman acknowledged the historic recreational aspects, though, noting he shot his first deer there as a kid, well before the town purchased the land in 1991 or 1992; the current and proposed town plans differ on the purchase year.
Brewster said he intends on proposing revised language regarding the pit to make it more reflective of what he maintains was its original purpose, a dual-use property for recreation and gravel extraction.
Selectboard member Jess Graham said she worked with Brewster last winter to present the recreational side of the Duhamel Road property before she was appointed to the board this past summer. She, too, was confused at the shift in priorities over the past six years.
Said Graham, "There is a language change from the 2015 town plan, and I don't know what the impetus for that is."