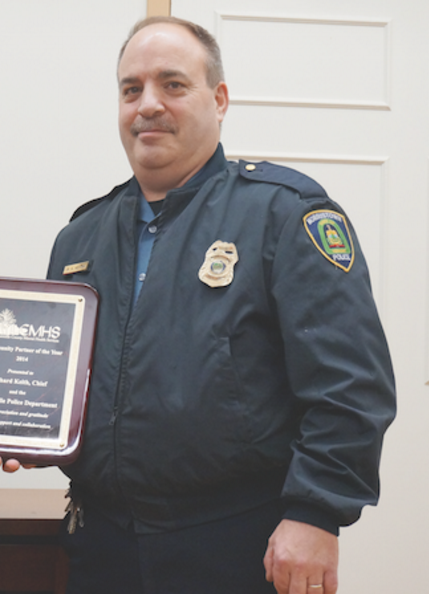 A pair of vacancies in the Morristown Police Department has Chief Richard Keith searching for qualified officers as the department starts to rack up overtime pay while short staffed.
The department typically employs 10 officers; there are currently nine active members after the retirement earlier this summer of long-time patroller Kevin Laplante. Laplante's retirement at the end of June came just as Keith began looking to grow the department; he hopes to add an additional officer — bringing total staffing to 11 this year — and add a twelfth cop to the roster in the near future.
The retirement of Laplante, who has decades of experience working in law enforcement in Massachusetts and northern Vermont, came as no surprise; when he came on board five years ago he said he would only work for half a decade.
The search to replace him began before Laplante retired, but so far there haven't been many qualified candidates.
"As far as I know there's only been one so far," Keith said, and that individual's interview was postponed from earlier this week.
Providing police coverage with a depleted roster is nothing new to Keith and his department — they're regularly at nine officers when someone is out injured or on vacation — but almost two months of working with a nine-man roster is putting a serious dent in the department's overtime budget, very early into the new budget year, which began July 1.
Keith said he typically budgets roughly $100,000 for overtime; last year the department slightly exceeded the budget, and "at this rate I expect to go over again. The overtime is up there pretty good, we're having to back-fill several shifts.
Keith has faced far worse overtime situations. There were stretches 10 years ago when two of the department's officers were both deployed overseas at the same time.
"We're getting by, but there's certainly no idle time. It's stretching us pretty thin," said Keith, adding that an injury, vacation or sick leave or even a lengthy investigation leaves little room for error.
"If I had another officer go out for any reason, it would really start affecting us. I need to fill that spot some time soon." Keith said.
He is hoping to replace Laplante with an experienced cop, but the newly created position will likely go to a less experienced officer, funded by a $125,000 grant from the Department of Justice COPS Hiring Program. The grant will cover between one-half and two-thirds of the first-year cost of adding someone fresh out of the police academy.
The select board accepted the grant and approved the expansion of the department in July.
Adding an 11th officer — and ultimately a 12th — would allow the department to have two officers on duty, 24-hours a day. Right now there are only two officers on duty during peak periods, from the afternoon to the early morning hours just after midnight.
Keith estimated that a new officer with little to no experience would earn between $80,000 and $90,000 per year to start. He has one year to fill the position. If no viable candidate can be found to send to the police academy, Keith will need to file a grant extension.
But Keith isn't rushing to hire someone just to fill out the roster and ease overtime budgeting woes.
"As long as it takes," he said. "We can do nine. Obviously our biggest concern is to find the right person."