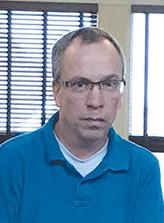 A Johnson man who pleaded guilty three years ago to a half-dozen criminal charges related to child sexual abuse, and who later withdrew that plea after firing his second lawyer, is having his case presented before a jury this week.
Jay Orost, 60, has been lodged in prison since 2017 after being accused of sexually abusing three different girls, including his own daughter.
He originally pleaded guilty in March 2019 to a half-dozen criminal charges, including four felony counts of lewd and lascivious conduct with a child. He fired the lawyer who helped him reach that plea agreement, renowned defense attorney David Sleigh.
He then fired his second lawyer after he instructed that new attorney to withdraw the guilty plea, causing the lawyer to file a motion to withdraw himself from the case.
The judge in 2019 that allowed for Orost to withdraw the plea and either find new counsel or defend himself, Megan Shafritz, told Orost and prosecutors that she didn't want the case to drag on indefinitely. However, since then, both Shafritz and the judge who followed her have rotated to other courts and out of Lamoille County.
Judge Michael Harris is presiding over this week's jury trial. Orost is represented this time by attorney Robert Sussman.
During opening statements Tuesday, Sussman argued that Orost was a controlling father who disapproved of his daughter's boyfriends, and that his daughter's story changed over multiple interviews with police.
Meanwhile, prosecutors countered that while it is impossible for the alleged victims to remember every detail from four-plus years ago, "what they will never forget is what he did to them."
Just before this newspaper went to press Wednesday morning, Judge Harris started the day's proceedings saying one of the jurors had "symptoms" of some malady, but it wasn't clear whether the juror was infected with COVID-19. It was unaware if this would affect the trial since there are alternate jurors.