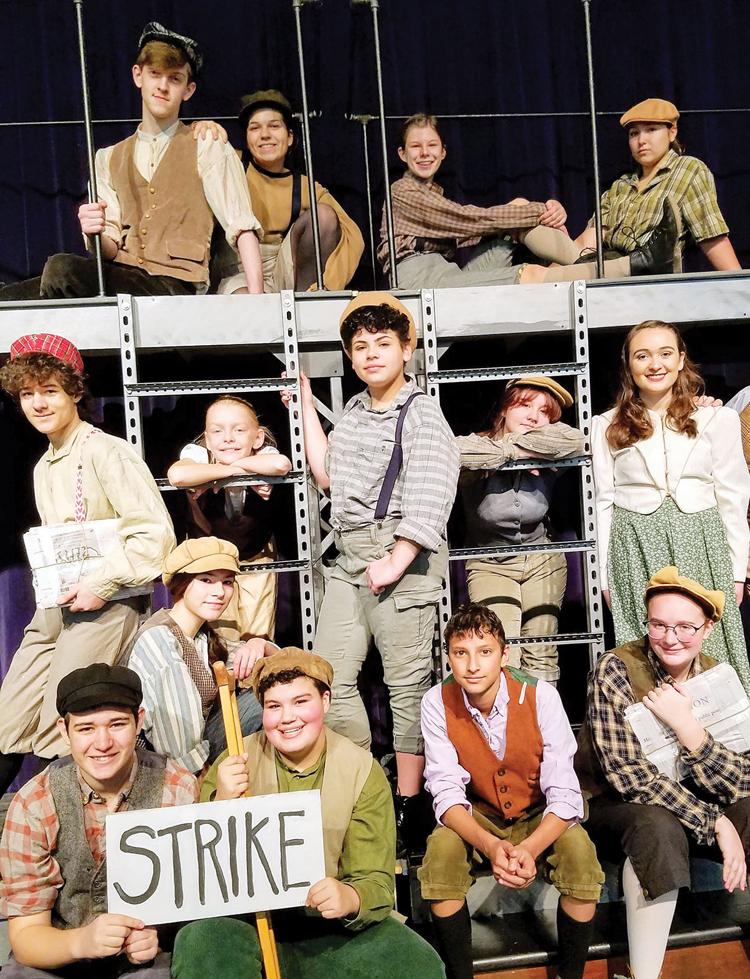 Power to the people! In this case, power to the young people.
The curtain drops at 7 tonight, Thursday, Nov. 7, for Lamoille Union Middle and High School's production of "Disney's Newsies," and while the story is set 120 years ago, the themes of youth voice and empowerment resonate loudly today.
The musical tells the story of the newsboy strike of 1899, when the young men who sold copies of Joseph Pulitzer's newspaper, the New York World, protested the publisher's decision to raise the cost of the paper for the newsies, who at the time had to eat the cost of any papers that went unsold.
During the two-week strike, the newsies were subjected to violence from strikebreakers and intimidation from police, but they held the line and, in the end, Pulitzer agreed to buy back the unsold papers, a practice that continues today.
"It's got a lot of dance numbers, and the music is super-catchy, but the theme is empowering to kids in this day and age, for them to know they can make a difference and their voice has power," said Nichole Lefaivre, who teaches dance at the school and who is co-directing the play. "That was the biggest reason we're doing it."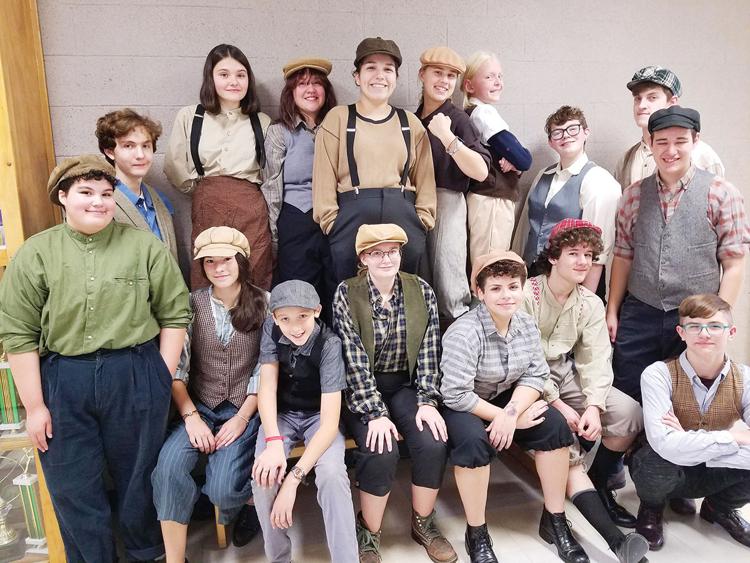 The idea of youth empowerment is virtually ripped from today's headlines, from Swedish teenager Greta Thunberg's speech before the United Nations — in which she excoriated adults for their failures on climate change — to the 200 Lamoille North students who walked out of class in late September to protest inaction on climate change.
"This show is so relevant to what is going on the world, with young kids standing up for what they believe in and advocating against higher-ups," said Tara Blueter, 16, who is in 11th grade. "We see that and we can play that out with our characters and it's just so cool."
Blueter plays Catherine Plumber, a writer for the New York World who covers the newsboy strike, and in doing so, pushes boundaries in her professional world.
"She's a reporter that is just bursting out of the social pages," said Blueter, who previously played Annie in her school's production of the show, and who played Robin in this summer's production of "Godspell" by the Stowe Theatre Guild.
"The year is 1899, and she is kind of the first-ever female reporter," Blueter said. "The news world is still a world of men and throughout the show, she gets more confident. She is used to just reviewing shows and then she meets the newsies, and that's her big break."
Blueter's character meets a newsie named Jack Kelly, played by fellow 16-year-old 11th-grader Griffin Koss.
"I like 'Newsies' because it's not like a lot of other shows," Koss said. "It's telling a story, but … bringing it more into a modern setting. It really brings to light a lot the stuff about the government and businesses that you don't really see."
Before taking on the role, Koss studied the newsboy strike of 1899 for a school project.
"It's showing a lot of the stuff around unions and uniting people," said Koss, who played the Scarecrow in Lamoille Union's 2018 production of "The Wizard of Oz." "It's not just necessarily about kids in general, but about how people working together don't have to be pushed around by the people who think they're in charge."
In many ways, this production is more challenging than others in the past, according to co-director Kenneth Grenier.
"This is a bigger show and a bigger undertaking than what we did last year," Grenier said. "There are a lot of moving pieces, and lot of song-and-dance breaks, and the set and scene changes, and getting all of those things to work together is a really big task."
Some of that challenge is simply physical, said George Race — another 16-year-old 11th grader — who plays the role of Crutchie, a disabled newsie who, without spoiling the plot, undergoes some hard times during the play.
"I have to be on a crutch the whole show, which is really challenging, because I have to do all the same dancing, but I have to do it while using my prop," Race said. "I get to work on skills I've never worked on before, because it's so dance-heavy."
"It's the most difficult role that I've ever done because I'm a low tenor and there's a lot of really high stuff, but also it's a physically straining role," Koss said. "There's a lot more acrobatics than I'm used to."
The Great White Way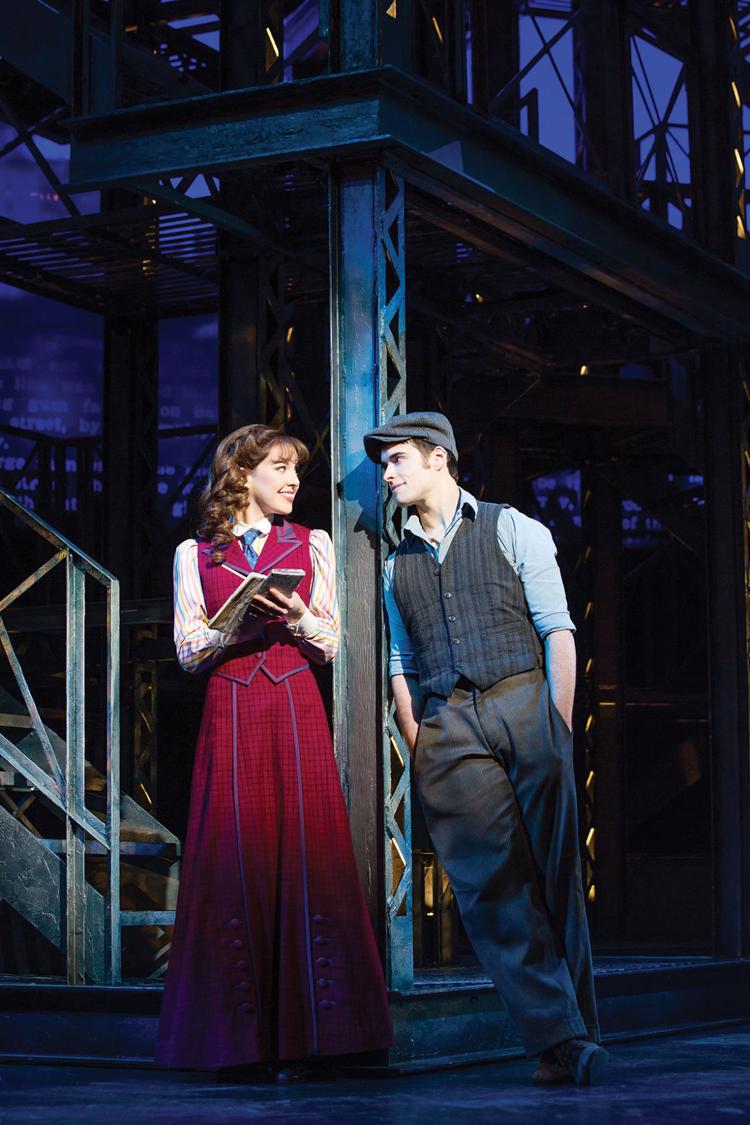 While the work is hard, there are some real tangible rewards. For an example, look no further than Liana Hunt. The 2005 Peoples Academy graduate made her way from Lamoille County to New York City, where she played Catherine Plumber in "Newsies" on Broadway.
"It was like a dream come true," recalled Hunt, who auditioned for the role after finishing up "Mamma Mia!" — her Broadway debut.
At that point, "Newsies" had been running on Broadway for about a year. She landed the role of understudy to the lead actress playing Catherine Plumber; when that actress left, Hunt took the lead role, which she held for six months until the show closed in 2014.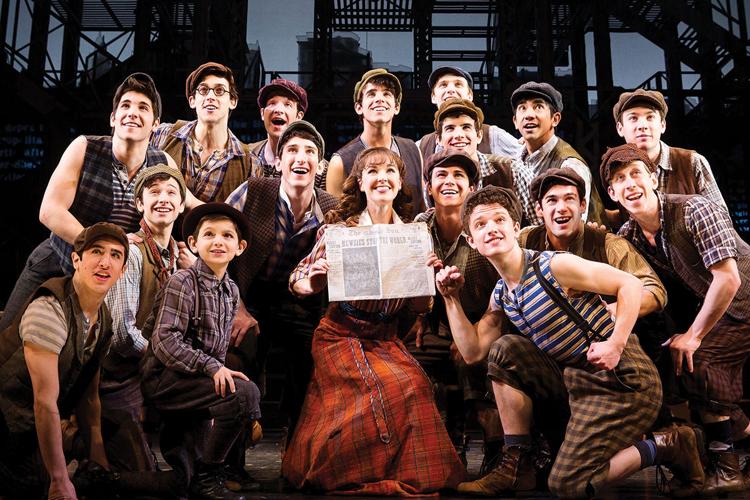 "I was so lucky to play her," Hunt said. "She is the bold, strong, outspoken lead. She was a leader at a time when there weren't many female leaders. She has this great journey through the show, and gets to fall in love and write this story that changes the course of the newsboy strike."
Like the students in the Lamoille Union production, Hunt cut her teeth at the local level. She began with a one-week drama camp in Hyde Park when she was 6 years old, and later studied dance with Helena Sullivan at Stowe Dance Academy and took voice lessons with Bill Reed in Burlington.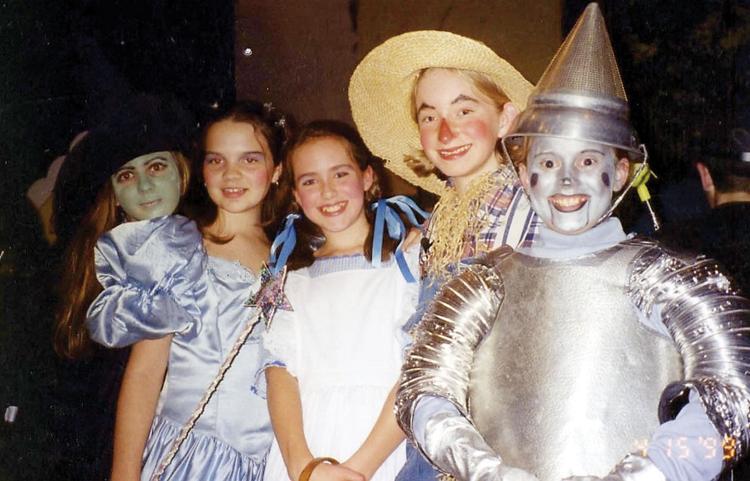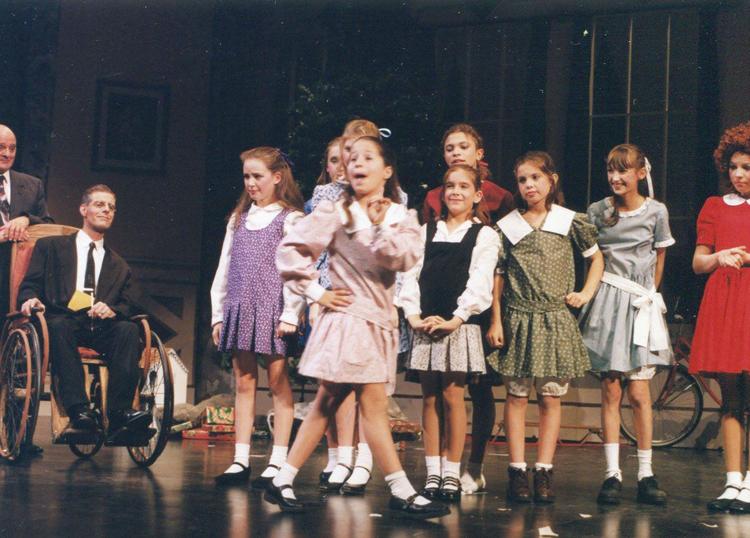 In sixth grade, she played Dorothy Gale in Peoples Academy's production of "The Wizard of Oz." In 11th grade, she was Maggie Winslow in "A Chorus Line" for the Stowe Theatre Guild. In between, she performed in numerous Lyric Theatre Company productions in Burlington.
"I cherish my time growing up there and the opportunities that I had," Hunt said.
Like the Lamoille students, Hunt says the themes of "Newsies" are pertinent in today's world — addressing youth empowerment while offering an alternative example of how to be a man in an age of toxic masculinity.
"I think it's a really great time to be doing a show like this. The power of young people — to stand up and fight for what you believe in — is something that is important to put out there in the world," Hunt said.
"Also, so many boys get to dance. In a world where boys have to act a certain way, where masculinity has to look a certain way, it's important to see this depiction of strong young men dancing on stage."