As a New Year's gift in 1904, George Clark — a prominent citizen, owner of real estate and one-time state representative — bequeathed a parcel of land on the Lamoille River to Morristown with the explicit intention of it being turned into a public park.
In the century and more since his gift, despite occasional calls to action from Morristown residents, the land is still not a public park, and "Clark Park" does not exist on any official maps of the town.
The land, a dormant patch of 18-acre wilderness complete with sandy riverside beaches and shady glens overlooked by the Route 100 bypass, functions mostly as industrial land for the village's utility company, Morrisville Water & Light, which operates a nearby dam in the middle of the park.
The land near the dam shows signs of debris disposal, wood scratch and dirt moved by heavy machinery. Nests of beer cans can be found dotting the pine-blanketed ground. Though the land is technically accessible to the public, there are no posted signs and only ad hoc trails lead down to the beach or through the wooded areas.
A recent petition, promoted by a small group of dedicated Morristown residents who want to see Clark's vision for a public park in the heart of Morrisville realized, is bringing new attention to the land's plight and the Morristown Conservation Commission has expressed a desire to lease the land from the local power company.
Morrisville Water & Light, however, has no current plans to part with or alter the land. The utility is currently focusing most of its resources on negotiating the relicensing of dams and its hydroelectric system, a process that will likely continue into 2022 if not longer.
According to Penny Jones, the village manager, there has been no substantive discussion with the conservation commission about leasing the land and any decision about how the land might be used will not be made anytime soon.
This impasse over the use of so-called Clark Park will ensure the long-neglected gift and its intended use will remain in limbo, just as it has throughout its history.
Competing visions
Ron Stancliff, chair of the conservation commission, has modest plans for Clark Park, should the village ever decide to allow Morristown to lease the land.
"Clark Park can be developed. Trails already exist there. We might look to try and establish a few more if the terrain will allow it. Maybe a picnic table could be included in there. We would put signs up to maybe name the trails," he said.
Clark Park isn't the only parcel of land the conservation commission would like to see the town potentially acquire from the village, but due to its proximity to the river and vulnerability to flooding, it may be the town's best chance to acquire land without having to compete with outside developers.
"I would say because of the danger of another 1927 flood, that land would be restricted only to non-developers," Stancliff said.
Because of the park's natural beauty and its proximity to the village's economic district, a coalition of Morristown residents put forward a petition calling for George Clark's initial covenant with the town to be honored.
The petitioners asked that the land be sold back to the town and the money generated from the land's sale be used by the village to "alleviate and restore the wanton and unnecessary damage done to the park by (Morrisville Water & Light)."
The petition also requested that a board, made up of Morristown's parks and recreation and conservation commission members, oversee the use of Clark Park land.
The petition was authored by Chris Ransom, a longtime Morristown resident who said he had been interested in seeing Clark Park restored and put to better use for 35 years. The petition was posted to social media by Joe Speers, a self-described "recently retired boat rocker."
Ransom didn't say how many signatures he ultimately received in support of the petition but claimed younger Morristown residents he spoke with supported the cause more than older residents.
Speers declined comment.
Ransom is fastidious, knowledgeable about the land and how it's been altered by the utility. On a visit to the park, he pointed out how Morrisville Water & Light made use of the area over recent years, where various industrial materials had been dumped and what parts had been reshaped by bulldozers.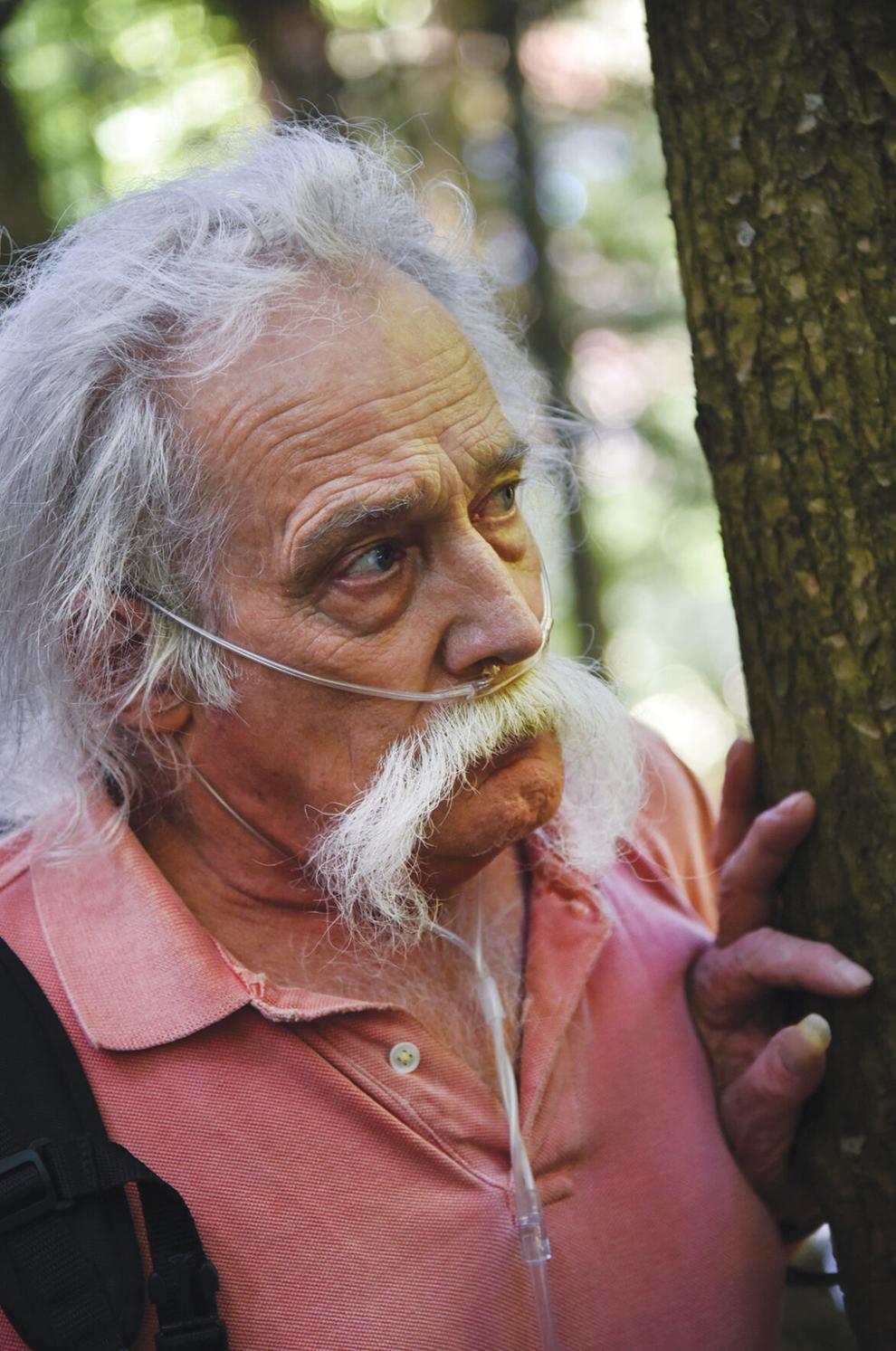 Despite a recent bout with pneumonia and emphysema that has made an oxygen tank accessory necessary, he was eager to hike the park's nascent trails and point out the land's wealth of natural beauty.
"I very much feel that they should just put a halt to the destruction," he said. "Maybe do a little bit of remediation. My thought is, just get some sort of a watchful eye and spend some money just to alleviate the massive ugliness and damage in this pristine area. It's almost like they try to keep people away. It's almost like they don't want people coming down here."
Ed Loewenton, a retired toymaker and psychotherapist in Morristown, is another Clark Park believer. His interest in the area led him to devote an entire subsection of his personal website to the area and its original owner's history, a tour of the park in photographs and specific recommendations on how the park could be developed.
He sees in Clark Park the potential to become for Morrisville what Central Park is to New York City. That is, a valued public park that heightens the value of the area's economic center.
In order to do this, Loewenton recognizes that a great deal of resources and funding would be needed to accommodate the increase in foot traffic and use by the public.
This proposal would be a far more intensive and expensive undertaking than simply making it into a public park, but Loewenton's ambitious vision, he feels, could be truly transformative for Morristown. He also believes an independent board would be necessary to ensure this vision.
"My sense is, this will never amount to anything unless it is perhaps leased, perhaps even owned and managed, by an organization that has nothing to do with village management and has no interests but to run Clark Park," he said.
According to Water & Light's Jones, the matter of relicensing the hydroelectric system is a far more pressing matter and the sale of land, particularly Clark Park, was not a priority for the village right now.
Jones was dismissive of the petitioner's visions for Clark Park and particularly of Stancliff and his commission, who she described as constantly "hounding" her about the potential sale or use of land.
She also expressed doubts that the land could ever be safely made into a public park, pointing to a July 26 incident where multiple rescue agencies responded when a woman found herself stuck among the rocks in the Lamoille River near the dam.
"The hydro relicensing itself is taking up a lot of our time. Staffing is taking up a lot of our time. This is not something that the trustees will be acting on anytime soon," she said.
A legacy unfulfilled
According to research published on Loewenton's website, George Clark purchased 13 acres in 1901 and gifted it to the town three years later. Jones said the village purchased an additional 5 acres later.
"Conditions of this deed are that it shall be a public park for Morristown and be called 'The Clark Park.' No intoxicating liquors ever to be sold there and shall be looked after and cared for by Park Commissioners of Morrisville, and to be kept in nice shape by the Village of Morrisville. I consider this a New Year's present to the town of Morristown," Clark said in the warranty deed.
Immediately, attempts to shape the land into a public park were stymied by a lack of adequate funding.
"A commission, without funds, was elected nearly a year ago to realize the possibilities of the place," a 1912 note recorded in "More About Morristown," a history of the region by Rebecca Skillin and Frances Favreau. "Landscaping services are expensive and until sufficient funds are in hand to begin aright it is deemed to better leave the grounds as they are."
Morristown returned the land to Clark's daughter, Blanche, in 1926. She then gave the 13 acres of the land to Morrisville.
"Morrisville has a great natural park, the gift of a leading citizen. Other places would see that it was improved, walks built through it so people could enjoy it, etc. It needs not cost but very little. Nature has done most of the work. Let all unite and help make it attractive and available for a good playground for young and old. Now is the time to get busy," a comment made in May 1927 in "More About Morristown."
But in November 1927, a historic flood caused massive damage to the town and reshaped the area of Clark Park entirely, dampening any momentum toward developing it as a public park.
Despite occasional inquiries from the town's park and recreation and conservation commissions, the village and Morrisville Water & Light have retained ownership and use of the land.