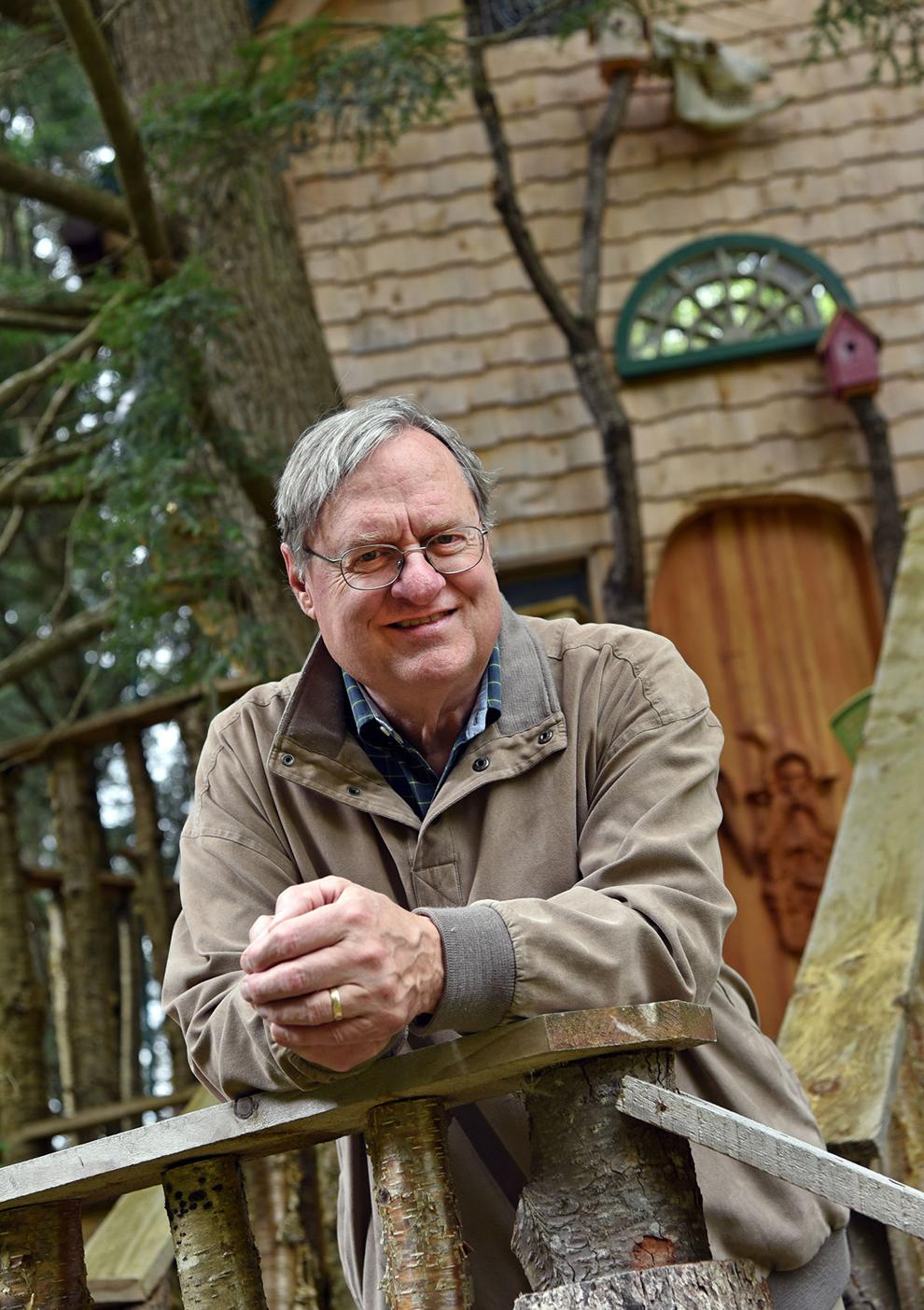 Run into David Bisbee around town and talk to him for more than a minute or two, and the affable family doctor might just ask you to come by his home to check out his treehouse.
Bisbee is proud of the whimsical, quirky treehouse, which he built for his four grandchildren.
"I've built treehouses in the past, but not like this," Bisbee said. "We had a treehouse when we lived in Stowe Hollow in the '90s, and we moved away and when we came back to visit, my daughters would sneak into the treehouse at night and they would be really quiet because they didn't want to get caught."
That treehouse had a small triangular door, just tall enough for kids to crawl through; the one on Bisbee's Center Road property in Hyde Park has other kid-friendly amenities, including a bunk bed, just big enough for a single child, and a small library of books for kids.
Bisbee, 64, is the white coat and stethoscope behind Stowe Personalized Medical Care, a concierge medical practice in Stowe village. Patients may also know him from his many years at Copley Hospital, Community Health Services of Lamoille Valley and Stowe Family Practice.
Practicing medicine is his life's work and passion, but building is a close second, Bisbee said.
Before he married Tamara Bisbee, the good doctor said, he built much of his furniture by hand, and a good deal of it still does duty in the couple's open, well-lighted farmhouse, including a four-poster bed, coffee tables and an armoire.
"Those were back in the days when we couldn't afford furniture, so I would build it," he said.
One corner cabinet in the treehouse is a Bisbee original, designed while he and Tamara were on their honeymoon.
"I've always been a builder," Bisbee said. "I made my way through college and medical school by being a roofer, and working as a contractor's helper."
Bisbee said he and a friend set up a small business shingling roofs, but when the friend fell off the roof, "that was the end of the shingling business. So then, he would remodel a kitchen and he would say, 'Do you want to help me with this?'"
The treehouse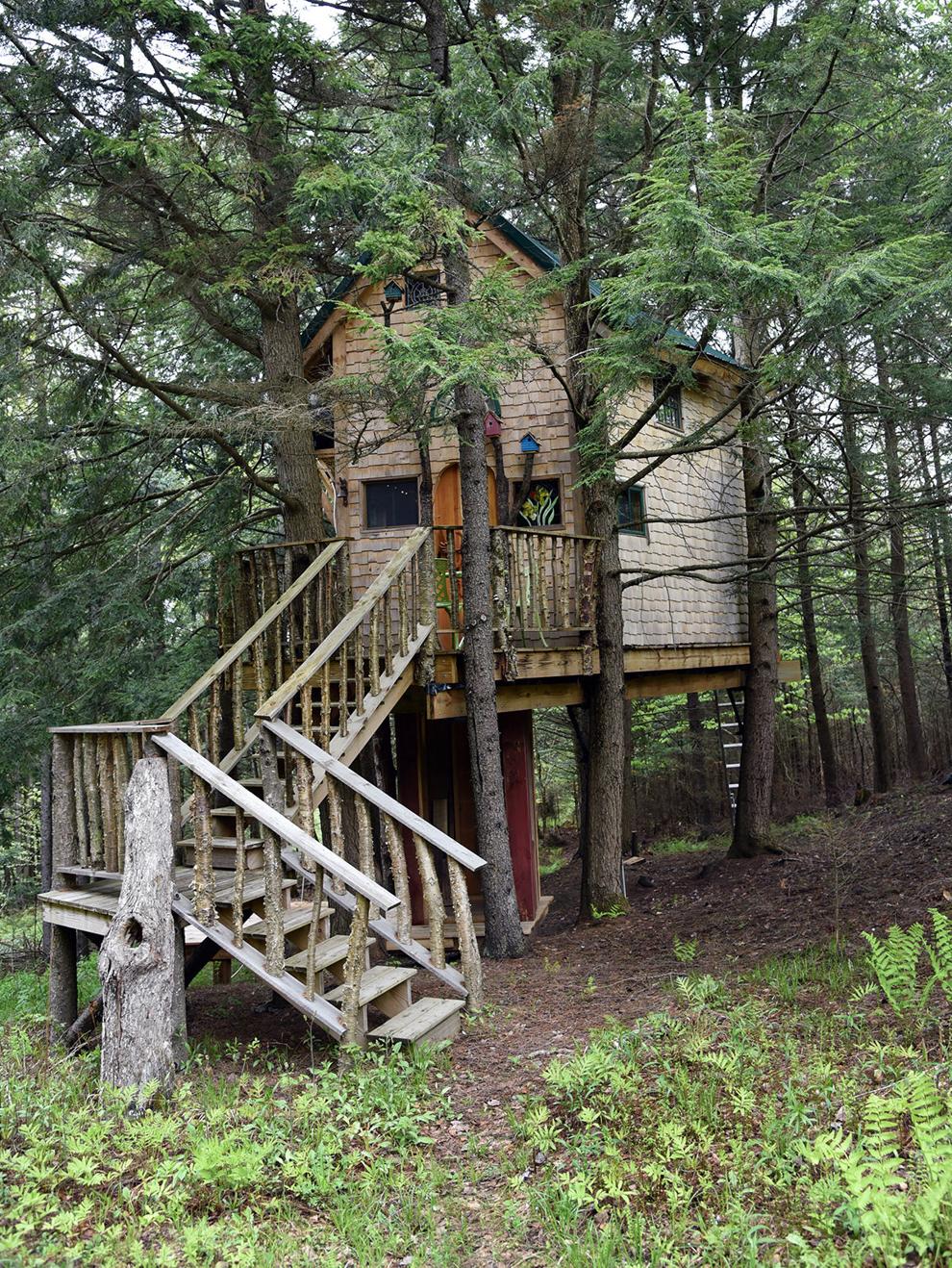 It's not visible right when you pull up to Bisbee's house; he leads a group from the newspaper down a short path into thicker woods, lit by lanterns. The treehouse is perched on three hemlock trees, one spruce tree and two posts made from hemlock trees.
It's about 16 feet off the ground at its highest point, Bisbee said. It sits level, propped up by clamp-like devices Bisbee says are called treehouse attachment bolts. They're a favorite in the treehouse community.
Bisbee said it took three people with levels to ensure the treehouse sat right.
"You can obviously see it's not square," he said; that's because the trees in the forest weren't aligned that way, and Bisbee wanted to work around what nature gave him, rather than try to modify it.
"The trees tell you how to make it."
It wasn't easy to build the treehouse, and Bisbee learned a lot.
"When we first started, I fell off a ladder and split my head open," Bisbee said. "The guy that helped me build it, he was laughing at me and I had a T-shirt on my scalp and it was dripping off my elbow and I said, 'Well, I guess we're done for the day.'"
He needed 14 stitches in his head, and headed to the emergency room — after all, even a family doctor needs a little help.
"On the way there, he said something like, 'Well, you get your certificate,' and I said, what do you mean?' ... Once you fell off the ladder, you get the certificate," Bisbee said with a chuckle.
"It was a pretty good cut."
Bisbee says his grandkids were top of mind while he was working on the treehouse.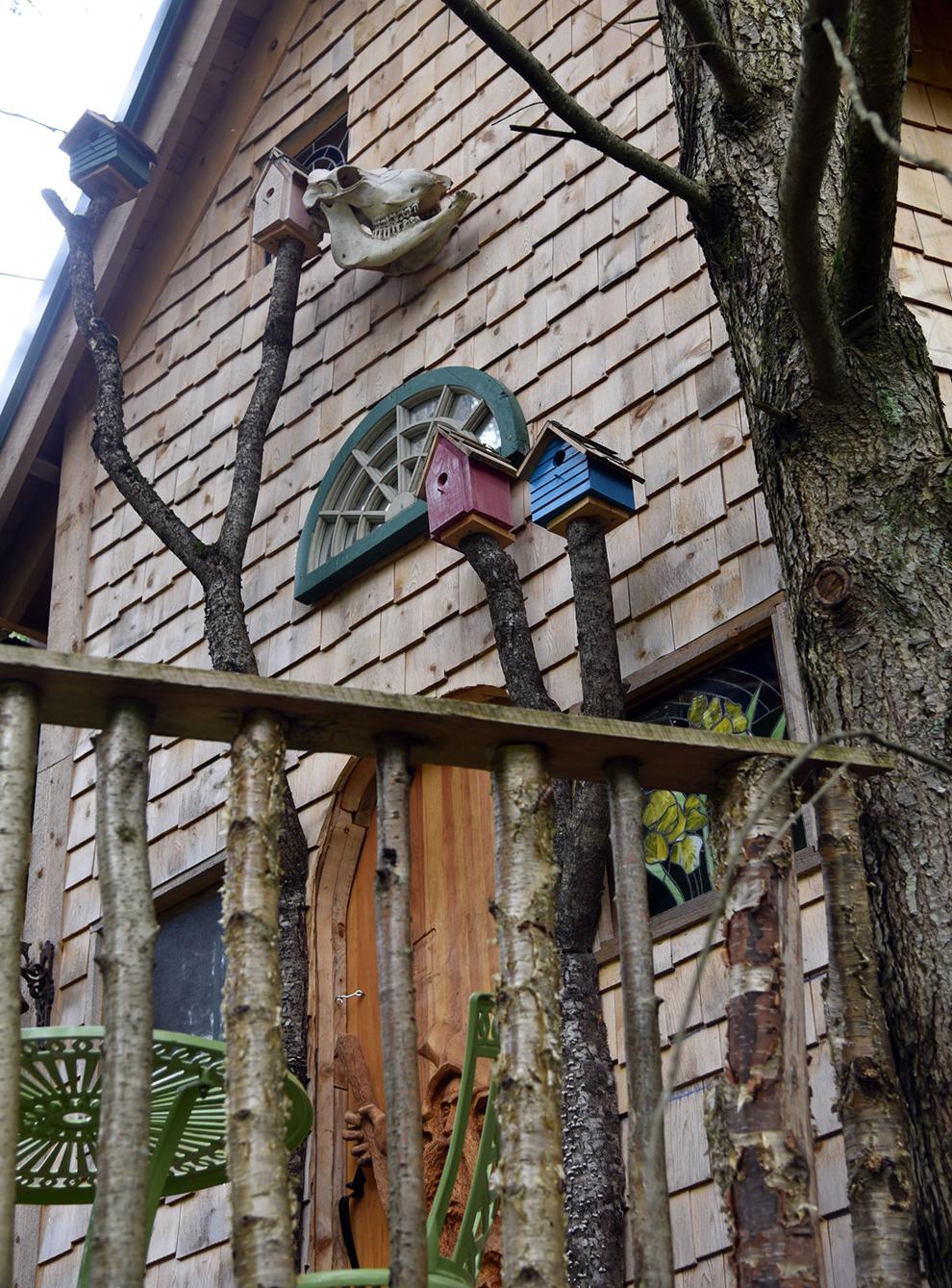 "I really made it for them," he said, and it shows. A cow's skull, which Bisbee jokingly calls a "dinosaur's skull," hangs over the door, into which is carved a wizard in relief — Bisbee's handiwork.
Bisbee's 9-year-old granddaughter named the wizard "Blark," he said.
Eventually, Blark's staff will connect to a wire pulley system that will open the door when tugged; Bisbee hasn't finished that component yet.
He's also working on an outdoor shower, a composting toilet, and a water harvesting system to go with it, in hopes that he may be able to rent the treehouse to vacationers, although those plans are further in the future.
Climb a flight of stairs and pass through Blark's door, and you're in the treehouse, a treasure trove of whimsical finds.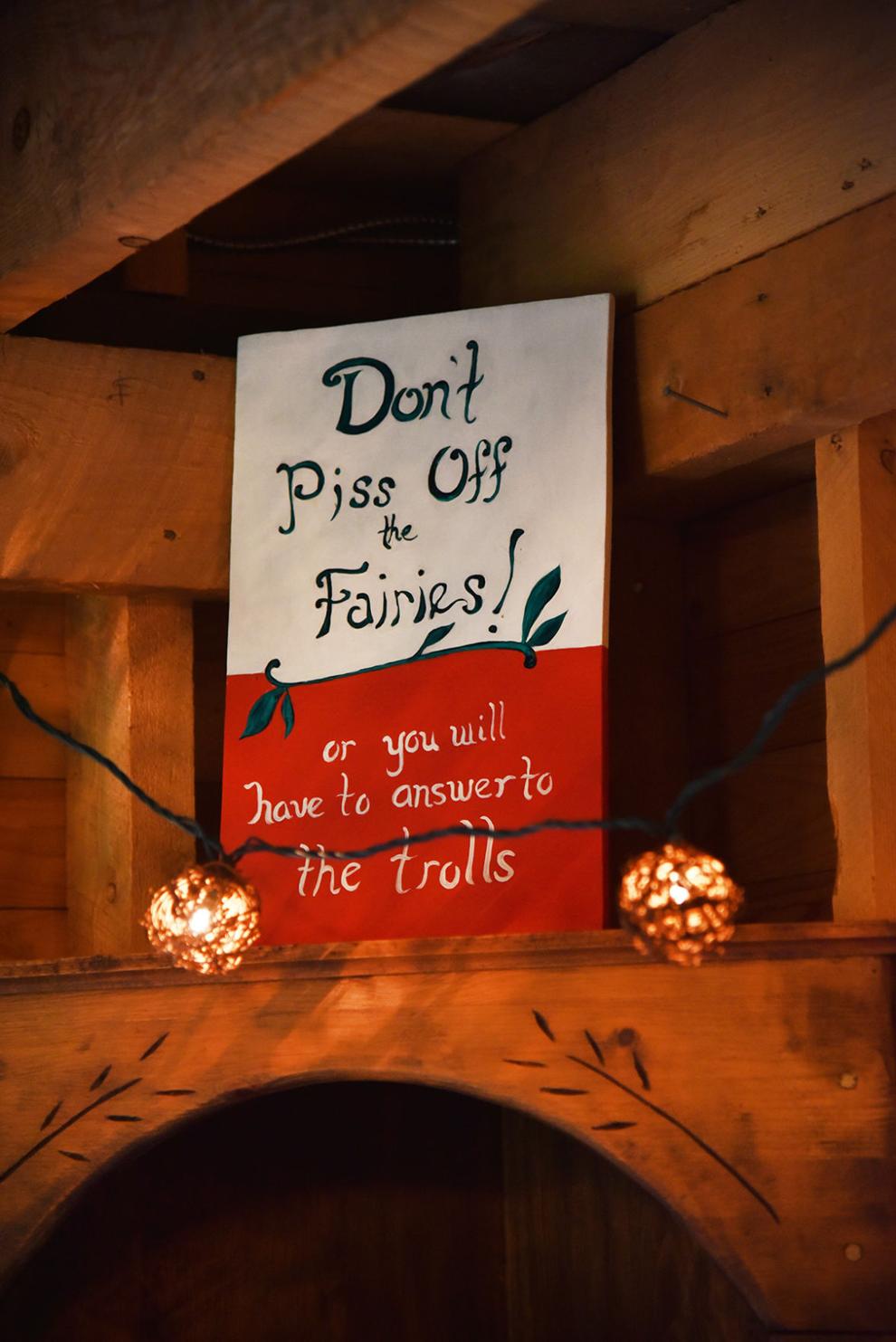 "I just kind of collect toys for the treehouse," Bisbee said.
Signs that read "You will soon realize this is my circus and those are my monkeys," and "Don't piss off the fairies or you will have to answer to the trolls" adorn the walls, while fairy lights twinkle and brighten the inside with soft light.
A license plate from Iowa reads "STOWE," a nod to the four years the Bisbees spent living in the Hawkeye State before returning to Vermont.
A chest marked "TOYS" in bold script is another Bisbee original, as is the bunk bed upstairs. A spindly-legged chair belonged to a great-aunt.
He's excited for his grandkids to stay over this summer at "Doccy's summer camp" — the nickname his grandchildren bestowed upon him.
"The door is my favorite," he said. "It's fun to be outside in the trees," especially when deer and other wildlife come along.
Bisbee was born in South Dakota, but his father was a seventh-generation Vermonter who moved away for college. As a boy, Bisbee came to Vermont every summer.
Bisbee's Hardware, which has stores in Waterbury Center and Waitsfield, was started by Bisbee's grandfather after World War II, but he didn't want to be in the hardware business, so in 1972, Bisbee's uncle and grandfather sold the business.
"Back then, 'Marcus Welby' was on TV, and 'Gunsmoke' with Doc. There were so many things about the family doctor on TV, and I always said, 'That's what I wanted to do. I want to live in a small town in rural Vermont and deliver babies and be a general doctor,'" Bisbee said.
He reckons he's delivered more than 1,500 babies in his career.
Bisbee doesn't see retirement on the horizon for another decade, he says.
"I really like what I do."
And he likes the people in the community. He invited a lot of them in when the treehouse was finished, and mandated that each bring a child; about 40 came, with 32 kids.
He plans to invite the community in throughout the season, and hopes to add an outdoor oven, so people can bake pizza or bread together.
"I'd really like somebody to come see it," Bisbee said.