After news broke last week about a January COVID-19 outbreak at Copley Hospital, officials stood by their decision not to share information with the community at large.
Reporting to the state, they said, was sufficient.
A number of people close to the hospital community, though, disagree, including a longtime employee who just recently learned the news.
The source spoke on the condition of anonymity after contacting the newspaper.
"I had just been in that building, and no one told me," the employee said. "I'm concerned about the lack of transparency, and I'm not the only one."
According to an internal memo sent to "Team Copley" Friday morning, Feb. 5 — one day after news was shared in this newspaper — five out of seven finance department employees tested COVID-positive last month.
According to the Vermont Department of Health, the five people were infected as of Jan. 12.
As reported last week, Dr. Mark Levine, the state's health commissioner, was asked about the outbreak on Jan. 29, during Gov. Phil Scott's twice-weekly news conference.
Copley CEO Joe Woodin did not initially return a reporter's request for comment for last week's story. On Friday he took umbrage with the term "outbreak," whether in the media or from the government.
"I don't even know what the definition of outbreak is," he said, referring to how the health department defines it.
Vermont's health department defines an outbreak at a healthcare facility as "two or more patients/clients/residents or staff with COVID-19 and known connection to each other in the facility:
• at least one case has confirmation via polymerase chain reaction test
• there is no more likely source of exposure."
For a workplace, the definition is, in part, that two or more people among employees at the same place had contact with each other on the job. An outbreak at a health care facility or workplace is considered over when no new cases are reported for 28 days after the last positive test or exposure at the workplace.
Lack of transparency?
Copley's infectious disease expert Jodie Legacy said the incident was reported to the health department, but there was never a plan to report it to the public in general.
"I don't have to report it to the community, but I have to report it to the health department, because that's their investigation," she said.
So why not share the information with the public, the community potentially affected?
Woodin acknowledged that, despite his confidence in the Copley team to react responsibly in-house and follow correct COVID-19 protocols — and to deliver responsible messages about the virus — it doesn't mean that he, as head of the hospital, ought not assure the community that Copley is safe and proactive.
He said he is not inclined to release everything directly to the public — citing shaming and patient confidentiality, despite the fact that staff, not patients were involved — and said, "We were immediately on top of it."
Lawrence Vancor, of Elmore, disagrees. He was so concerned he reached out to this newspaper.
Vancor has chronic obstructive pulmonary disease, or COPD, which affects his breathing. The condition, he said, has nearly identical symptoms to COVID-19, save the fever.
"I'm so sick, if I get this I'm dead," he said.
In addition to his own health issues, Vancor helps his 81-year-old father-in-law get to appointments. He has been to Copley a number of times recently.
Had he known an outbreak among staff had happened, out of an abundance of caution, he said he would have chosen a different hospital to visit.
Vancor, 65, like many, is as careful as possible given his pre-existing condition. He watches and reads the news, keeps close track of cases and takes every precaution he can.
He said his main concern was that he wasn't notified.
"At that level you cannot be making mistakes," he said of hospital leaders.
Reacting to the health department's statement that "The outbreak was determined to be contained to a single department with fewer than 25 staff that does not provide health services and has no contact with patients," Vancor said: "How can you be part of the hospital and not part of the hospital?"
Woodin considers his staff message deliverers, sharing information with their friends and family.
"Our staff are really attuned as to what is proper, right and appropriate. When we have confidence in ourselves as staff members in an organization in a small town, it is very effective," he said.
For the anonymous employee, this isn't the case — they learned about the news only after reading it in the newspaper, they said.
Staff, they continued, are not tasked with relaying information to the public.
"There are quite a few employees who don't want to be ambassadors," they said.
The employee said they and their coworkers are "very much aware" of the number of patients with COVID-19 at Copley, but were in the dark about staff having tested positive.
Vancor said, "They put my life at risk."
He was not, he said, able to make his own choices in regard to his own health when he went to a hospital that had a known staff outbreak.
The seven people who work in the building might enter other parts of the hospital, like the cafeteria, Woodin admitted, but they aren't believed to spend much time in the hospital's main building.
The cafeteria is closed to the public but open to staff.
What happened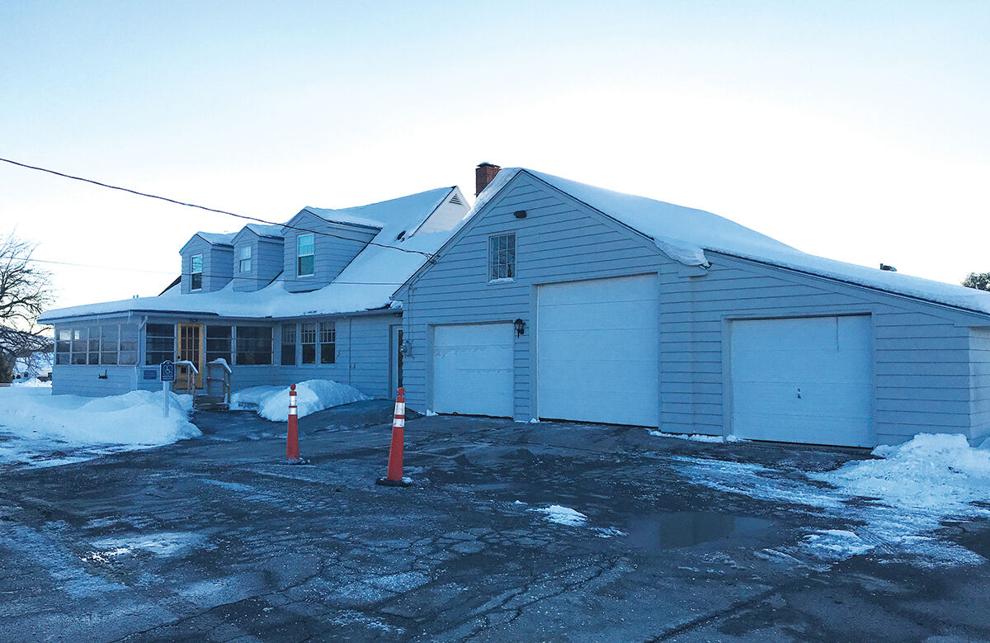 In early January, a Copley finance department employee complained of sniffles to Legacy, who said that, within hours, she had interviewed the entire department and set up an action plan that included testing the employees and cleaning the building — an old house with a three-bay garage used to store medical records.
"They are all well and back at work as of this writing," the Feb. 5 memo said of the infected employees. "This issue never got anywhere close to involving our patients, or even within our hospital."
Asked how anyone could be certain that was the case, Legacy said the hospital has several layers of protocols in place meant to keep staff and patients healthy — masks, social distancing and rigorous hand-cleaning — and track their movements.
"You can actually track an entire department," she said, by asking a series of questions.
The hospital also has surveillance cameras that act as a backup for contact tracing, and to make sure people wear their masks and wash their hands before entering such common spaces.
Hospital staff are tested for COVID-19 when they exhibit symptoms or feel they came into contact with someone who has tested positive — and are tested regularly to check for asymptomatic carriers, Legacy said.
She said a quarter of the patient-facing staff are randomly chosen each month to undergo tests.
Legacy said she and other employees moved quickly to test and investigate last month, and have learned lessons on how to proceed.
She's been preparing for coronavirus since December 2019, three months before it was deemed a pandemic.
"I don't want the word confidence to mean arrogance. It is constantly evolving and growing from every situation," she said. "I'm not arrogant. It's a virus and I can't see it.
For Vancor, though, the trust has been severed.
"It would've been an honest thing to say, 'We've got a problem here,' " he said.
Correspondent Mike Donoghue contributed to this reporting.