Lamoille County rooms, meals and alcohol sales took a steep dive in April and May, plummeting as much as 98 percent compared to the same months the previous year, according to state tax department statistics compiled by the Stowe Reporter and News & Citizen.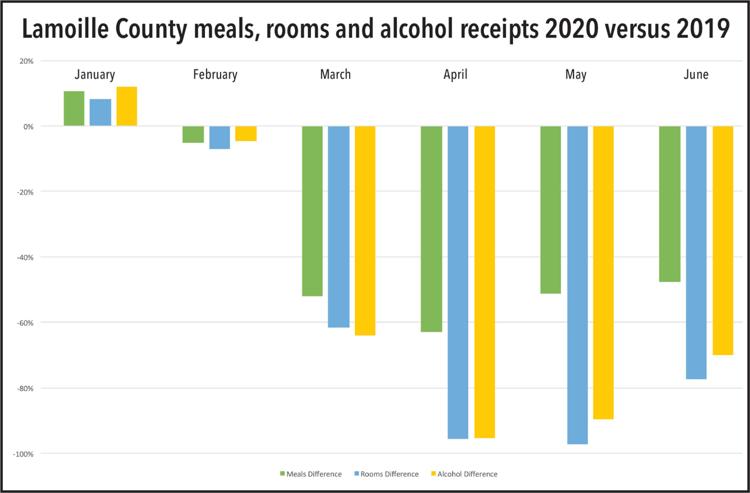 It got so bad during those first two months of coronavirus pandemic-related shutdowns that June's drop-off of 50-60 percent looks like a bustle of business activity in comparison.
The Vermont Tax Department has rooms, meals and alcohol tax data available through the end of June, offering a snapshot of what restaurants, bars and lodging facilities were going through in the first three and a half months of the pandemic. Gov. Phil Scott announced a state of emergency in mid-March, on Friday the 13th.
Hotels and inns, especially in Stowe, were hit the hardest. At its nadir, in May, rooms sales were down across Lamoille County by 97.3 percent compared to May 2019. Alcohol sales — bar-based, not retail — were down 95 percent in April.
When Lamoille Chamber of Commerce executive director Tess Milner saw the graph compiled by the newspaper she only had one word, uttered several times before getting to her next thought.
"Wow," she repeated. "It's one of those things where we knew things were bad, but we couldn't fathom how bad."
Full vacancy
Starting in March, Stowe's lodging receipts took a nosedive, bringing down the entire county's statistics with it — there simply aren't many other Lamoille County towns that have more than a few inns or motels, whereas they're all but innumerable in Stowe.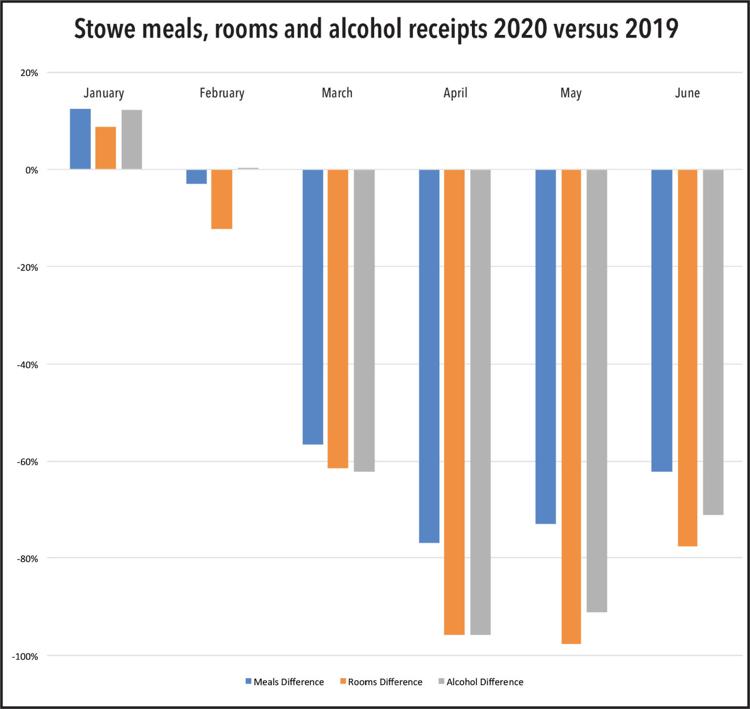 For Deb Farr, manager of the Mountaineer Inn on Mountain Road, the numbers aren't surprising, and the increase from nearly 98 percent down in May to "just" 78 percent down wasn't overly encouraging.
"We didn't open until Oct. 2, if that tells you anything," Farr said.
That stings, she said. Business the previous two years was some of the best she's seen in her career.
All of the Mountaineer employees were furloughed save Farr, who found herself with plenty to do with a temporarily shuttered inn. There was maintenance and upkeep. There was the lawn to mow and other things to do to keep up curb appeal. She had to keep mischief makers from sneaking in and poaching the pool.
"I just kept it looking good, like we were open," Farr said.
Now that the inn is open, she still finds it tough to fill rooms, and she realizes she's partly responsible for that. The inn staff contacts each guest before they come to visit and go over the latest Vermont travel restrictions, and many of them will cancel their reservations when told they have to quarantine.
"I know there are some places that will take them, but we turn them away," Farr said. "We try to be the good guys, but we've lost out on some business."
The Mountaineer is currently booked at about one-eighth its maximum occupancy for the holidays; usually it's all but full for those calendar days. For now, business is largely from Vermonters traveling within their own borders, taking advantage of off-season discounts. Farr said based on those numbers, one might be tempted to think it's a normal stick season.
Sean Kearney, owner of the Stowe Motel & Snowdrift at the corner of Mountain and Luce Hill roads, has been largely manning the place with his son over the past half year. He was able to keep all of his employees, on "job attached unemployment," meaning they don't have to search for work when there's not enough for them at the motel.
"We're excited that we didn't lose anybody," he said.
Kearney said business at the motel is "pretty much in line with those numbers" on the graph — April and May were really bad, and things have gotten marginally better but still below pre-COVID expectations.
The Stowe Motel is designed so lodgers can drive up right to their room, without going through hallways or other interior locations. Guests get their keys in an envelope, and they tend to agree with the motel's decision to eliminate daily housekeeping — if guests are there awhile, and need some clean towels or linens, they'll be delivered right away.
Like Farr at the Mountaineer, Kearney said he's been a stickler for Vermont's pandemic travel rules. He said upwards of 30 times a day he'd have to tell people over the phone he couldn't take them because of where they were coming from. It was tough for him because he wasn't used to answering the phone — the usual front desk person was furloughed — and some people would argue with his rule adherence, and he'd have to stand his ground.
It wasn't just over the phone. Kearney said people from most of the New York City boroughs would just show up looking for a room, and he'd turn them away.
"I did not want to be the guy who brought COVID into Stowe," he said.
Eating locally
One would be hard-pressed to find something positive in losing half of the revenue compared to the same time the previous year, but in comparison, Morristown weathered the worst days of April and May better than other places.
Where Stowe restaurants saw a 76 percent decrease in restaurant meals sales in April, Morristown only sank by 45 percent. In May, while Stowe was still suffering with a 73 percent meals sale deficit, Morristown was only down 21 percent. By June, the county's largest town and manufacturing base was at 16 percent below previous years.
Milner thinks the answer is somewhat evident — people in Morristown have fewer options than Stowe, but they are fiercely loyal to those places. Sure, it might have only been takeout for a bit, but diners were dropping big tips and supporting the local businesses, even if they couldn't belly up to the bar.
"I would say there is definitely a resiliency to places that are there for the people to do their normal shopping and going out," Milner said.
It might not get more local and homespun than Deb's Place in Morrisville. Located on Brooklyn Street, the diner and bakery isn't nearly as busy as it was in previous years, but owner Deb Papineau and her crew recognize most of the people who come in or come up to the takeout window, even though half of their faces are obscured by masks.
"We have a lot of locals coming in," Papineau said. "We wouldn't still be going without them. Thank God."
Deb's Place closed for three weeks, and re-opened when Papineau got approved for a Paycheck Protection Program loan. Since she's been back open, she's "been doing anything people ask me to do." Catering? Check. Bagged lunches? Sure. Fun little Facebook Live cupcake decorating classes for the kids at Bishop Marshall School?
"They felt like the kids had no outlet, so they asked me to do classes every week, and I love cake decorating anyway," Papineau said.
Like Milner, Papineau senses a resiliency to Morristown restaurants. She said Stowe has a lot of places to eat, so while those drastic days of April and May hammered the tourist town, people still had to eat in Morristown.
And they help each other out. Papineau said she'll go eat at Thompson's Flour Shop and they come to her place. She can dash over to House of Pizza if she runs out of things and they know her door is open if they need anything.
"Morrisville may only have a few places, but they're the strongest ones," she said. "Anything we can do to make sure we all make it through this."
Twice as nice
Plate, the small "rustic-chic" restaurant on Stowe's Main Street, shut its doors temporarily on March 14, the day after the Friday the 13th announcement by Gov. Phil Scott declaring a state of emergency that has still not been lifted.
Chef-owner Aaron Martin said it was a sudden stop to a gangbusters winter — he estimates Plate did as much business in the first two weeks of March as it did in three March weeks the year before, perhaps more.
The place stayed closed for even a little longer after Scott relaxed, ever so slightly, restrictions on dining establishments, because Martin broke his arm and couldn't work the line. And even when Plate re-opened, it stuck to a lower-than-allowed capacity.
"Even when we got the OK, we didn't really want to do it, because we didn't want to endanger our staff," Martin said.
So, what does a restaurant owner with a mortgage on a downtown Stowe property do? Open another restaurant.
Right around Labor Day, Martin launched Umami, an upscale Chinese takeout restaurant inspired by the cuisine of A Single Pebble in Burlington — Martin's sous chef, Silas Tanner, worked there in his younger days.
Umami is located in the back of 151 Main Street, right above the main parking area for the Stowe Recreation Path. Only three buildings sit between Plate and Umami, one of those the iconic Stowe Community Church, which is good, because the two restaurants are all but tethered together.
Tanner became the chef at Umami, and Plate had already reduced its menu, and therefore its staff, but the new venture also needed staff, albeit not as much a full-service restaurant. Martin's hope is that Umami, with menu items like black bean salmon and "Admiral Steve's Chicken" — a nod to Single Pebble founder Steve Bogarts — will float Plate's mortgage.
The gamble has paid off, so far.
"I increased overhead a little bit, but I brought back my staff, so I'm at the same staffing levels between the two places," Martin said. "We're at pre-COVID payroll and our revenue is about where it was pre-COVID."
---
A previous version of this story incorrectly reported Deb Farr is the owner of the Mountaineer Inn. She is the manager.