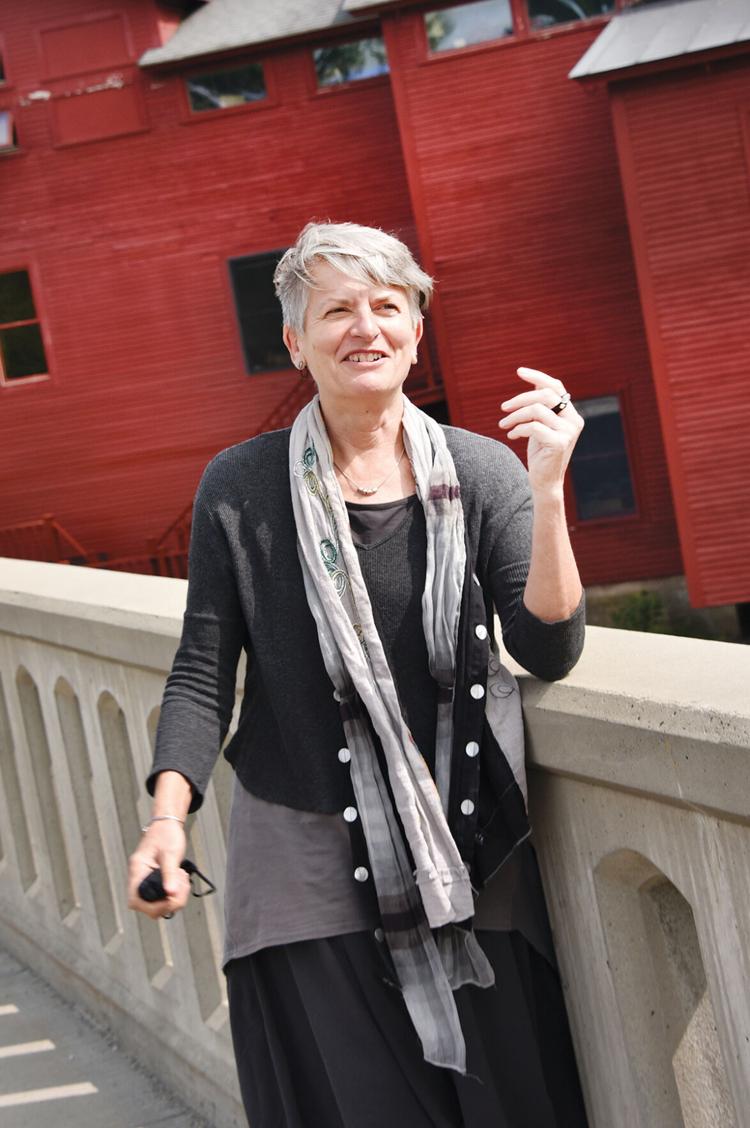 Creativity. Collaboration. Community.
These words repeatedly passed the lips of Elyzabeth Joy Holford Friday, Sept. 11, as she spoke about her new role as the executive director of the Vermont Studio Center in Johnson.
Holford has a hefty resume, serving as executive director of Equality Ohio, a multi-issue LGBT advocacy group, and has worked for Neutral Net Inc., University of the Virgin Islands and Virginia Tech. She earned a bachelor's in political science from Indiana University, a law degree from the University of Dayton, and a master's in education from Ohio State University.
So, why Vermont? Why art school? And why now, as the world seems to be falling apart more by the day?
Well, Holford said, the opportunity presented itself to work in a place with a great history and great potential.
When a colleague sent her the job description, saying "this sounds like you," Holford was busy and didn't see it. Speaking later and offering a gentle prod, she went back and looked — and agreed.
"When things align they align," she said.
Warm, welcoming and funny, Holford became serious and engaged when things turned to the residential art school, and open to chatting about life and ingenuity.
Speaking of which, what happens in a small, tight knit subcommunity during a pandemic?
For the Vermont Studio Center, that's the question du jour.
The Center isn't closed, though it is waiting to bring in residents. Staff are examining what is needed, how to grow online programming, listen to what students want and connecting with the art communities in ways unlike ever before, Holford said.
Since 1984 the Vermont Studio Center has served as a haven, offering space to create and meet fellow makers. In 2019, the Center saw 834 artists and writers from 45 states and 32 countries, according to its annual report.
While the campus does feel quieter than usual — though, Holford, pointed out, she's only been here since July — new gallery exhibits are soon to be installed and things are still happening.
"The spirit of creativity, collaboration and community is unstoppable," she said.
And just as art is subjective, reactions to creating art in a pandemic are, too. Holford has heard from people feeling manic, blocked, chaotic and any combination thereof.
Perhaps a possible silver lining of the COVID cloud is that people are feeling inspired and ready to create, finding new mediums and seeking out new connections, maybe really understanding just how important that connection is.
"Doors are opening for people — or sometimes just windows," she said, including a place to safely explore something new.
What, she asked, is wrong with that?
Johnson itself is proving to be a blooming microcosm of social movements, with a contingency of activists on both ends of the inclusionary spectrum.
When questioned about this, Holford said the Center itself is continually looking — intellectually, spiritually and physically — at how to be inclusive.
One must ask, she said, "Can we and do we always step forward with a stance of love and a stance of listening, and also a stance of finding common ground?"
Asked what she expects to see from the art world, historically a thermometer showing social temperature changes, following the pandemic and social unrest in today's world, Holford prefaced her response by saying it was an "unsatisfying answer but it's so very honest."
She said she was less interested in a movement or codification, without discounting that, and more in tune with the idea, particularly at the Studio Center, of being strong and flexible enough to fertilize the seeds that might grow.
"That's why the Vermont Studio Center is here, that's why I'm drawn to it," she said.
Those seeds might include artforms not yet developed, a chance to visualize and write about experiences in a new way, more the form and less than the act of providing a space to conceptualize and create.
"Art is integral to my experience of life and something that's meant to be breathed in and breathed out," she said.