Have you ever read a great piece of writing and felt like you could really see the author exposed, soul bared, laying it all out there?
A new project from a Lamoille County library presents a chronology of Vermont writers stripped down — quite literally — to raise money for the library.
"Writers Uncovered" is a wall calendar featuring 13 authors of varying genres, and in varying stages of undress, posing in creative and colorful settings with their written works. The calendar is a fundraiser for the Varnum Memorial Library in Jeffersonville, which operates as an incorporated organization rather than a municipal library, run by the nonprofit Crescendo Club Library Association.
The project was spearheaded by Karen Smith of Cambridge, a member of the library's board of directors.
"I've always loved libraries," said Smith, who's been on the board for three years and in Vermont for four. She joined the library when she was looking to get involved and meet people in her new hometown.
"It really struck me that in particular in Jeffersonville, the library really feels like the hub of the town," Smith said.
When brainstorming fundraising ideas, the board considered the usual — bake sales, raffles — "they're great, but they don't really raise the kind of money we need," Smith said.
According to the 2018 Cambridge town report (Jeffersonville is a village in Cambridge), the library operated at a $10,500 deficit, and without a major fundraising boost is projected to do the same this year.
The library isn't the first to produce such a titillating tome: In 2000, a group of "proper" ladies in Rylstone, England, raised more than $750,000 for leukemia research with their leafless logbook; soon after the "Men of Maple Corner" netted half a million for improvements to the community center in Calais, Vt.; and the "Women of Tamworth" and subsequent sequels raised hundreds of thousands of dollars for charitable organizations in their small New Hampshire town.
Nude beginnings
When the idea was presented to the library association last year, Smith said that, surprisingly, everyone was on board. They talked to teams in Tamworth and Calais, and thought about how they could make their calendar unique. Local folks reading Vermont books? Perhaps, Smith said — or what about the authors themselves?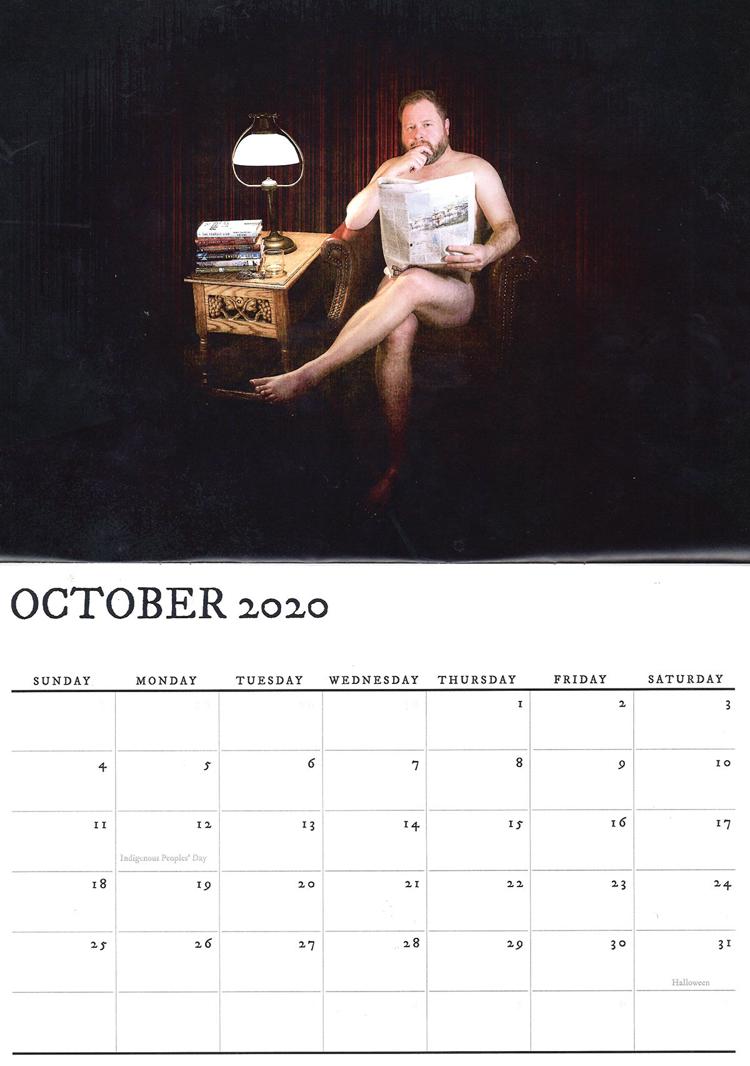 "Everyone kind of looked at each other, and said, 'let's ask them'!"
They tried to cover a wide representation of genres, "a little something for everyone," Smith said, including a mix of well-known and newer authors and taking requests from library patrons and volunteers.
The library connected with local artist Catherine Aranda-Learned, a professional lifestyle photographer who specializes in vivid, cinematic images achieved with thoughtful use of lenses and lighting. Aranda-Learned splits time between Jeffersonville and California, and Smith said that, in the first Skype meeting to discuss the calendar, the words were barely spoken before the photographer jumped eagerly on board.
Learned-Smith led the artistic direction and selected the scenes, researching the authors for aesthetic inspiration and traversing the state with Smith to scout locations and gather props.
They approached businesses, libraries and museums for permission to shoot on site, and "everyone said yes," Smith said.
Raw inspiration
Arand-Learned shot all the photos except one — scheduling logistics necessitated a shot by Oklahoma photographer Madi Geddie for multigenre author Crescent Dragonwagon, who appears cloaked in an avalanche of fresh produce for November.
Some writers were photographed on their own properties, and many offered their own ideas to complete the tableau.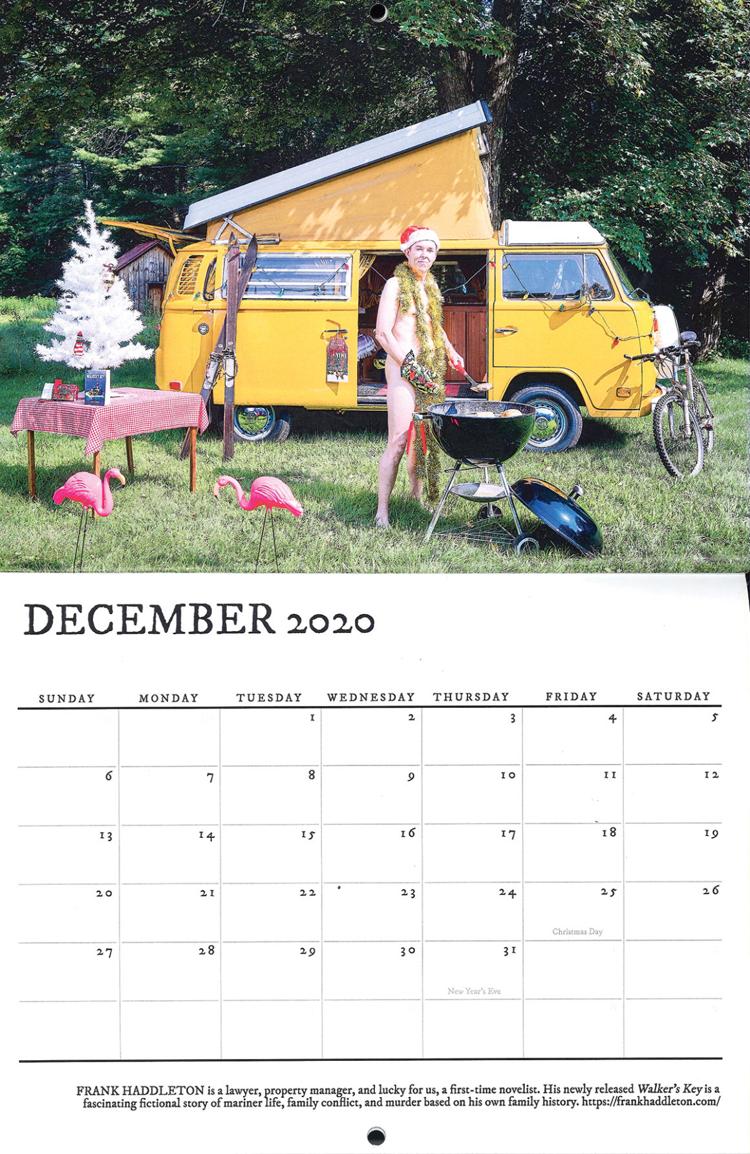 Bill "Spaceman" Lee, a Major League pitcher, 2016 gubernatorial candidate and author of four books including 1984's "The Wrong Stuff," brought a handcrafted baseball bat. For March, he crouches leonine beside a wooded pond, bat in hand, a snowy shock of hair falling across his brow and a twinkle in his eye.
For "The Last Station" author Jay Parini, whose 1990 novel is set in the final years of Leo Tolstoy's life, Smith said they wanted to shoot at a train station but didn't want to ask him to disrobe in such a public place, "so we took the dining car out of the train and into Vermont" — and so for July, Parini muses over a typewriter at an elegant candlelit table in a field full of red clover.
Aranda-Learned really wanted a true winter for the December shot, Smith said, but it was summer and they couldn't wait for the snow. So, Smith told her to draw on her Golden State experience, and they set up a "Christmas in July" scene with plastic flamingos and a festive false tree for first-time novelist Frank Haddleton.
The agrarian scene for Daniel Hecht, driving into the sunset without a stitch on a tractor in August, ties into his 2018 novel "On Brassard's Farm," in which the protagonist immerses herself in farm culture; similarly, Mr. February Ben Hewitt holds a chain saw that represents an important part of his sustainable lifestyle, and also covers his important parts.
The rest of Hewitt is fully on display, showcasing that magnificent gradation of sun-kissed limbs and pale thorax known as a farmer's tan. It was suggested that the variegation in skin tone could be smoothed out post-production, but Smith said Hewitt rejected the offer, proudly proclaiming, "That's me! That's who I am!"
Even the more modest subjects were eager to support the cause, and Arand-Learned worked tactfully with them to present more of a "suggestion of nudity."
"It's probably not a surprise that not everybody is comfortable taking their clothes off," Smith said.
Vital inspiration
Some vendors were concerned that the calendar might be too risqué to sell, but "there's nothing 'vital' showing — it's really like a positive body image, showing that everyone is beautiful, and every one of the pictures is beautiful," Smith said.
Smith hopes the calendar will become a conversation starter, a unique souvenir of Vermont, and a source of inspiration for readers looking to expand their literary palates or read their way through the year 2020. It's for "people who love reading, love libraries, love photographs, or just the kitsch factor!'
The Varnum Memorial Library has come a long way since its beginnings at the turn of the 19th century, first operating from local women's homes and later in the existing building built in the 1930s, the efforts of countless volunteers surviving war and epidemics and floods and funding challenges.
"I hope the project raises awareness for us and for all libraries, and the financial needs they have," Smith said.
She wants people to know that libraries aren't just stodgy old places — "stereotyped as quiet, for research only" — they're vibrant community hubs that offer a vast array of experiences for learning, making connections and expanding your horizons. And sometimes, for taking it all off.