Riders of all-terrain vehicles have their eyes on certain Morristown roads they see as integral to connecting them to the more rural parts of Johnson, Hyde Park and beyond.
Residents in those areas, though, have bristled at the idea.
"I think the ATV crowd sees this as an exotic back road for them to go squirreling around on, but for us this is a neighborhood," Jim Rossiter, of Mud City Loop, said this week.
For riders, Mud City Loop, an aptly named part of town that abuts Morristown Corners and the rural southwest section of Johnson, is particularly attractive. Some who live there became alarmed last fall when the area, along with Cady's Falls Road, was on a shortlist for consideration of four-wheeler traffic.
Shannon Friedrich, a member and past president of the local group Green Mountain ATV Riders, said he's not a fan of riding on roads, either. He'd much prefer to be in the backcountry, but said so many property owners and land trusts have posted the land that it's all but impossible to create the kind of trail network that the snowmobilers enjoy.
He said where he lives in Eden, there's a tract of land with hundreds of acres, "incredible land," that is owned by a logging company — and off limits to ATV riders.
But, he said, riding the road is better than not riding at all.
"Again, we don't like it, but it is the direction we have to go if we want to be able to go anywhere in the state," Friedrich said.
In an email to Morristown Selectboard Chair Bob Beeman last month, signed by Friedrich, the ATV club proposed opening up Walton Road in Morristown, which connects to French Hill in Johnson.
The letter also proposed opening up the Cady's Falls area, which would then get them all the way over to Silver Ridge, and onward into Hyde Park.
In 2019, the town temporarily opened its three-quarters-of-a-mile stretch of Silver Ridge Road to ATV use — the rest is in Hyde Park, which allows the riders on all dirt roads in town.
That trial run will soon enter its third year.
Town administrator Dan Lindley last fall emphasized that the idea of opening Mud City Loop to ATVs was only a proposal, not even in draft form at that point, and wouldn't likely even be picked up until spring or fall.
Which is now.
Cows and kids
Selina Rooney runs the 820-acre Rooney Farm located on Mud City Loop.
To maintain its organic certification, the farm must ensure its cows are out every day in the summer months and eating real grass.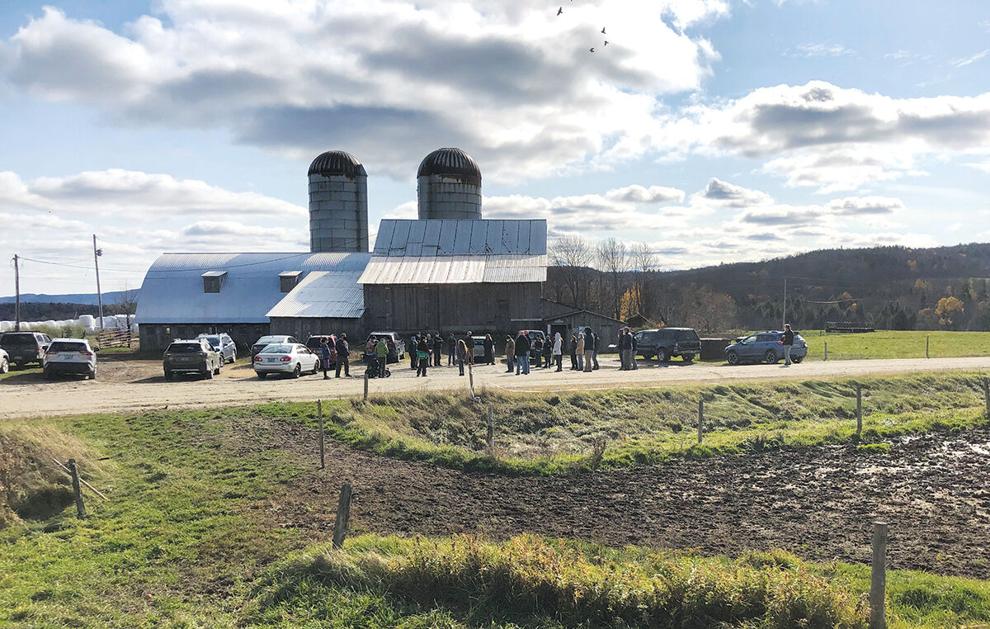 This means the cows have to be moved to a different pasture every day, and sometimes they're walked along the road for nearly half a mile to get to the next pasture.
Cows are easily startled, Rooney said, and ATVs could be startling.
"If one gets spooked by at ATV and runs, all 50 are going to end up running. And cows are not built to run," she said.
ATV riders have told Rooney they don't want to hurt animals, and she agrees that's probably true, but said it's unavoidable.
The same goes for walkers, runners and cyclists, Rossiter said, and many in the area have kids that play outside.
Rooney recalled some drivers tossing cans as they passed by — "for some reason, they love Bud Light," she said.
The aluminum cans can't be picked up by metal detectors, and if they get chopped up by farm equipment and a cow eats shredded can bits, it can cause serious harm.
ATVs from afar can transport in non-native plant seeds, she said, and the knobby tires can mess up roads for agricultural vehicles.
"Most people will be respectful but you know there's going to be people that are not, and even if it's just one person a day breaking the rules, it's just not going to work with a farm," Rooney said.
No patrol
Lamoille County Sheriff Roger Marcoux, who is related to Rooney and also lives in that part of Morristown, said ATVs are like snowmobiles — a small number of people who break the law cause problems for the rest of their cohort.
Last summer, a Johnson man rolled his machine in Eden, seriously injuring his passenger, who later died. Police say the driver, James Abare, was more than twice the .08 blood alcohol concentration legal for driving.
A can of Mike's Hard Lemonade was found stuck in the ATV's roll cage, police said.
Marcoux said enforcement for ATV riders is limited. Police can keep an eye on them, and try to identify the scofflaws, but they are unlikely to chase after a rider — it's unsafe, given the lack of safety equipment on ATVs.
"My personal view with ATVs is they shouldn't be mixing with road traffic," Marcoux said. "They're going to lose every time if they get involved with a 3,000- or 4,000-pound vehicle."
Friedrich agreed that if ATVs want to share the roads, then the vehicles and their riders ought to accept more safety measures. He said the state last year enacted helmet laws for riders. He said although cops won't give chase to riders, enforcement is key to making sure the riders don't ruin the gains they've made.
"No way we can manage this without you having a fear of doing something stupid," Friedrich said.
Put it to a vote
Beeman would prefer to bring the issue directly to voters, saying it would be difficult for the board to come to consensus.
"We're not gonna please everybody, and it looks like it's a 50/50 thing, so let the taxpayers decide," Beeman said.
That won't happen anytime too soon, since the board is opposed to holding any community meetings on the matter until the state's COVID-19 protocols are relaxed enough to allow people to meet in person. Beeman thinks the issue would be a hot enough topic to necessitate a bigger meeting spot than the usual room at the town offices.
"I've been on the board 13 years and I've had more texts and calls and emails and people coming to my door about this than any other issue," he said. "It's certainly contentious."
Rossiter thinks local ATV enthusiasts feel they are dealing with a like-minded and "stacked" selectboard, or else they wouldn't be so brazen to ask for so much highway mileage to be opened up.
Selectboard member Gary Nolan serves as treasurer on the executive board for the Vermont ATV Sportsman's Association.
Nolan said he would recuse himself from any board-level votes about ATV-related issues, but would participate in discussions about it.
The board has even made Nolan its liaison to the ATV community.
"I feel like I can provide pertinent information, which may or may not benefit either party," Nolan said. He promised to refrain from offering suggestion or influence.
Beeman said he's driven ATVs since he was a kid, and he owns a "side-by-side" model, but also understands that not everyone likes them. That sometimes includes him.
"I live on Lower Elmore Mountain Road, and there's this kid who screams by on his dirt bike, and that annoys me, too," he said.
He does like the idea of connectors that allow riders to get into town. The Silver Ridge Road, he said, enables riders to grab a bite to eat at the Charlmont, fuel up at Mac's or grab doughnuts at Dunkin'.
Beeman sees these connectors as ways to draw people to Morrisville to spend money, and said there have been informal discussions about "opening the faucet slowly," allowing use on the Morristown portion of Center Road, for example, for access to places like the Northgate Plaza.
Friedrich noted that while Hyde Park is ATV-friendly, there isn't a gas station or convenience store in that town. He said there's also a good chance that if that stretch of Silver Ridge Road remains the only town road access in Morristown, it'll make things worse for those who live there — there's less impact if there are other places to spread out.
Rossiter is careful to not "sound NIMBY," meaning "not in my backyard," about things, and said the neighborhood isn't just fighting for the sanctity of Mud City.
"We don't want to negotiate down to a smaller piece. We don't want to have them go to someone else's roads, either," he said.