A vibrant yet gloomy painting hangs on the northern wall of the second-floor gallery at River Arts in Morrisville. Gray clouds consume the sky over a barn and farmhouse, and greens and yellows and browns color the lawn and brush around deep, black shadows.
Across the room hangs a roadside barn. Its light blue siding has vibrant red accents, facing the viewer head on under golden, sunset-licked clouds.
Directly to the right is a depiction of the quintessential red barn, flanked by blue silos, with vibrant green grass and yellow dandelions leading to the distant structure.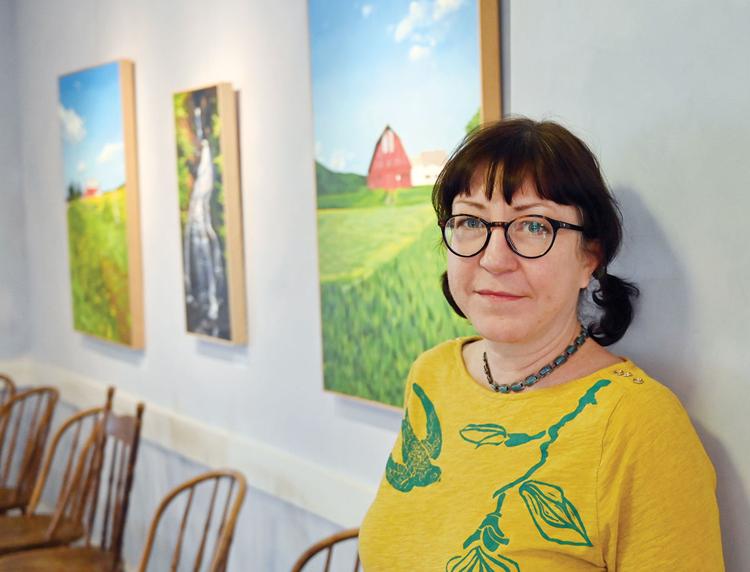 These are just a few of the latest works by Jen Hubbard, who lives in Hyde Park.
Hubbard started her artistic career with a classic approach to fine art — portraits and landscapes and still life scenes painted to look realistic — but found her muse in a less conventional subject: snapshot photography.
"One of the ways people compliment a realistic painter is by saying, 'Oh, that looks like a photograph,'" she said. "Why is that a compliment? Because it looks like something machine-made?"
From that paradox rose a question that took Hubbard in a different direction.
"What if I started painting bad photographs? Would you still compliment them?"
So, while living in Baltimore, Hubbard tapped into her "creative community" and started shooting. Sitting on a couch, standing in a doorway, wrapped in a towel just after stepping out of the shower, her subjects are scowling, and bad lighting creates harsh highlights and jarring shadows. While this doesn't scream "fine art" on paper, the result is intimate and relatable.
"You pore over these photos because they're meaningful," she said, "not because they're good photographs."
But what does this have to do with barns?
Changing subjects
Hubbard moved to Vermont just over a decade ago, an abrupt adjustment for an artist from the city.
She said it took lots of effort to find beauty in Baltimore; it had to be coaxed out from the urban landscape. In Vermont, she found it inescapable.
"That beauty is so obvious, it's like a sledgehammer."
She started with stones in brooks, water running over smooth, speckled stones, moss covering boulders that jut from streams. While the results are beautiful, Hubbard found the work tedious.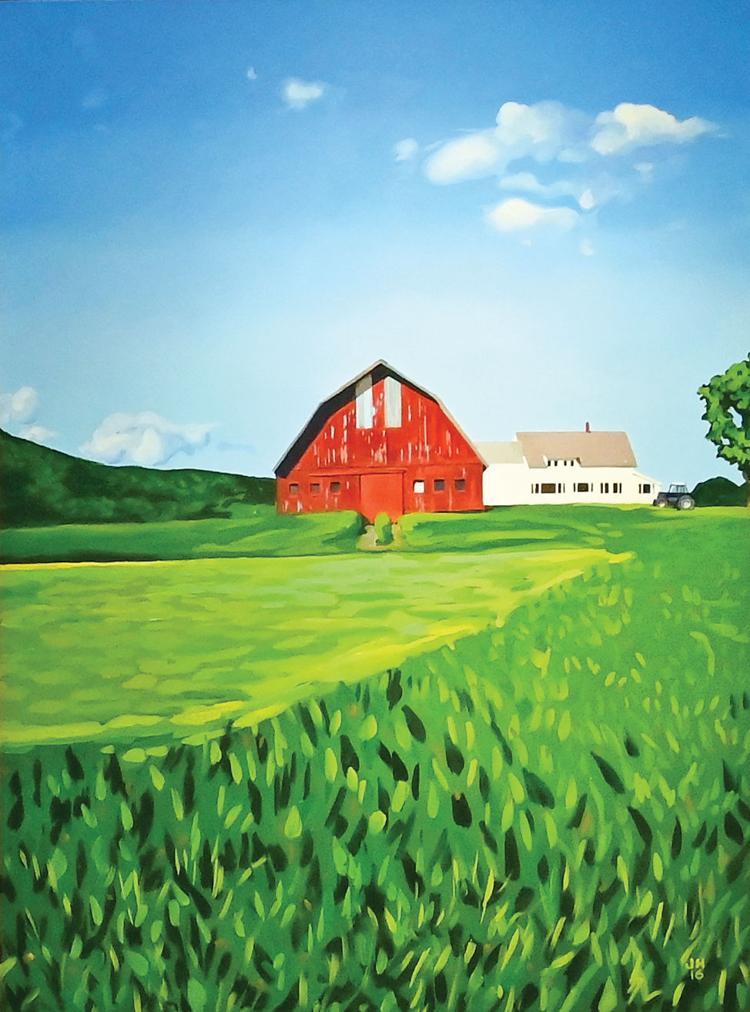 "It wasn't the easiest transition for me, I was really homesick," she said.
She had a lull in her work, but took her next step forward by looking back: snapshot photographs in landscapes. Subjects are cold or uncomfortable, standing in the snow or a blustery field, with Vermont scenery as the backdrop. That allowed Hubbard to start breaking out from where she started, and embrace her surroundings.
'Portraits of barns'
"Instead of taking pictures of people in bedrooms and bathrooms and things, suddenly I'm on the side of the road looking across the field at a barn," Hubbard said.
It's the same intimate approach, a little more refined. Hubbard said it was the first time she didn't play a strong part in the subject. When she took her snapshots, she was right there, in the eyes of the people looking at her. Now, it was all about the subject; the statement was still there, but it was something different, more aesthetic.
"When I took the people out and replaced them with barns and everything else, I started giving myself permission to concentrate on more formal painting," Hubbard said.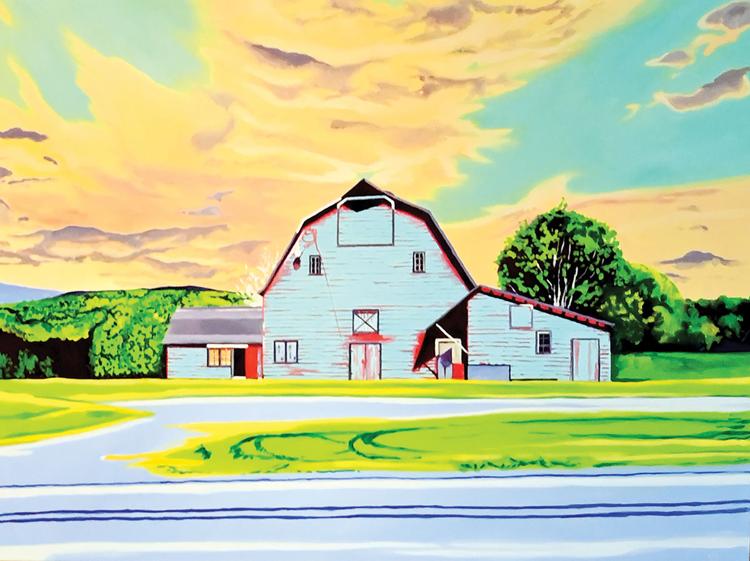 And it shows. Hubbard's landscapes are dynamic pieces, incorporating pop art and pointillism and seamless gradients and saturated colors that are playful and fun, but still convincing.
She said her aesthetic isn't really defined by any specific group of artists, works or styles; it's about trying new things and mixing it up.
"The scenery is recognizable and the art is high-level, but it's also fun," she said.
As her relationship with this new subject grows — and her style evolves to match her new environment — Hubbard said she wants to bring her new subjects into that same intimate zone that her previous work — and subjects — did.
"Hanging these together, all in a room, really made me realize there's a shyness to them," she said. "Moving forward, I want to get more close and personal."
It's all about moving forward for Hubbard, shifting from one subject and style to the next, bringing with her new techniques and perspectives.
"This past year was about mixing up the colors and getting a little more edgy with it," she said.
"It's about figuring out how to create art that fits an unexpressed niche."