For music lovers, the hard truth hit home around the second week in March, when schedules at live music venues started to resemble airport departure screens in the middle of a freak blizzard. Canceled, postponed, delayed.
But even a worldwide pandemic and mass quarantine won't stop music from escaping to listeners' living rooms.
Live remote music has quickly become a huge part of the music industry, as nearly the entire world is told to avoid large gatherings. Bands have streams on YouTube, Facebook and their own websites, and dedicated channels like "Buskin' Down the House" and "Socially Distant Fest" on Facebook have drawn hundreds of artists who drop everything from a single song to hourlong sets.
Spruce Peak Performing Arts in Stowe is hosting a series called "Off-Stage" every Wednesday in April. Artists who would normally grace the stage in front of a live audience are instead streaming half-hour shows via Zoom.
And, really, once you start looking, you're bound to find people with a guitar, a ukulele, a piano, a washboard, a microphone and a tune and a smartphone or high-tech A/V equipment, just getting their voices out there.
Basement tapes
You'd be hard-pressed to find a harder-working musician than Morrisville's Seth Yacovone. The bluesy, rocking, jammy, fuzzy (in more than one way) guitarist has been impressing regional audiences since his teenage years in the 1990s.
He hasn't worked a day job since 2007, and hasn't missed more than a handful of Mondays at Moog's Place in Morrisville or Friday nights at Nectar's in Burlington. Nectar's made Yacovone the first inductee into its hall of fame, ahead of a band that got its start there named Phish.
So, he's hurting a bit in this time of the virus, and he knows that music venues are feeling the pinch too, along with every bar and restaurant.
"You're hoping that being on pause right now won't make you have to be on stop," he said. "Most places in Vermont are hanging in there on a good week. And this hasn't been a good week."
Music to Yacovone might be akin to oxygen for other humans. He inhales it. He exhales it.
He inhales it: Since the pandemic shut everyone in, the guy has been putting out a weekly list of the music he listened to. The last one had 148 listings, and more than half of those were full albums, so that's, say, two work weeks' worth of rock and blues and soul going into him.
And he exhales it: Few local artists are hitting the local virtual circuit as hard as Yacovone. He played a livestream set at Zenbarn in Waterbury; he got together with bassist pal Alex Budney for a two-setter, with the musicians sitting 10 feet apart in Budney's backyard; he's playing a corn whiskey release party for Green Mountain Distillers, wherein you pick up your prepurchased whiskey from the distillery's takeout window, go home, pour yourself a wee dram and raise a glass while Yacovone plays.
And then there's his Quarantine Video Single Series: He plays a basement session every day, one announced song and one surprise B-side — "me tuning my guitar is when you would flip the record," he quips.
The sessions have been shot in stark, high-definition black-and-white video by his longtime partner Kate Bowen.
"I like the dungeon-y, black-and-white feeling, adding a little quarantine to it. It adds such a froze-in-time feel," he said "And that's the crazy thing about recording music, isn't it? Freezing time."
Check out bit.ly/34mKzZK for Yacovone's YouTube series, and the Seth Yacovone Band's Facebook page (fb.com/sethyacovoneband) for streams and updates.
Viral videos
Elmore musician Jon Gailmor also aims to put up a song a day on his YouTube page (bit.ly/39O206h) "for as long as this virus is going on."
"Most musicians really need to perform. For their sanity, for their peace of mind, and to keep their chops up," Gailmor said. "With me, it's so in my blood, so ingrained in every fiber of my being, singing and entertaining and performing, that I can't go without it. I start going through withdrawal."
He even wrote a new song, "What We Have Found," that tackles the coronavirus head on.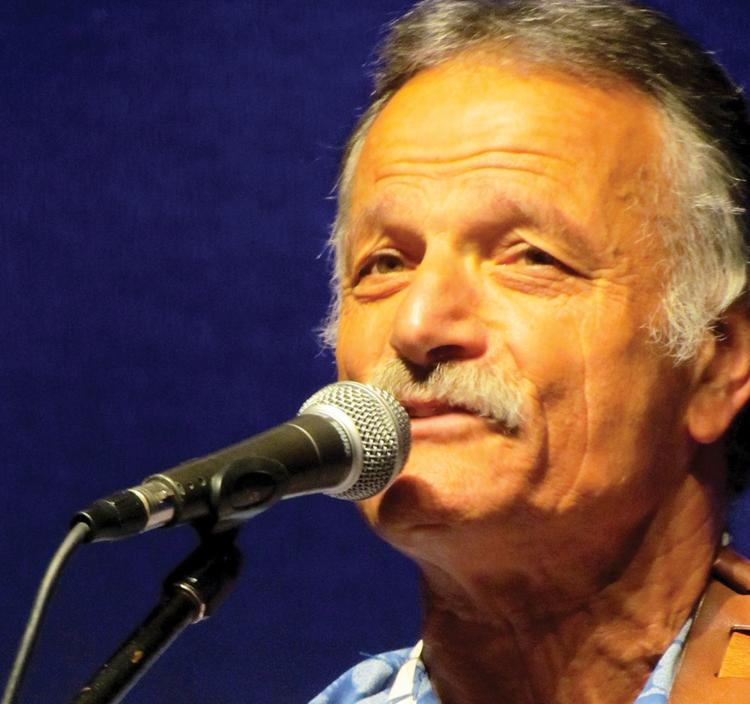 "Germs are in the air, folks are anxious everywhere.
We're faced with new realities that seem too much to bear.
"Streets are empty, like the shelves.
"Hugging's frowned upon; let's sanitize ourselves."
Gailmor said he thinks people need music right now, need to be distracted, to discover new artists and sounds, and to sing along to songs they already know well. He said there's a reason sounds and images of quarantined Italians singing to each other out of their windows touched so many people.
"They need to be involved in the arts. Be covered in them. Be surrounded by them," he said. "It's not just the physical contact and the camaraderie. There's nothing like music to just get your heart going, and to conjure up simpler times. It really stimulates the imagination. And it just makes you feel good."
Gailmor kicked off a Thursday night series hosted by Lt. Gov. David Zuckerman called Music for Vermont. A different artist takes the "stage" on Thursday at 7:30, streamed on Zuckerman's Facebook page and YouTube channel. On tap tonight is Burlington folk and blues singer Julie Winn.
Gailmor said, as a performer used to standing in front of an audience, he has to imagine there are people out there. That extends even to leaving open spaces in the music where people would typically sing along, or engage in call-and-response, in the hopes that the viewers will know what to do from their homes.
"It was fun and it was weird," he said of the Zuckerman shows. "It was like microcosm of these times."
Sibling reverie
Kelly Stuber and her brother Dave Wyman grew up in Hyde Park and have each had success in their musical pursuits.
Wyman, a guitarist, has played with numerous bands and sat in on countless sessions.
Stuber, despite her high school acumen as a clarinetist, has evolved into a Northeast Kingdom chanteuse, settling down in Derby, near the state line.
The two play together as a duo called Sibling Reverie, and the coronavirus wiped out their schedule — three shows in March canceled, four or five in April. Stuber hopes some of their August gigs will still be on.
She's struggling with not being able to sing with her brother; March 13 was the last time she even saw him face to face, and this is by far the longest they've gone without seeing each other in four years.
"And when music is really your lifeline to connecting with people, that's really the kick in the pants," she said, crying a bit. "Music is a way for me to, quite frankly, get some of the ick in my head. That access to people who enjoy, they laugh or they stomp along when I sing. ... Losing that is kind of hitting home right now."
Though she's played for audiences for more than two decades, Stuber still gets nervous before shows, "but once I get my third or fourth breath into what I'm singing, that all goes away."
So, there were some definite nerves before she put up an a capella version of Sting's "Fields of Gold" on her Facebook page, even though, technically, it was just her and her smartphone.
But then she saw that her version had been viewed 1,900 times, and that helped allay that trepidation. She still yearns, however, to play with her brother.
"There have been times when you play a place where there's hardly anyone there, and you rip your guts out and it's, just, crickets," she said. "But me and Dave can look at each other and say, damn, that was good."
Take me to church
Stowe husband-and-wife Chris and Whitney Vigneau have been taking people to church for the past couple of Sundays, even as churches themselves — with some controversial exceptions across the country — have halted in-person worship services during the pandemic.
The Vigneaus perform at a weekly contemporary service at Stowe Community Church, "and we love to have people come and fellowship with us," Chris said. The church pastor, Rev. Will Vaus, suggested the couple perform from their living room, where they already had a piano.
Chris started a recent Sunday session with a prayer.
"Dear Heavenly Father, thank you for this day. Thank you for this time that we are able to have together here in our little quarantine corner in our little piece of Stowe," he said. "We pray that you keep everybody safe, that you keep everybody healthy in these uncertain times."
The couple's dog, Scar, also makes a few cameos, prompting Chris to add a quick addendum: "The last little prayer is that dogs behave during this."
Chris, who grew up in Stowe and has played piano in just about every place in town that has one, said he's been dabbling with home recording for a while, and he and Whitney have a great piano and great setup at home.
Indeed, the mix is lush, and the couple uses a fixed camera placed far enough from the piano to see everything. Chris plays piano and sings the lead on pieces like "Here I Am to Worship" and "Emmanuel," while Whitney harmonizes and runs the technical equipment that makes them sound so good.
Although the intent was just to provide their congregation something to listen to, it's being broadcast on Facebook, and "we have people from all over listening," Whitney said. "It's a little awkward with just us in the room, not knowing how they're responding, but it's also not that awkward."
And, like other musicians have suggested, some innovative things might come out of these quarantine corners and living rooms, and basements.
"If I'm being honest, I'd love to see it continue," Chris said. "I don't want, after this, for people to be afraid to be near each other. I want people to go to church and people to go to shows, but this is a nice little side-dish, if you will."
Moog on music
Tom Moog, owner of Moog's Place in Morrisville and Moog's Joint in Johnson, is arguably the live music maestro for the Lamoille County area, hosting bands most nights and organizing multiple music festivals every year. Now, he's closed down.
He digs the new innovations — his friends, the New Jersey band Dogs in a Pile, are all quarantined together, so they can put out whole-band remote gigs.
But he knows times are rough. He's donated what he can to musicians who have set up Venmo and Paypal accounts in lieu of tip buckets or an open guitar case.
"You've really got to look at the positives in this. And it's fantastic," Moog said. "But musicians are struggling. They gotta get paid."
He said he's had people write him checks and say to him, "Hey, you're tuned in with the artist; just take this money and figure it out for them." So, Moog looked at the blank spots on the calendar, divvied up the cash and paid the musicians who were supposed to be playing those canceled nights.
"There's nothing like being there, though," he said. "There's nothing like going to Fenway Park with 40,000 people and seeing the Grateful Dead. That's live music, and that will never go away."
As far as Yacovone's Monday slot when Moog's Place reopens?
"Seth is gonna play Mondays for the rest of time," Moog said.