A group of Craftsbury residents wants the town to form a task force to combat racism and inequity after a trio toting a Confederate flag in a truck disrupted an antiracism rally in early June.
"You guys have privilege," Farley Brown, chair of the town planning commission, said of Craftsbury Select Board members. "You should use that platform to make a statement or pass a resolution that this type of racism — someone driving around with a Confederate flag — will not be tolerated." 
The incident at the June 10 rally — chronicled by the Hardwick Gazette, Seven Days and Vermont Public Radio — is one reason some residents of the Orleans County town are calling on their local government to act. 
On Tuesday, the select board did just that. After taking testimony and comments for over an hour from the 30 residents present, the three-member board unanimously voted to form the Craftsbury Racial Justice and Equity Task Force.
Board Chair Bruce Urie reiterated several times that he hopes the task force will bring people of every opinion and stance to the table for an ongoing, civil discussion that can begin to heal the rifts and cracks that have divided the small town in recent months and thrust it onto the statewide stage.
"This group is not going to work unless it is completely inclusive," Urie said.
Clashing views
Like their counterparts around the state and nation, demonstrators had gathered in Craftsbury on June 10 day to condemn racism in law enforcement after the May 25 killing of George Floyd in Minneapolis by police officers. 
As members of the 200-person crowd began making speeches, Jay Wright of Craftsbury arrived in a pickup truck with his teenage son and a friend in the back. 
The teens waved two flags — one Confederate, the other reading "Don't Tread on Me" — as Wright drove past protesters. According to Seven Days and the Hardwick Gazette, at least two of the three were armed. 
Twelve days later, the official blog for Sterling College in Craftsbury said the counter-protesters wanted "to intimidate those peacefully assembled by flying the battle flag of the Confederacy."
In an interview with Seven Days, Wright said, "I think the Black Lives Matter flag is racist to me," and he called the anti-racism coalition a "terrorist group. I didn't go out to start trouble. It's their constitutional right to have a peaceful protest, just as it is mine. And I disagree with what they're doing. All lives matter, not just black, white, yellow, green, whatever."
The new effort in Craftsbury is a collaboration among several citizen groups looking for the same sort of change. 
Two of those groups appeared at a June 16 select board meeting, each with its own proposals. 
Brown was one of four people who asked board members to make a statement denouncing racism, according to meeting minutes. 
Afterward, representatives of more than 25 people asked to be put on the July 7 meeting agenda to discuss banning the Confederate flag in Craftsbury. That request didn't come up on Tuesday.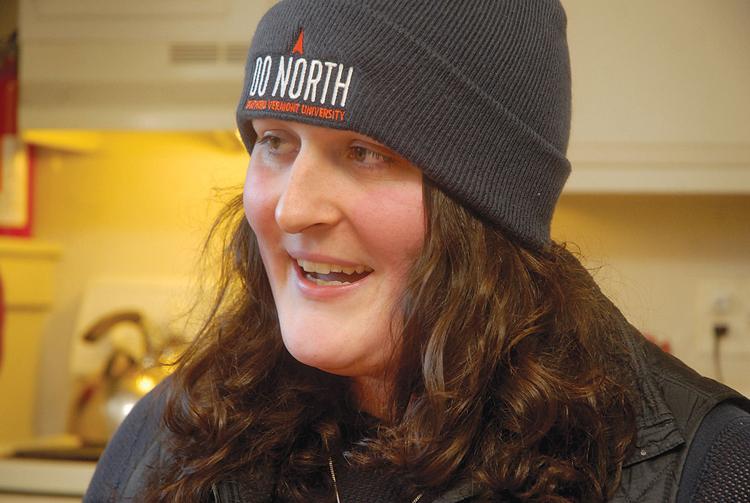 Opal Savoy, who grew up in town, belonged to that second group.
"This has been a problem in Craftsbury for a while, but we've never really talked about it," she said.
Savoy was there when the truck pulled up. She left, rather than try to confront the occupants like a few other demonstrators did. 
"I was terrified," said Savoy, who is transgender. She'd felt uncomfortable in town before because of how people view her gender, she said, but the June 10 confrontation was the first time she felt unsafe. 
Frustrated by the event, Savoy said she decided to help organize people to ask officials to ban the Confederate flag on town property, and potentially elsewhere.
But that initiative was tabled when she and others decided to collaborate with Brown and the group asking for a select board statement.
"It seems like trying to focus on really, really setting up something institutional is the way to go about it," Savoy said. "It's not that we're not going to do it — I just think that we're all trying to be more forward-thinking than just trying to do some one-off actionable items and calling it a day."
Savoy wants the town to form a task force that would organize discussions about racism and discrimination, research incidents and present findings to the board.
The activists have been joined by a third group that worked on a Black Lives Matter mural on a roadway in town. According to Vermont State Police, the mural was recently vandalized by someone in a dark pickup truck who burned tire marks across the words.
In the same report, troopers said a sign for the Craftsbury Farmers Market had been defaced with the words "KILL THE PREZ" in spray paint.
The developments in Craftsbury come after several local instances in recent years of discrimination against people of color and LGBTQ people and animosity toward the Black Lives Matter movement.
In 2015, a Black Lives Matter sign near the entrance of Sterling College was stolen. Around Christmas that year, a resident who had put up a Black Lives Matter sign at his apartment found a bucket nearby containing the bloodied body of a dead black cat. 
In June 2016, people egged a building at the college flying a rainbow flag after the mass shooting at a gay nightclub in Orlando that killed 49 people. 
Later that summer, according to the college president, a Sterling student of color was walking by the side of the road when passengers of a car threw a beer can at him and shouted racist and homophobic slurs. 
Brown said that after the confrontation at the rally this month, she heard from a person of color in town who feared for their safety. The person was afraid for their white friends, too, because of the friends' association with a person of color.
Savoy summed up the state of Craftsbury as she sees it: "It's not perfect, and it's not horrible. But there's a lot of work that could be done."
Craftsbury's diversity
The vote to form the task force came after the three board members heard comments — both in person and via Zoom — as well as written submissions for nearly 90 minutes.
Linda Ramsdell began the conversation by summing up what one group of citizens hopes the task force can accomplish.
"We've been trying to figure out what might be a way that we could come together as a town with all kinds of viewpoints and all kinds of backgrounds," Ramsdell said. "Anybody who would want to be involved would be able to be apart of the conversation."
The petition that Ramsdell's group had organized bore the signature of 65 town residents. Savoy read the petition to those gathered at the meeting early in the discussion.
"We the undersigned support the establishment by the select board of a racial justice and equity task force," Savoy read. "The task force would be formed in a rigorous public process in order to represent Craftsbury's diversity. We recognize our diversity in race, ethnicity, gender identity, sexual orientation, immigration status and religious or political affiliation. This task force will be charged with facilitating dialogue about racism and other inequities in Craftsbury with the goal of developing an action plan for the town to implement."
Many people at the meeting voiced support for forming the task force. Even those with questions about what exactly it would do and how powerful it could be didn't object to opening up the conversation.
That conversation has already begun for some. Earl Kinsey, who said he'd like to be a part of the task force, let everyone know that he thinks a civil discussion can take place. He's actually already been having one with Wright.
"Jay and I are pretty loud fellas, but we have stopped hollering and started listening," Kinsey said. "I think we can find our way, because I don't think anyone wants to destroy our community."
Others voiced concern over the state of the town, and how divided it has become.
"I'm ashamed to say I live in this town," Angel Baraw said. Others agreed, and just want to see the town start to heal.
"This community has been the best thing that has ever happened to me," Cori Demerit said. "I hate to see this divide start to happen. Come on, guys, we're grown-ups. Let's figure it out."
Some people spoke about feeling discriminated against because they don't directly support the Black Lives Matter movement or have differing opinions about the larger issue.
"You can't say 'all lives matter,'" one person said from the back of the room during the discussion. Several others said there never really seemed to be any issues with racism in town until others started bringing it up so much.
After Heather Quinn asked for examples of racism that have occurred in town, Brown explained some of the more outstanding examples. Matt Allen, who helped gather signatures for the petition, read some comments from individuals explaining how they've experienced racism in town. Brown also stated that one exchange student from India currently attending Sterling College wanted to attend the meeting but was afraid to do so.
"There are people who are afraid, and we cannot begin to understand what that means because we don't walk in their shoes," Brown said.
One main point of contention during the discussion was the vandalized Black Lives Matter mural, painted on a town highway in front of Craftsbury Academy. Some, like Baraw and Wright, feel the mural itself is a case of vandalism on town property and should be removed immediately.
"My tax dollars pay for that road," Baraw said. "It should be taken care of immediately."
"I think it's graffiti; it needs to come down," Wright said.
Wright spoke near the end of the evening, acknowledging that the divisions in town widened after he protested the event on June 10. He reiterated that he doesn't believe in the wider Black Lives Matter organization.
"I believe that all lives matter, no matter what race you are," he said. "I'm 48 years old, I've been here all my life. I guess I've lived in a bubble because I have never seen any racial discrimination at all."
With that being said, he acknowledged that perhaps "it's time for me to come out of my bubble."
Just who will lead the task force, be on it or participate in it yet hasn't been decided, but Urie did say the select board is mulling sending a notice about it to every town resident to cast the widest net and ensure the highest amount of participation possible.