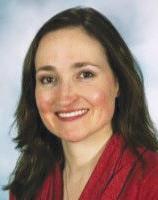 Sterling College in Craftsbury Common has a new dean of admissions and financial aid.
Moxie Mehegan had been associate director of graduate admission at Marlboro College.
"Mehegan's creative and strategic approach to admissions work will serve Sterling well in this time of growth and expansion," said President Matthew Derr.
Mehegan will serve on the President's Council and is responsible for recruiting efforts for Sterling's undergraduate programs in Vermont and Kentucky, as well as overseeing the college's financial aid department.
"I am thrilled to find a position that combines my passion for environmental and social justice work with my professional experiences in admissions," said Mehegan.
Mehegan earned a MBA from Marlboro College, with an emphasis in mission-driven organizations, and a bachelor's degree from Green Mountain College.