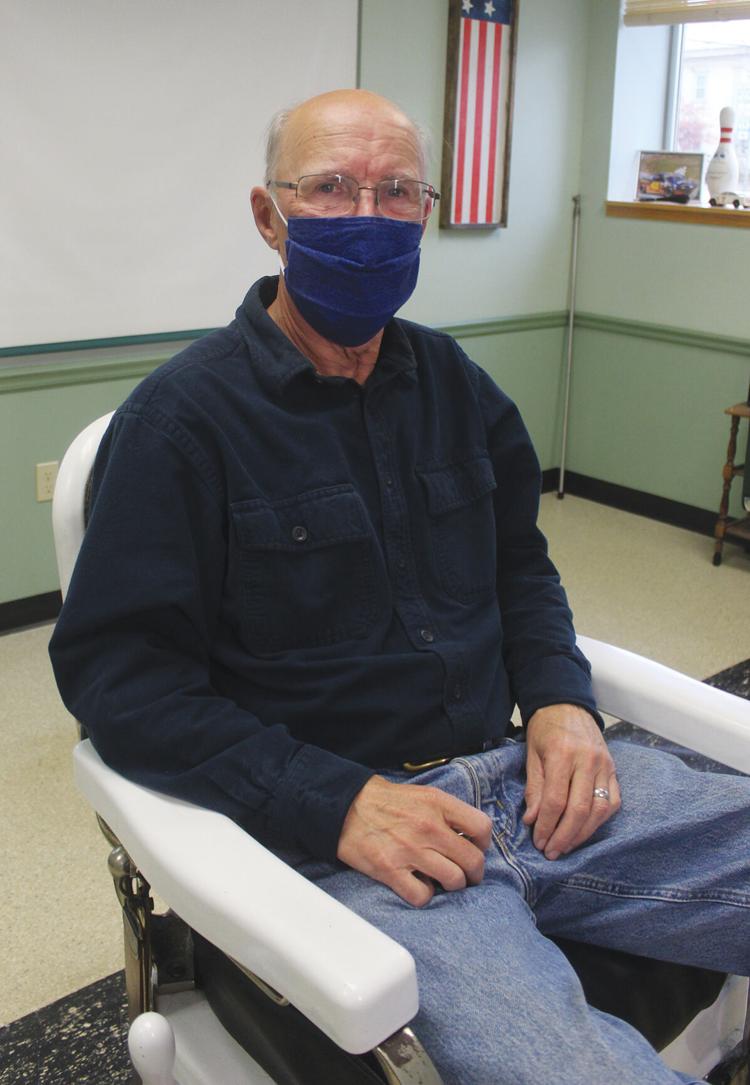 Denis Bryer got his first hair cut by Art Hamel when he was a junior in high school.
He liked it and decided to get Hamel to cut his hair again.
And again.
And again.
That first haircut was in the early 1970s, in St. Johnsbury. When Hamel moved home to cut hair in Morrisville in 1978, Bryer came with him, making the drive to get his ears lowered for almost 50 years.
It's one that Bryer will make no more — Hamel closed Arts Barbershop on Wednesday, Oct. 21.
"This is more about the chairs than me," Hamel said approaching his final days of service.
After almost 43 years of cutting hair in Morrisville, Hamel has decided to throw in the towel. And the scissors, clippers, brushes and all the other accoutrements of a life in barbering.
When Hamel was in high school in the late 60s, he heard guys in his class complain that they couldn't get their hair cut long. Barbers cut their hair too short.
He saw a money-making opportunity.
Hamel went to school to learn hair cutting and started barbering in St. Johnsbury before moving west. He's seen lots of styles come and go over the years.
After the long hair phase, in the 70s and 80s men started styling their hair.
"Now, we're back to the 50s. Short on the sides and flat tops," Hamel said.
When he started, he charged $1.50, now a hair cut costs $15.
He called attention to the two chairs that have been with him since he bought Reds Barber Shop from Red Reynolds. For a year, it continued as Reds Barber Shop.
"People started calling me Red," Hamel said, so after a year, he knew it was time to either change his name or change the name of the barber shop.
It became Arts Barber Shop.
"This chair here has been in continuous use in Morrisville since back in the 1920s," Hamel said – almost 100 years of supporting town males getting clean-cut.
Hamel is pretty sure the older barber chair was there when Al Melendy bought the business in the 1930s.
Mother and daughter Kim and Jenny Tilton, of Waterville, bought Art's shop. It will now be known as Downtown Barbers.
And the Tiltons made sure they got the barber chairs in the sale.
Hamel joked that when he bought the barber shop, he got the barber chairs — and a barber. Jim Russell was cutting for Reynolds and he's cut for Hamel since since.
He may continue to cut at Downtown Barbers, too.
Barbers, bartenders and psychiatrists hear a lot of stories from their clientele. Hamel reflected upon some of the buzz he's heard from generations of men while the buzz of trimmers sang in the background.
Six chairs line the walls inside his barbershop. Many days all these chairs and a chair in the hallway outside the barber shop are filled, serving as a repository for the shaggy, waiting their turn for a trim, Hamel said.
And as hair was cut stories roiled around the room.
"I've always tried to make it more about the experience than the haircut," he said. Besides getting a good haircut, a lot of the experience is the conversations you hear at the barbershop.
But he has always made the conversation about the person sitting in his chair.
When Hamel made the decision to retire, he had six weeks of appointments, so his wind-down has been all about cutting the hair of six weeks' worth of patrons and saying goodbye.
After parting conversations, pun intended, Hamel said he appreciated being able to have an individual conversation with each of his customers – three generations worth.
Ernie Patnoe got his first hair cut from Hamel when he was 8 years old.
He got his last cut just recently.
"That was a pretty emotional day," Patnoe said "Art is a genuinely good man."
Patnoe said as a boy he like being able to hear the men talk about hunting and fishing.
"Sometimes they'd slip an occasional colorful word in," he said.
He must not have heard too many colorful words because when his own son was old enough Arts Barber Shop is where he brought him to get his hair cut.
"Art was always good in winter to talk to about snowmobiles and in summer the talk defaulted to car racing," Patnoe said.
Patnoe has a small family sugaring operation, mostly a hobby. In the spring he pays for a haircut with a half-gallon of maple syrup. He said there's not too much of that kind of trade for services or goods anymore.
In retirement, Hamel plans to spend time with his wife. They like to ride bikes, motorcycle, canoe.
"We spend a lot of time on the sleds in the wintertime," he said.
He jokes that Russell can't retire: "I've got more toys than he has, so I got more things to do."