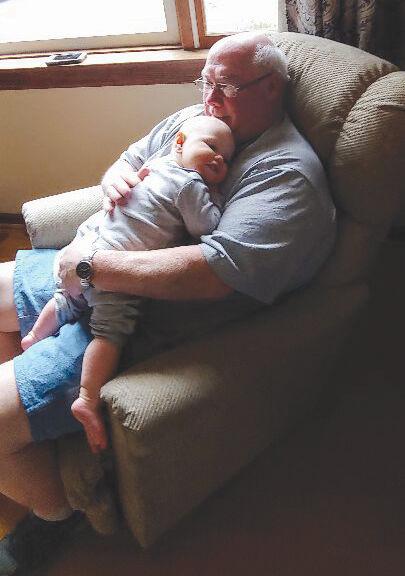 The small town of Elmore is now without its mayor. Warren Miller, 61, born on Dec. 31, 1958, at Copley Hospital in Morrisville, died at the University of Vermont Medical Center in Burlington, on Aug. 5, 2020, after a combination of 42 years of physical pain and illnesses.
He fought with his all and gave his all. Warren wanted to see his daughter get married, which happened two years ago. Warren also loved children and wanted to have a grandchild before he died. Logan Charles was born 19 months ago. Logan was the apple of his eye and what he lived for each day until he was not able to recover from his latest surgery.
Warren never had a son but always saw his son-in-law as the son he never had. Chances are you have probably met Warren at some point during your life as he was the owner of The Elmore Store. Warren and his wife Kathy bought the Elmore Store in 1983.
He was a founding member of the Elmore Fire Department, an Elmore fire warden, served in the Vermont House of Representatives, was an Elmore School Board member for 25 years, and a founding member of Morristown Rescue Squad, along with his mom, Marge Miller. He was a real estate agent, salesman at Buck's Furniture and Morristown police officer, and he worked on the Morristown road crew. Warren also had many small jobs on the side, including plowing and caretaking properties, and yard boss at Thomas Hirchak Auctions. Kathy always said Warren could sell ice to an Eskimo.
Warren is survived by his wife Kathy of 41 "blissful" years, as Warren would say, in Lake Elmore; daughter, Kelly Premo and husband, Gary of East Greenbush, N.Y.: grandson, Logan Charles Premo; and grand dog, Charlie (aka Charwee).
He is also survived by his father Mac Miller, Sr.; brothers, Frank Miller, and Mac Miller Jr. and spouse, Linda; and sister, Patrice Ladd and Loren; father and mother-in-Law, Stan and Lorraine Merriam of Elmore; brother-in-law, Alan Merriam and wife Ursula of Texas; brother-in-law, Bruce Merriam and wife, Virginia of Elmore; many nieces, nephews and cousins; and all of his special friends in the Elmore community and beyond.
He was predeceased by his mother, Marjorie Miller.
The family would like to thank the University of Vermont Medical Center, especially all the nurses on Baird 6 for the excellent care that was given to Warren.
Warren's burial took place Aug. 12, 2020, at the Elmore Cemetery. There will be a celebration of life at a later date.
Online condolences may be made by visiting faithfh.net.