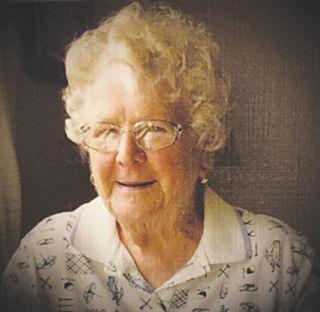 Virginia Alice Longe Wheelock, 96, died in her sleep June 17, 2020, at the Franklin County Rehab Center in St. Albans.
She was born July 11, 1923, daughter of Lewis William and Alice Emily (Beakes) Longe. 
Virginia was a chef for many years at the Windridge Inn and Bakery in Jeffersonville before retiring.
Her husband, Merreal Wheelock, died in 1996; a great-granddaughter, Amanda Sue Emberley, died in 2006. Her six brothers Garland ("Ted"), Lynwood, Raymond, Douglas, Daniel and Wallace (Wally) Longe and two sisters, Betty Longe Corrow and Irene Longe, died earlier, as did a nephew, Jonathan Hammond. 
Survivors include her three children, Linda Wilson-Miller and her three children, Elizabeth Wilson and her two sons, Susan Wilson Emberley and her two living children and six great-great-grandchildren, and Joel Miller; her daughter Diane Tanner Cochran and her three children, Shannon McKenna and her three children, Tracy Davies and her two children, and Cortney Jordan and three children; and her son, Duane "Bucky" Wheelock and his two children, Virginia (Ginn) Wheelock Hodgdon and her son, and Heath Wheelock and his son.
Survivors also include a sister, Eleanor "Bobbi" Longe Hammond and her four living children and her grandchildren; a sister in-law, Verna Longe and her family; a brother in-law, Bill Corrow and his family; and many other special relatives, nieces, nephews, grandchildren, great-grandchildren, and very special friends.
The family thanks Eleanor's daughters Joyce Hammond LaMonda and Jennifer Hammond Blake for the support they showed to their Aunt Virginia over the years and in the last days of her life, and to her granddaughter Cortney Jordan, who was able to sit with her grandmother before she died, as it was difficult for out-of-state family who loved her dearly to visit and care for her.
As Virginia wished, there will be no services.