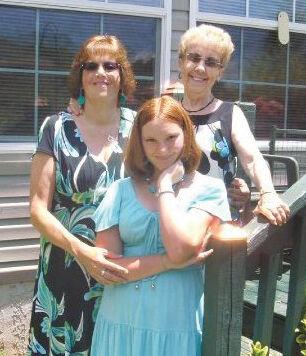 Tammy E. Westover, 56, of Newport Center, died unexpectedly on Jan. 8, 2021. She was born on Sept. 25, 1964, and was adopted by her parents, Robert and Rachel Westover just 13 days later.
Tammy graduated from Sacred Heart High School in 1982. She attended the University of Maine Farmington and graduated with her degree in special education in 1986. Tammy worked for various schools, the foster care program and youth organizations throughout her 35-year career, dedicating her life to the education and lives of the children, teens and young adults she worked with.
Tammy moved to North Carolina in 2004, continuing her work with children at Rosman Middle-High School. At this school, she met Victoria, who would become her foster daughter, and then her adopted daughter in June 2010. Tammy returned to Vermont in August 2011 to care for her mother. She continued her education career, working for non-profit independent day treatment schools, Turning Points in Morgan and East Meadow School in Morrisville. Tammy met her fiance, Leo Drakestream, of Ottawa, Ontario, Canada in 2016.
Tammy has left behind a legacy of love and devotion to the thousands of lives she touched in her personal and professional lives. She was a foster parent to many children throughout her foster parenting years, staying in touch with many of them up to her passing.
Tammy loved to travel, and her favorite place was the beach. She was fond of saying that the beach was her happy place, and that the smell of saltwater always brought her peace. Tammy enjoyed playing bingo, crafting and, most importantly, spending time with her family and friends.
Tammy was predeceased by her parents, Robert and Rachel Westover of Newport Center, and her beloved dog, Jacy.
She is survived by her fiancé, Leo Drakestream of Ottawa, Ontario, Canada; daughter, Victoria Rae Westover and her fiancé, Preston Judd, of Johnson; brother, John Westover and wife, Takako, of Japan; her aunts, Beverly Couture and husband, Armand, of Irasurg, and Sonja Bissonnette and her husband, Norbert, of Middletown, Conn.; as well as numerous nieces and cousins.
She is also survived by her beloved friends, Christine Hetzel of Barre, Cynthia Stone Sullivan of Orrington, Maine, Jodi Gonyaw-Worth of Island Pond, and Heather Mason of Derby Line, as well as numerous others.
A memorial service is being planned for the summer, when friends and family can gather safely following COVID restrictions. Should friends desire, in lieu of flowers, contributions in her name can be made to East Meadow School, 28 James Road, Morrisville, VT 05661. This is the organization that Tammy worked at up until her death, and the place in which she felt strongly that the children she worked with could someday change the world, if only given an opportunity.
Online condolences can be left on her Facebook page and also at curtis-britch.com.
Arrangements are entrusted to the care of the Curtis-Britch & Bouffard Funeral Home and Cremation Service.