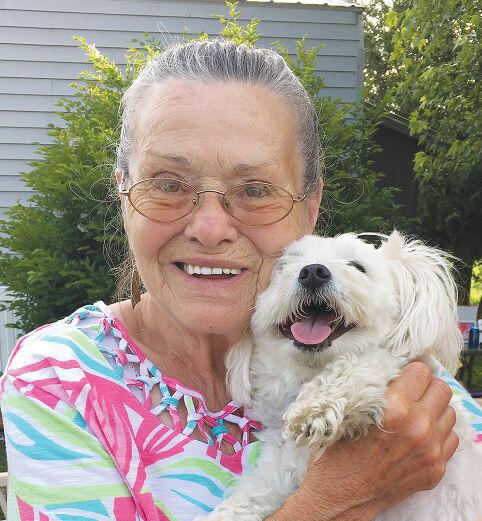 Rosalie (Rose) Fuller, 80, of Johnson, died at her home on Oct. 8, 2020. She was born May 2, 1940, in Morrisville, the youngest daughter of Alton Stoddard and Retha Graves Stoddard.
She worked for many years as shoe department manager at Ames and more recently for Lamoille County Mental Health, where she truly enjoyed the people she worked with.
Rose was a wonderful cook — pies were a specialty. Knitting, crocheting, quilting, watching racing on Sundays and word searches were some of the many hobbies she enjoyed.
She is survived by her four children, Jeff Foss of Johnson, Dan Foss (and Angela Yaratz) of Hyde Park, Jim Foss (and Deb Fraser) of Elmore, and Lisa Vanat (and Bill Vanat) of Jeffersonville. Rose is also survived by her brother, Melvin Stoddard and his wife, Jadie, of Wolcott. She leaves behind her beloved canine friend, BK. She was blessed with many grandchildren, Richard, Justin, Ryan, Rusty, Travis, Dan, Robert, Michael, Jeremiah, Brittany, Logan, Mallory, Beebe, Ashley, Derek, Jason and Kiley. She also had several beautiful great-grandchildren.
Rosalie was predeceased by her parents and siblings, Viola Janowski, Alden Stoddard and Jeanette Rodriguez.
The following represents the special relationships "Meme" and "Grammie Rose" had with her grandchildren.
The greatest gift in life is to feel completely loved, and Meme never left anyone with any doubts. She had the time even when she didn't have the energy. She had the heart even if she wasn't feeling her best. She had that precious smile and tender laugh even when we couldn't muster up our own.
She understood every type of humor, laughed at every joke and danced to every song. She brought out the best of all of us because her love could heal anyone. She was perfectly vulgar and ladylike at the same time. She picked the weeds so that her flowers could properly grow as they should.
She was the most vibrant, delicate, fearless, compassionate and beautiful rose in the garden, and this is something we all understood. Her grandchildren were her favorite flowers. It was her time and heart that she gave that were her greatest powers. Each of us she softened and hardened, laughed with and laughed at, listened to and guided, held us tight and told us to stop growing. It was her endless love that this sweet soul never stopped showing.
She gave her whole heart to loving us all so that we too could know life's greatest gift. Her spirit, soul and energy lives in us all; her physical self will be most missed. When we laugh, she will be there laughing too. When we cry, she will cry too. When we see the best parts of nature all around us, we will know that it is her. Meme/Grammie Rose, we loved you the most for exactly who you were.
A celebration of life will be held at a later date to be announced.
In lieu of flowers, contributions may be made to Lamoille Valley Veterinary Services, 278 Vermont 15 E, Hyde Park, VT 05655.
Faith Funeral Home is assisting with arrangements. Online condolences may be made by visiting faithfh.net.