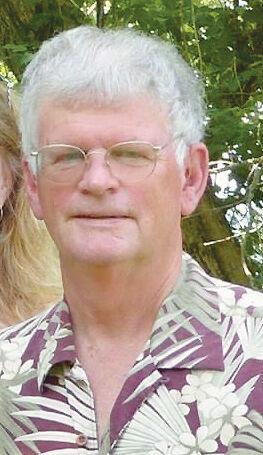 Max Howard Paine Jr., 76, of Morristown, died peacefully on Sunday, Nov. 14, 2021, at Central Vermont Medical Center. Max had struggled with progressive supranuclear palsy for several years.
Max was born in Framingham, Mass., on July 14, 1945. Max met his wife, Lorraine, while visiting friends in Scotland and they were married in 1972.
He is survived by his wife Lorraine; children, Stephen, Kristina and Julianna; sister, Jean; and brother, Tom. He had two grandchildren, Olivia and Karter.
He was predeceased by his parents, Max and Inga Paine, and sister, Maxine.
Max trusted the Lord as his Savior while in the military and his faith was an important part of his life. He was a member of Trinity Baptist Church in Williston.
Max graduated from Peoples Academy in 1965 and from there he attended Coyne Electrical & Technical School in Boston, graduating in 1967.
In the fall of 1967, Max enlisted with the U.S. Air Force and was stationed in Elmendorf, Alaska, where he was a member of the radio electronics team traveling to remote Alaskan stations to install and perform maintenance on electronic equipment. Max received glowing reviews from his commanding officers. "Paine has proven to be an exceptional airman in all aspects of training. His military bearing and behavior are exceptional at all times. He is highly resourceful and actively seeks additional responsibilities. His military appearance is a credit to this organization."
He was transferred to Hill Air Force Base in 1970 and received an honorable discharge in 1973.
On returning to his home in Vermont, Max started his apprenticeship as a journeyman electrician with Richard Hill and went on to receive his master electrician certificate in 1976.
Max joined the maintenance department at Copley Hospital in 1977. He moved up to a supervisory position and eventually was promoted to director of plant operations. Max worked tirelessly to ensure that the hospital was well maintained and met all safety standards. He received several awards throughout his 30-plus-year career. He retired in 2012 when his health no longer permitted him to continue.
In addition to his responsibilities at Copley Hospital, Max loved working on the Christmas tree farm that his parents had started many years prior. He loved to fish and hunt, but there was little free time to enjoy those. He was involved in Boy Scout Troop #876 for many years and was on the town planning board for Morristown for over a decade. He was also very active in the New Hampshire and Vermont Christmas Tree Association and took on the role of president in 1996.
A very special thank you to the staff of Out & About Adult Day Services, Lamoille Home Health, Woodbridge Rehabilitation and Nursing, and Central Vermont Medical Center for the love and care they gave to Max and his family during his health struggles. You are all a vital part of our community, and we will never forget your love and kindness.
A memorial service to honor Max is planned for Saturday, Dec. 4, at 11 a.m. at the United Community Church in Morrisville. There are no calling hours. In lieu of flowers, contributions may be made to Out & About Adult Day Services in Morrisville.