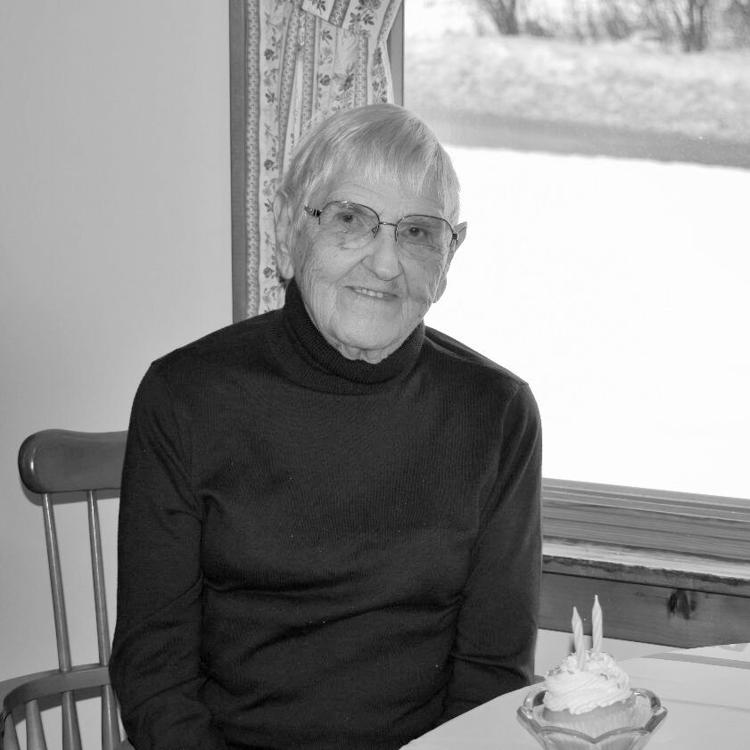 Esther Lanpher Greaves, 98, adored mother, grandmother and lifelong resident of Morrisville, died in her sleep of natural causes on Saturday, Dec. 26, 2020.
Over the past nine months, Esther courageously endured COVID-19 isolation until she fell ill and was transferred to Copley Hospital. Once there, family members were able to reunite with her one by one until her last breath, with granddaughter, Julie, by her side.
Esther was born Jan. 29, 1922, in Morrisville, to parents Carroll and Bernice Lanpher. She was one of six children. Esther was proud to share stories of growing up on Best Street. Her favorite memory was walking to school with friends, stopping for a drink of water on Water Trough Hill.
Esther attended Peoples Academy where she dated, and later married, Mahlon Greaves in 1939. They moved to the Greaves Farm on Washington Highway where they would eventually build a home and start a family. Esther worked hard by baking, canning, cooking and cleaning for their many boarders and hired farmhands who were housed at the farm. Putting her skills to work, she partnered with friend, Irma Foss, to start a catering business in town.
In 1974, Esther would find her dream job working in the Copley Hospital cafeteria. For the next 34 years, she was able to express her sense of humor and show off her holiday decorating skills for coworkers and patients to enjoy.
Puffer United Methodist Church was an important part of Esther's life. She especially enjoyed introducing her grandchildren to church members and watching them attend Sunday school. Esther was a longtime member of the various churchwomen's groups and will be remembered most for her dedication and high-energy fundraising.
She, along with best friend, Betty Hasseltine, helped to organize rummage sales, Christmas bazaars, chicken pie suppers and the annual cookie walk.
Esther was from a different time. She found great joy being surrounded by family and just talking about the past. She fixed what was broken, made soup from bones, hung her laundry on a clothesline and baked six loaves of bread each week. She understood it was just common sense to fill the car full of grandkids and drive clear to Collins Pond.
Esther could be described as a strong woman with an uncanny ability to tell it like it was. She would often tell her children, "Take what comes along and do the best you can with it."
She is survived by daughters, Gail Deuso of Morrisville, and Jayne Deam and partner, Hyle Daughtry, of Missouri; daughter-in-law, Linda Greaves of Morrisville; her grandchildren, Christie Bramell and husband, Scott, of Missouri, Janet Paine and husband, Mike Dibatista, of Morrisville, Brent Paine and wife, Jane, of Morrisville, Bruce Paine and wife, Gloria, of Morrisville, William Paine and wife, Melanie, of Morrisville, Julie Desrochers and husband, Jeff, of Lake Elmore, Michael Deuso and partner, Sheri Robarge, of Morrisville, and Suzanne Hurlburt and husband, Joe, of Morrisville; 17 great-grandchildren; and 12 great-great grandchildren.
She was predeceased by her husband, Mahlon, in 1974; son, Stephen Greaves; and daughter, Carol Paine, both in 2019; son-in-law, Norman Deuso, in 2014; great grandson, Thomas Paine in 2011; and siblings, Rachel Lanpher, Virginia Walker, Percy Lanpher, Eloise Papin and Muriel Lanpher, earlier.
Her legacy will live on in the hearts and minds of everyone with whom she interacted.
Contributions in her memory may be made to Copley Hospital to benefit Nutrition Services, 528 Washington Hwy, Morrisville, VT 05661.
Faith Funeral Home is assisting the family. Online condolences may be made by visiting faithfh.net.