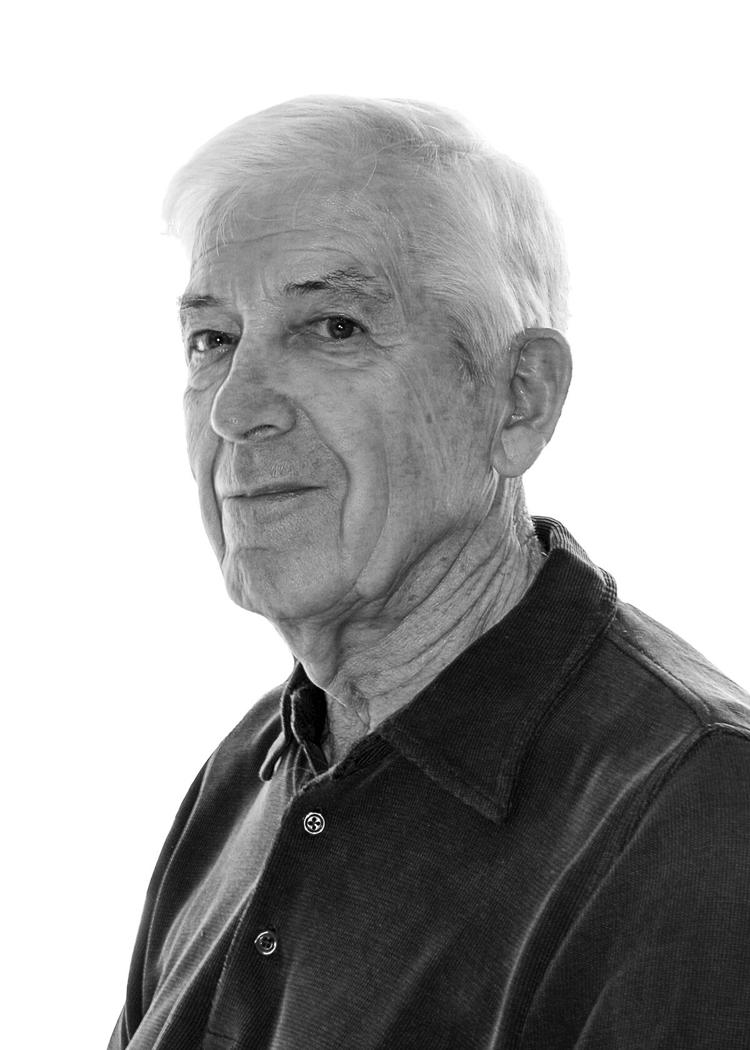 Dale Elton Percy was 11 years old in 1937 when his parents moved him, along with his older sister Lucille, and younger siblings Dana and Phyllis to Stowe.
His parents, Elton and Leona, came to Stowe after selling their farm in Sheffield, Vt., to help Dale's grandmother and her husband Allie Weeks on their farm.
At this time the farm used horses and electricity was scarce. Weeks Hill Road was a dirt single lane road. Brother Paul was born in 1940.
Dale graduated from Stowe High School in 1944. Dale and Dana worked the farm with their father. As the farm progressed to using machinery, Dale was introduced to and became very interested in hydraulics.
Dale always looked for a better, more efficient way to accomplish a task. In the late 1940s Dale and Dana started doing excavation with machinery from the farm. This was the start of Dale Percy Excavation.
It didn't take long for Dale to decide he had enough of loading the family truck by hand to deliver materials. He built a loader from tractor and truck parts. Later he mounted a backhoe on a truck. Dana operated this machine to dig cellar holes.
Many of the older hotels in Stowe were done with this machinery: Round Hearth, Stowe Center, Mountaineer and Topnotch, to name a few. He was called upon to do many different jobs, such as the time he was asked how to get material to the top of Mansfield when the first Channel 3 Tower was built, or how to bury a power cable to the top of the first Gondola at Stowe Mountain Resort.
Over the years he made many prototypes of equipment and machinery, which were used in the excavation company, but the only patent he received was for a sander he developed in the 1980s. He had the mind of an engineer, even if he didn't have the diploma to back it up. He was always ready and willing to help. Many referred to him when they couldn't solve a problem.
Dale had many enjoyments in life and one was having a pilot's license. He enjoyed taking his mother for rides in the plane and teaching Dana to fly. He spent some time working for Charlie Daly at his screen-print shop in the early 1950s, which he thoroughly enjoyed.
He also learned and perfected how to wax and edge skis during this time period, probably on his own skis. This was done at Charlie Daly's shop. Dale loved to tell the story that he edged and waxed the skis that Ralph Miller used to set the speed record in 1955 for downhill ski racing that held for 15 years.
Dale was a town of Stowe selectman for nine years. He was also a board member of the Mountain Trust Bank (now Peoples United Bank). At one point he owned the Matterhorn, and was a 50 percent owner of a John Deere Dealership in Williston. He was involved in a business that manufactured modular homes; his involvement was the creation and modification of the machinery needed for production.
In the late 1980s, Dale left the daily operations of his excavation business and devoted his time to friends and family to hunt, fish and travel. He traveled to fish in western New York, Michigan and Alaska, and to Canada to hunt geese. This group of friends bought a hunting camp in Lewis, Vt., where he enjoyed hunting and the camaraderie and the rivalry of the annual Lewis Camp versus Lowell Camp shoot.
It was very important for him to maintain his relationship with his friends. He enjoyed discussing his theories on the flow of water and streambank erosion. People will surely remember him talking about rivers.
It was the hunting trips in Canada that would change his life forever. On one of those trips in 1985, he met and fell in love with Jeannine Fortin from St-Jean-Port-Joli, Quebec. They were married in Canada in 1991. Their lives were well established when they married. The respect of each other was important.
With Jeannine, he traversed the U.S. and Canada, camping along the way from one ocean to the other. They traveled to Europe four times. Both realized some of their dreams while respecting the other's values.
Dale had an ear to listen and a story to tell. His clear, funny, witty, responses never got old. He used to say he liked to eat popcorn if he was getting sleepy while driving. Well, driving to Canada to meet his future wife, that far, he said, "was a 2-bag trip."
His relationship with his siblings, especially Dana and Paul, were strong throughout their lives. Even though Dale didn't have children of his own, he embraced his nieces and nephews and created bonds with each of them through time spent hunting, fishing and working on various hobby projects.
As they married, he also created special bonds with their spouses.
Dale was always easy to be around. Even at the end he was never unpleasant. He was a man of integrity who followed his principles. He was someone who would look out for what was fair and best for the people around him. He believed in doing right by others, and they in return would do right by him.
Dale died peacefully with Jeannine by his side on Sept. 3, 2020.
Besides his wife Jeannine and her family in Canada, he leaves behind a brother, Paul, and his wife Lee, his sister Phyllis, and sister-in-law Sally Percy; one niece and six nephews and their spouses; 10 great-nieces and four great-nephews and their spouses; and 12 great-great newphews.
He was predeceased by his sister Lucille and brother Dana.
Jeannine would like to thank the nurses and all the staff at the Manor for their compassionate care during his stay. She is also grateful to Lamoille Home Health & Hospice and the caregivers who worked with Dale over the last several years.
Due to COVID-19, there will be a private graveside service for family. A celebration of life will be held as soon as we can all safely gather.
Online condolences may be made by visiting faithfh.net. In lieu of flowers, consider making a contribution to Copley Hospital Foundation, 528 Washington Highway, Morrisville, VT 05661, Lamoille Home Health & Hospice, 54 Farr Ave, Morrisville, VT 05661, or a local charity of your choice.