Here are some of the upcoming programs at Morristown Centennial Library, 7 Richmond St.
Register for programs at 888-3853, or email where noted.
Information: info@centenniallibrary.org, centenniallibrary.org.
---
YOUTH PROGRAMS
Preschool storytime
Tuesdays, 10:30 a.m.
Stories, songs, rhymes, crafts and activities for preschool age.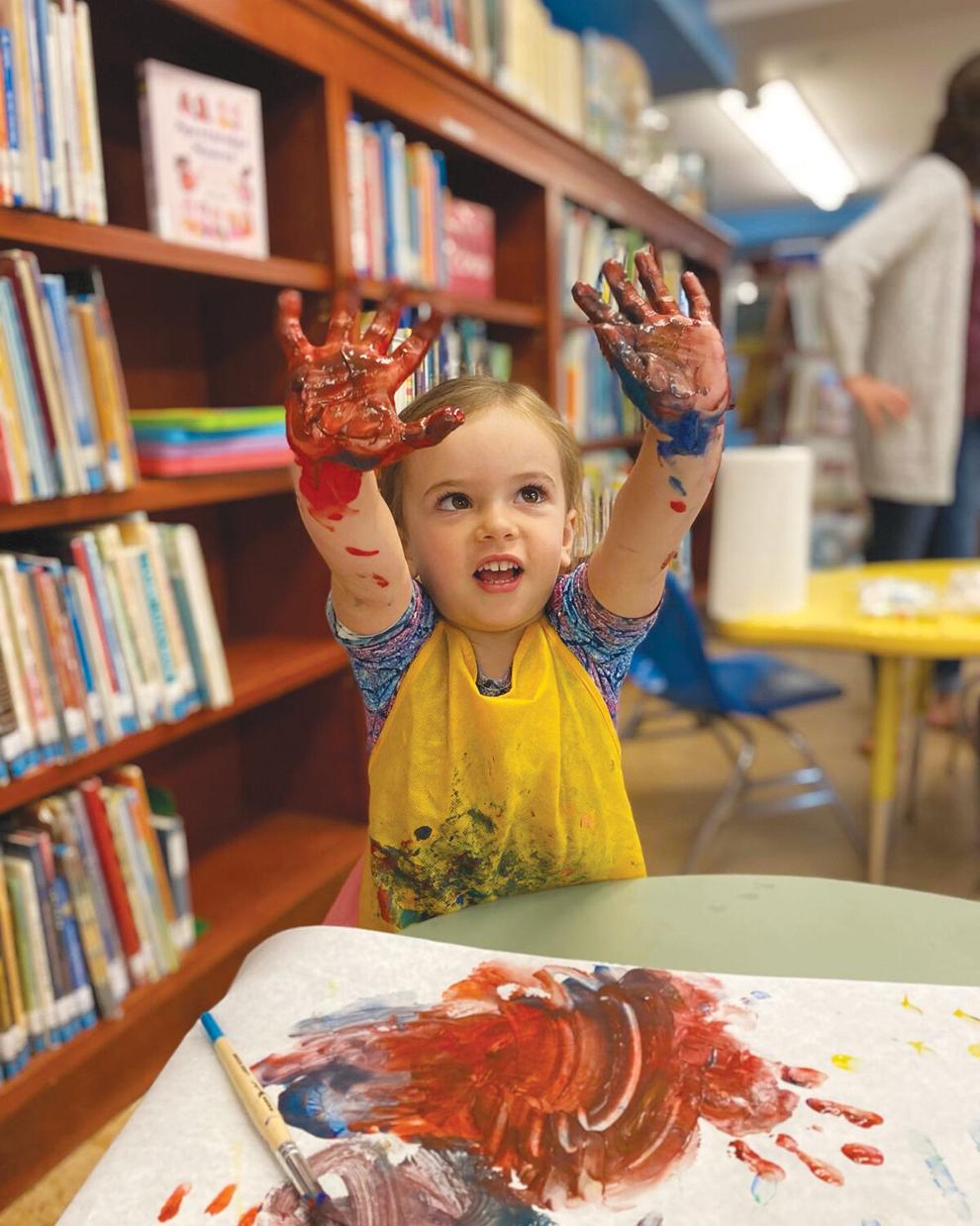 Wordplay for wee ones
Thursdays, 10 a.m.
Join other caregivers with their babies and toddlers for playtime, songs and art, designed to build school readiness.
Crafternoon
Tuesdays, 3:30 p.m.
New art or craft project each week. For ages 6 and up.
Dungeons and Dragons
Fridays, 3:30 p.m.
Join dungeon master Andi for some epic Dungeons and Dragons play. Ages 9 to 13. Registration required.
Lego challenge
Fridays, 3:30 p.m.
S.T.E.A.M. focused challenges.
Kids' intermediate ukulele
Wednesdays, 3:30 p.m.
Take your ukulele skills to the next level. Open to students ages 7 and up who have some ukulele experience. Sign-up required.
Pjaki workshop
Wednesday, Oct. 5, 11 a.m.-2 p.m.
Make beautiful and fun Polish chandeliers using ribbon, tissue paper and beads. Sign-up required. Ages 7 and up. Bring a brown bag lunch; playground break included.
Skits and songs
Sunday, Oct. 9, Saturday, Oct. 22, 10:30 a.m.
Star in the role of a lifetime, creating your own masterpiece.
La Leche League
Thursday, Oct. 13, 11 a.m.
Meetings are open to all families who are providing breast milk to their child or would like to learn about providing human milk to their child.
Spooky slime
Tuesday, Oct. 25, 3:30 p.m.
Make ooey, gooey slime to gross out your friends for a Halloween trick.
Bats are beautiful
Thursday, Oct. 27, 3:30 p.m.
With the Lamoille County Nature Center, practice being a bat and learn about these helpful creatures.
Pumpkin decorating
Friday, Oct. 28, 12:30 p.m.
Carve and paint pumpkins for display on the library stairs or at home.
Trick or treat
Monday, Oct. 31, 5 p.m.
Stop by at the library in costume for hot apple cider, spooky sounds and treats.
---
ADULT / ALL AGES
Bridge
Mondays at 1 p.m., Thursdays, 6 p.m.
Play bridge with a lively group. Email morrisvillebridge@outlook.com to join.
Work in progress writing group
Tuesdays, 5 p.m.
Join a loose, creative collective in which work is done, supported and sometimes shared. Open to serious writers of any experience level or genre.
Mahjongg Club
Wednesdays, 10 a.m.
Mahjongg is a tile-based game that was developed in the 19th century in China. Open to any level of experience.
Gentle yoga
Thursdays, 10:30-11:15 a.m.
Join local yoga teacher Linda Brady for gentle yoga that can be done while sitting. In person or virtual. Link on the library website.
Drop-in Whist game
Thursdays, 1 p.m.
Join a friendly group for a game of the card game Whist. No experience necessary.
Knitting meet-up
Tuesdays, 10 a.m.
Bring your projects and join in for knitting and camaraderie.
Aging well
Thursday, Oct. 6, 11:30 a.m.
Aging well is a path that starts from birth and lifestyle choices throughout the course of your life can help you adjust to changes over time. With Lamoille Valley Medical Reserve.
Children's and young adult book writers' group
Thursday, Oct. 13, 6 p.m.
Looking for feedback on a writing project for children or young adults?
'The Most Costly Journey' workshop
Friday, Oct. 14, 5 p.m.
Marek Bennett presents his comics documenting migrant farmers and leads a hands-on demo to show how you can cartoon the stories of your own family.
Final gifts of love
Tuesday, Oct. 18, 6 p.m.
Linda Cannon-Huffman is a death doula who will help you explore the end of life.
'Bicycling in Vermont'
Saturday, Oct. 22, 11 a.m.
"Of Wheelmen, The New Woman, and Good Roads: Bicycling in Vermont, 1880-1920" presented by UVM professor Luis Vivanco. With Noyes House Museum.
Cemetery tour and spooky stories
Friday, Oct. 28, 5 p.m.
Local cemetery association president Dennis Smith and history buff Todd Thomas will share stories connected to some of Morristown's oldest gravestones on a tour.
BYOBook virtual group
Wednesday, Oct. 29, 6 p.m.
Meet up with other readers and swap book ideas. Bring what you're reading and talk books.
---
JUST FOR TEENS (13 to 18)
Teen Dungeons and Dragons
Wednesdays, 3:30 p.m.
New. Beginner and experienced players welcome. Sign-up required.
Teen advisory board
Tuesday, Oct. 4, 3 p.m.
Help plan library events, make book recommendations and hang out with friends, new and old.
'Hocus Pocus'
Friday, Oct. 7, 6:30 p.m.
Celebrate spooky season with a fun, interactive viewing of this Halloween classic. Come in costume and enjoy refreshments.
Teen DIY
Tuesday, Oct. 11, 3:30 p.m.
Spend the afternoon working on spooky projects in preparation for Halloween.
Anime and Manga Club
Thursday, Oct. 13, 3:30 p.m.
Take part in fun activities based on your favorite Anime and Manga series and get to know others who share your interests. Club meets monthly. For ages 10 and up.
Young adult thriller book club
Friday, Oct. 14, 3:30 p.m.
Are you hooked on young adult thrillers and mysteries? This month the book is "Genuine Fraud" by E. Lockhart.
Teen LEGO club
Tuesday, Oct. 18, 3:30 p.m.
Compete in a LEGO challenge, tackle new builds and just have fun.
LGBTQIA+ Inspiration and Friendship Among Teens
Tuesday, Oct. 25, 3:30 p.m.
This is a safe space to build connections, pursue interests and find empowerment.